Rating: 4.0 out of 5.0 stars4.0
Free demo account: Yes
Payout: Up to 91%
Bonus: Up to 100%
Assets: 78 Forex, Commodities, Stocks, Cryptos
If you are looking to determine the trustworthiness of Binarium as a Binary Options Broker, I conducted a comprehensive test after having a lot of experience in the financial markets. Based on my findings, I will provide you with detailed feedback to help you make an informed decision. In this review, you can gain a deeper understanding of the broker's functions, offers, and withdrawal options. Furthermore, we will provide you with a step-by-step guide to help you learn how to trade on this platform effectively.
Binarium Quick Overview:
| | |
| --- | --- |
| Broker | Binarium |
| 📅 Founded | 2012 |
| ⚖️ Regulation | No regulated |
| 💻 Demo | Yes |
| 💳 Minimum Deposit | $10 |
| 📈 Minimum trade | $1 |
| 📊 Assets | 78 Forex, Stocks, Cryptocurrencies, Commodities, Index |
| 💰 Return on investment | Up to 91% |
| 🎁 Bonus | up to 100% |
| 💵 Deposit Methods | Crypto, eWallet, Wire Transfer, Credit Cards, Debit Cards |
| 🏧 Withdrawal methods | Crypto, eWallet, Wire Transfer, Credit Cards, Debit Cards |
| 📍Headquarters | Office 02, 9 Kappadokias, Dasoupoli, 2028, Nicosia, Cyprus |
| 💹 Trade Types | High/low, Turbo |
| 💻 Trading Platform | Web, iOS, Android |
| 🌎 Language | English, Russian, Ukrainian, Spanish, Portuguese, Turkish, Thai, Vietnamese, Indonesian, Kazakh, Arabic, Hindi |
| 👨‍💻 Social Trading | No |
| 🕌 Islamic account | No |
| ⭐ Rating | 4/5 |
(Risk warning: Your capital can be at risk)
What is Binarium?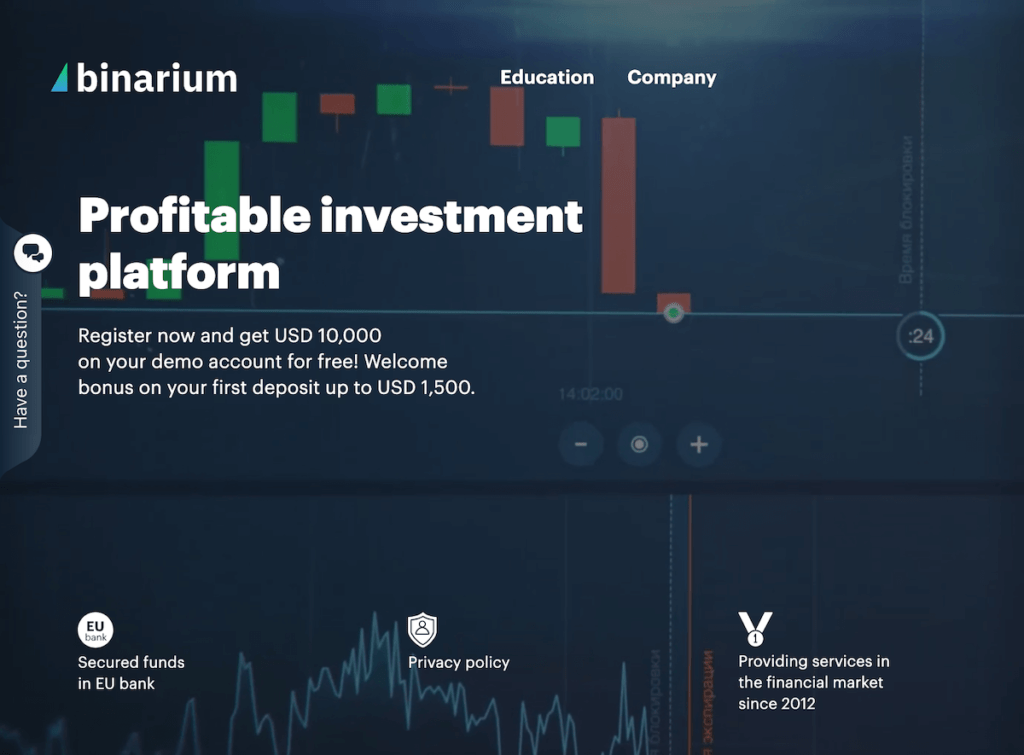 Binarium is a well-established Binary Options broker that has been in operation since 2012. With the help of a single platform, you can conveniently engage in trading activities across various financial markets, such as forex, cryptocurrencies, and commodities. This eliminates the need for multiple platforms and provides you with a streamlined trading experience. The company is headquartered in Suite 305, Griffin Corporate Centre, P.O. Box 1510, Beachmont, Kingstown, St. Vincent and the Grenadines. The company has established offices in various locations, including Cyprus, Ukraine, and Latvia. This allows them to operate in different regions and cater to a diverse range of clients and markets.
The brokerage firm welcomes traders from various countries across the globe. They have a diverse customer base that speaks different languages, and they have built a large support team to cater to the needs of their international clientele. Binarium prioritizes the safety of customer funds by utilizing European banks for depositing and withdrawing. This ensures that the processes adhere to strict banking regulations and provides an added layer of security for customers' financial transactions.
Facts about Binarium:
Binary option broker established since 2012
Trader more than 100 different markets
International Binary Options Broker
EU Banks for customer funds
Support in different languages
Pros and cons of Binarium
While Binarium may be a reputable broker, it is important to acknowledge that no broker is flawless. In order to gain a comprehensive understanding of Binarium, it is necessary to examine both its advantages and disadvantages. By evaluating its strengths and weaknesses, individuals can make informed decisions when considering Binarium as their preferred brokerage option.
Advantages:
$10000 demo account reloadable
Free bonus on first deposit
Fast execution
Massive range of binary options on Forex currencies
$10 minimum deposit only
Disadvantages:
Not regulated
There is no algorithmic trading
Only binary options on forex currencies and cryptocurrencies
(Risk warning: Your capital can be at risk)
Binarium Regulation
When it comes to selecting a binary options broker, regulations play a crucial role. Regulatory oversight ensures that the broker operates in accordance with established rules and standards, providing a level of trust and security for traders. It is important to choose a broker that is regulated by reputable authorities to safeguard your investments and ensure fair trading practices.
One of the downsides of Binarium is that it lacks regulation, which can be considered a clear disadvantage. Without proper regulation, there may be potential risks and a lack of oversight in the operations and practices of the company. It's important to consider this aspect before making any decisions or investments with Binarium. Binarium stands out among other brokers due to its trustworthy reputation. In our test, we found that all deposits and withdrawals were handled seamlessly, allowing users to easily cash out their winnings without any issues.
Binarium is known for its strong security measures, making it a reliable platform for many users. With its SSL encryption and robust data protection protocols in place, Binarium ensures the safety and confidentiality of user information.
Assets and Markets
Binarium offers an extensive selection of over 78 different assets for trading on their platform. They continuously strive to enhance and expand their offerings, ensuring a better trading experience for their users. Binary Options trading offers flexibility in terms of timeframes. Traders have the option to engage in short-term or long-term trades based on their preferences and investment goals. Furthermore, Binary Options allow individuals to speculate on both rising and falling markets, providing opportunities for profit regardless of market direction. The platform offers a wide variety of expiry times for trading. You have the option to trade as short as 60 seconds or choose longer expiry times, such as 1 month or more. This flexibility allows you to tailor your trades according to your preferences and trading strategy.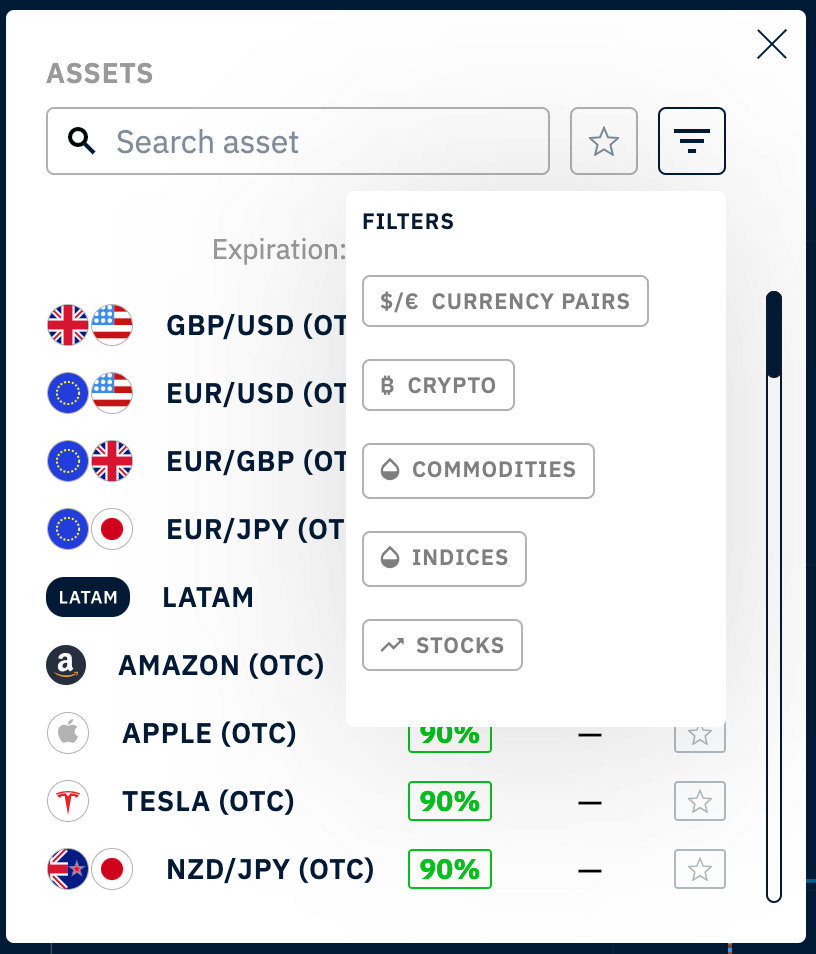 Binary options, a type of financial instrument, can be classified into two categories: "Turbo" and "Binary". Turbo options refer to short-term trades, while binary options are associated with long-term trades. With this platform, you have the flexibility to start trading with just $1, making it accessible for everyone. The minimum deposit required is only $10, allowing you to invest any amount that suits your budget and preferences. When it comes to this matter, it's important to note that there aren't any rigid rules in place. However, it's worth mentioning that the typical return on investment for most markets ranges from 80% to 91%. This statistic indicates the potential profitability and success that can be achieved in various industries.
The conditions for traders:
Trade forex, cryptocurrencies, and commodities
Trade short-term and long-term Binary Options
Start trading with only 1$
The minimum deposit is 10$
Return on investment is between 80 – 90%
Trading platform:
In the subsequent text, I will provide you with a comprehensive overview of the trading platform known as Binarium. This trading platform is designed to be accessible on any device, giving you the convenience to trade even from your mobile phone. Upon initial inspection, the software appears to be straightforward and user-friendly. In the image below, you can see a direct screenshot of the platform in action with a stochastic indicator and a Japanese candle chart.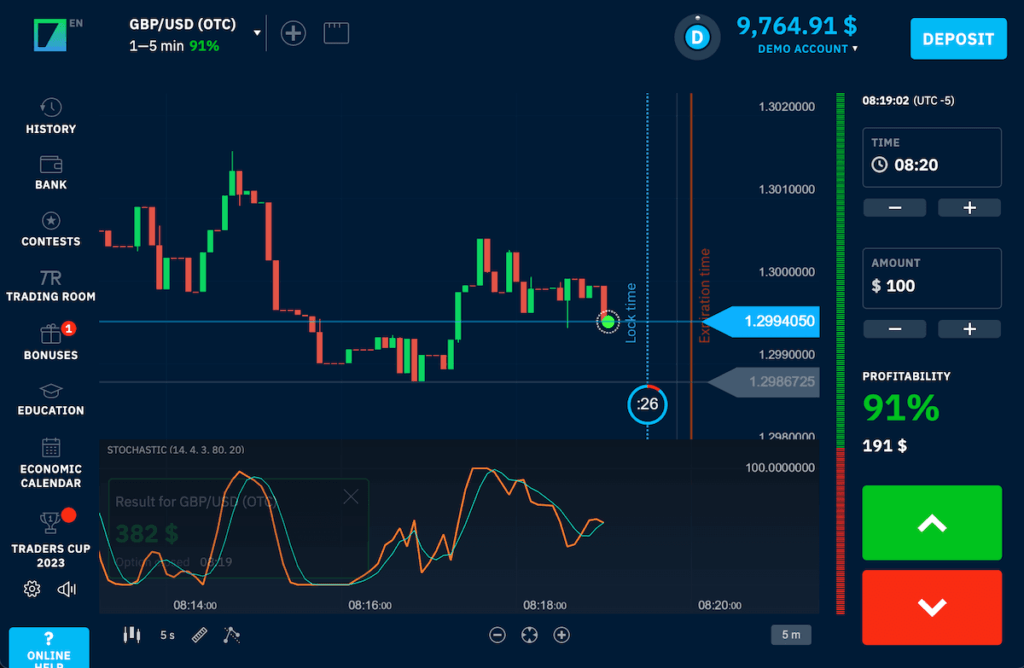 The Binarium trading platform is both minimalist and sophisticated and will suit most binary options traders. On this platform, you can add charts to your favorite time scales as well as use the most commonly used indicators in trading. Some trading platforms offer more options than Binarium, but this platform includes the majority of the most useful charting tools and indicators.
Charting tools and indicators
To conduct a comprehensive technical analysis, traders often utilize various chart types and indicators. In the upcoming section, I will demonstrate how this platform can effectively facilitate accurate data analysis and assist in making informed trading decisions.
At the bottom left corner of the screen, you will find a menu that allows you to customize the chart to your preference. This menu offers over 4 different types of charts for you to choose from. When it comes to visualizing data, you have multiple options: lines, candlesticks, and bar charts. Each of these chart types has its advantages and can be customized to fit your needs. Whether you want to show trends or highlight specific data points, you have the flexibility to adjust the visibility as necessary. In addition, the chart platform offers over 16 indicators and a range of technical drawing tools. Traders also have the flexibility to customize their tools with just a few simple clicks, allowing for a personalized trading experience. I believe that Binarium provides traders with a sufficient range of tools to effectively execute their trades.
Within the upper menu of the platform, you have the option to easily switch between different markets and view charts. This feature is particularly beneficial as it enables multi-charting, allowing you to actively trade and monitor multiple markets simultaneously. This sets it apart from other platforms that may not offer such flexibility.
Orders Execution
For traders in the Binary Options market, achieving optimal execution is crucial. This is particularly true for short-term Binary Options trades, where the entry point of your trade plays a pivotal role in determining your success. Based on my personal experience, I have extensively tested the trading platform's execution and can confidently say that it is one of the fastest I have ever come across. Entering the market with Binarium shouldn't pose any issues. This trading platform offers a user-friendly interface and a range of tools to help traders make informed decisions. With Binarium, you can access various markets and potentially capitalize on profitable opportunities.
Customizable charting:
Different chart types
More than 50 different indicators
Drawing and analysis tools
Customize your analysis
Multi-Charting
How to trade with Binarium?
Binary Options trading follows a straightforward concept. Traders are required to predict the future direction of an asset's movement, whether it will rise or fall in value. The term "Binary Options" refers to a type of financial investment that involves only two possible outcomes. This name is derived from the fact that there are exclusively two choices available within this investment method. When trading, it is important to understand that there are two possible outcomes: winning or losing. The outcome depends on whether the price is higher or lower than your entry point at the end of the expiry time.
How to trade:
Make a forecast about the movement of the market (using analysis and more)
Choose an expiration time when the Binary Option will end
Invest any amount (starting at $1)
Invest in rising or falling markets with one click (buy or sell)
Get a high return on investment or lose your investment amount
Binarium order mask
Trading the financial markets with Binary Options is often considered to be simple and straightforward. This type of trading offers just three options for traders to choose from, making the decision-making process relatively easier compared to other forms of trading.
Expiry time
Investment amount
Buy or sell markets
If you have any questions or need assistance, the platform is there for you around the clock with its 24/7 support. Additionally, they provide helpful resources such as video tutorials and a comprehensive FAQ section specifically designed to assist beginners. To ensure proper usage of this financial product, it is recommended to gain some practice. Beginners are advised to start with Binarium's free Demo Account for a better understanding and familiarity with the product. This will help users navigate the platform confidently before moving on to real trades.
Binarium demo account
A Demo Account is a type of account that allows users to simulate trading and investment activities using virtual money. It provides an opportunity to practice using the trading platform without any financial risk since no real money is involved. The Demo Account is designed to simulate the experience of trading with real money. It allows users to practice their trading strategies and familiarize themselves with the platform without any financial risk.
Binarium gives you the opportunity to explore their platform and enhance your trading strategies without any risk by offering a free $10,000 Demo Account. This allows traders to test out the platform and gain valuable experience before investing real money. An additional benefit of using a practice account is the opportunity to explore new markets and begin trading in them. This feature is particularly beneficial for beginners who are just starting out in binary options trading. It's important for binary options brokers, such as Binarium, to offer this solution to ensure that their users have a chance to learn and familiarize themselves with different markets before risking real funds.
A free and unlimited demo account is available for users to try out and explore. This allows you to test the features and capabilities of the product without any restrictions or limitations.
Refill your account effortlessly with just a single click.
Binarium account types
Binarium offers a variety of trading account types. Here is a quick overview of the different types of accounts available on Binarium as well as the prerequisites for opening these types of trading accounts.
Binarium account types
Start account
Standard account
Business account
Premium account
VIP account
Deposit amount
5 to 99.99 $
100 to 499.99 $
500 to 1 999.99 $
2 000 to 4 999.99 $
5 000 $
Trading assets
46
53
61
73
78
Tradeback *
0%
5% as a bonus

10% as a bonus

12.5% as a bonus
15% real funds
Withdrawal limit, per day / per week
50 $ / 100 $

200 $ / 500 $
500 $ / 2 000 $
1 500 $ / 4 000 $
15 000 $ / 100 000 $
Limit per withdrawal request
25 $
50 $
100 $
250 $
No limit
Withdrawal request processing
Up to 5 business days
Up to 3 business days
Up to 2 business days
Up to 1 business days

Up to 1 business days
Trading room type
Trading room
Trading room
Trading room
Business
Trading room
Business
Trading room
Business, VIP
Simultaneously open trades
100 $
250 $
1000 $
2 500 $
No limit
(Risk warning: Your capital can be at risk)
Start account:
Let's go over the important details related to the Start Account. When making a deposit, you can start with an amount ranging from $5 to $99.99. Regarding trading assets, there are 46 options available for you to choose from. For withdrawals, there are certain limits in place. You can withdraw up to $50 per day or up to $100 per week. Additionally, each withdrawal request has a limit of $25. Please note that withdrawal requests may take up to 5 business days to process. As for the Binarium trading room, you don't have access to this feature with the "Start Account", Lastly, you have the ability to have up to $100 in simultaneous open trades.
Standard Account
The Binarium Standard account offers a range of features and benefits for traders. To open an account, a minimum deposit amount of between $100 to $499.99 is required. As a bonus, traders can enjoy a tradeback of 5%. With this account, you'll have access to 53 trading assets, providing you with diverse options for trading. When it comes to withdrawals, there are certain limits in place. The withdrawal limit is set at $200 per day and $500 per week. Additionally, each withdrawal request has a limit of $50.It's important to note that the processing time for withdrawal requests is three business days. Unfortunately, there is no information available about the specific features or functionalities of the trading room. Lastly, with the Binarium Standard account, traders can have up to $250 worth of simultaneously open trades at any given time.
Bussines Account
Binarium offers a business account option for traders. To open this type of trading account, the minimum deposit amount ranges from $500 to $1,999.99. As a bonus, traders receive a tradeback of 10%. The trading platform provides access to 61 different assets for trading. In terms of withdrawals, there are certain limits in place. Traders can withdraw up to $500 per day and up to $2,000 per week. Additionally, there is a limit of $100 per withdrawal request. The processing time for withdrawal requests is typically up to 2 business days. Within the Binarium trading room, traders have the capacity to have multiple trades open simultaneously with an overall total value of up to $1,000.
Premium Account
Binarium offers a premium account option with various benefits. To open this account, you need to deposit an amount between $2,000 and $4,999.99. As a bonus, you will receive a tradeback of 12.5%. There are 73 trading assets available for you to choose from. When it comes to withdrawals, there is a limit of $1,500 per day and $4,000 per week. Additionally, each withdrawal request has a maximum limit of $250. Withdrawal requests are processed within one business day. This type of account gives you access to the Business Trading Room and allows for the simultaneous opening of trades up to $2,500 in value.
VIP Account
With the Binarium VIP account, you have the opportunity to deposit $5,000 and enjoy a tradeback of 15% in real funds. This exclusive account grants you access to 78 trading assets. When it comes to withdrawals, you have a daily limit of $15,000 and a weekly limit of $100,000. However, there is no limit on the amount per withdrawal request. Rest assured that withdrawal requests are processed within one business day. Additionally, as a VIP member, you have access to the Business Trading Room and can enjoy trading with no limitations on the number of open trades simultaneously.
Binarium Sign up
Opening an account with Binarium is a simple process. All you need to do is provide your email address and create a secure password. Once you do this, you will gain access to their user-friendly trading platform. To access all the features and functionalities of the broker, it is necessary for users to provide their complete name and email and a phone number. However, on Binarium, there is an exception where users can trade without undergoing a verification process.
Creating an account is quick and easy, taking less than a minute to complete.
You have two options when it comes to using the Binarium platform: You can either deposit real money or utilize the free demo account. Depositing real money allows you to fully experience the benefits and features of our platform, while the free demo account provides a risk-free environment for practicing and familiarizing yourself with our services.
Start trading
(Risk warning: Your capital can be at risk)
Deposit and withdrawal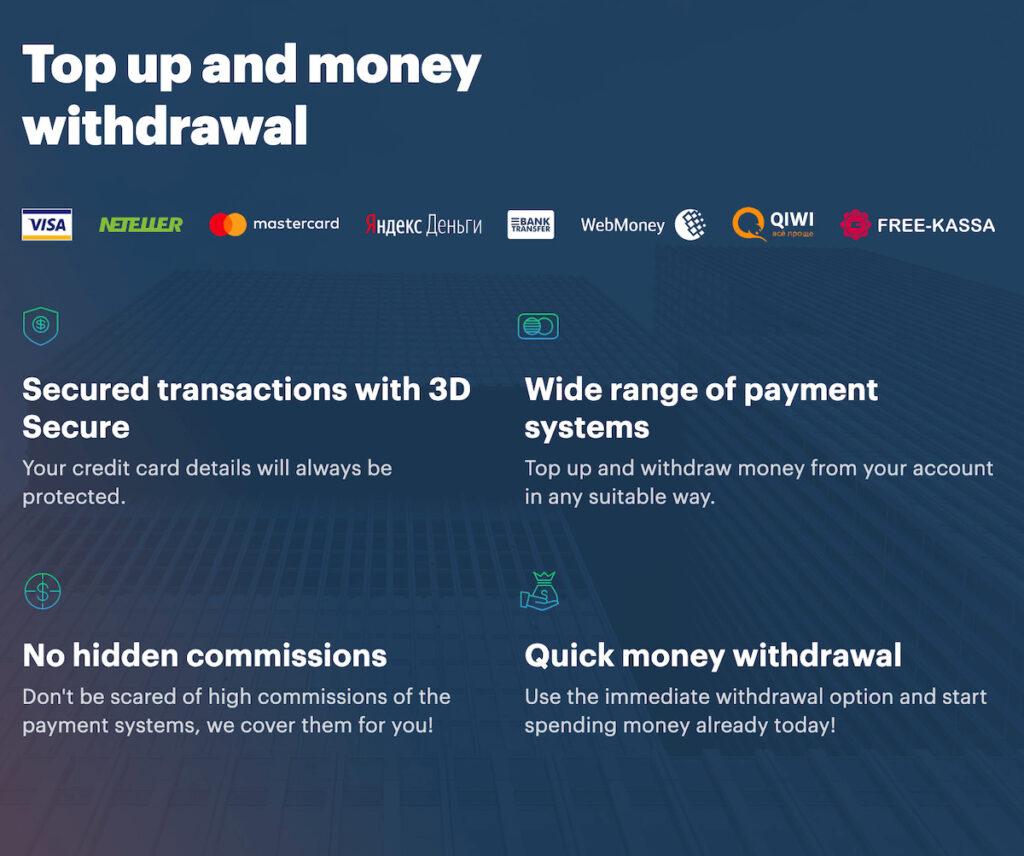 Deposit
When it comes to trading on the platform, Binarium makes depositing money a breeze. They offer an extensive selection of payment methods for both deposits and withdrawals, giving you flexibility and convenience in managing your funds. The available deposit methods can vary depending on your country. Common options include Credit Cards (Visa, Mastercard), Neteller, Qiwi, Yandex-money, Webmoney, China UnionPay, Wire transfers, Cryptocurrencies, and various others. It is advisable to check with your specific location to determine which methods are supported.
To get started, all you need is a minimum deposit of $10. Rest assured that there are no hidden fees involved in your transactions. In addition, the initial deposit is completely free of charge.
Withdrawal
When it comes to withdrawals, the process used is the same as for deposits. It's worth noting that Binarium does not charge any fees for withdrawals. However, there may be instances where your payment provider imposes a fee. On the Binarium trading platform, the company ensures a transparent process where you can easily observe that payouts are made within 24 hours. Please be aware that in some cases, payment processing may take longer than the usual three-day timeframe. This delay can occur due to non-working days such as weekends or public holidays. It's important to keep this in mind when expecting a payout or making financial arrangements.
Deposits and withdrawals at Binarium are completely free of any fees. You can enjoy the convenience of managing your funds without any additional costs.
With the convenience of electronic payment methods, deposits can now be made instantly. This means that you don't have to wait days for your funds to become available.
Withdrawals typically take 1-3 days to process, ensuring that you receive your money in a timely manner.
Bonuses and Promotions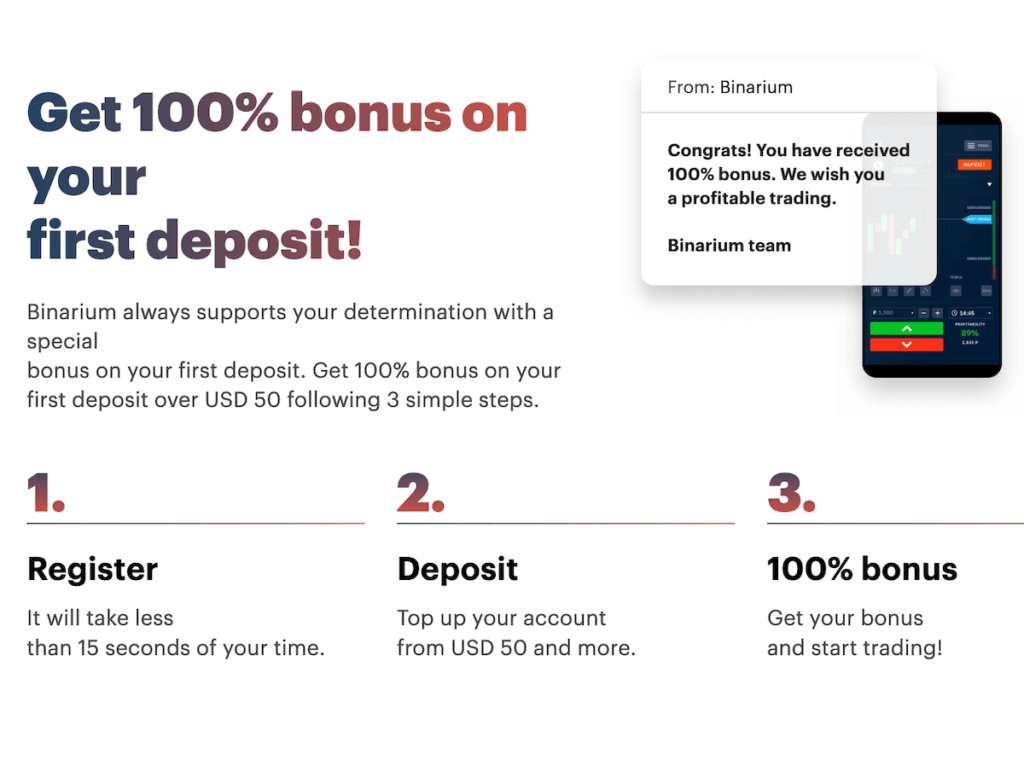 Binarium provides traders with a great incentive – they offer a free bonus for the first deposit on the platform. On top of that, they have additional special bonus programs available, adding more value to the trading experience. The bonus you receive is directly tied to the amount of your deposit. It has the potential to exceed 100% of your initial deposit, which is quite generous. However, there are certain conditions that must be met before you can withdraw this bonus. In order to fulfill the requirements for the bonus, it is necessary to achieve a trading volume that is 40 to 50 times the amount of the bonus.
If you receive a bonus of $100, it is required that you complete a trading volume ranging from $4,000 to $5,000. This means you would need to engage in trades totaling that amount. In my experience, it is possible for this to happen quite quickly. Offering bonuses can be an effective strategy to enhance your trading account and potentially increase your funds.
We kindly ask you to review the terms and conditions regarding the bonus. These conditions are displayed openly on the trading platform, ensuring transparency. The bonus amount is contingent upon meeting the specific requirements outlined in these conditions.
(Risk warning: Your capital can be at risk)
Binarium Tournaments
Binarium organizes both free and paid tournaments for its users.
Free tournaments are organized as one-day events on a weekly basis, specifically on Mondays, Wednesdays, and Fridays. These tournaments provide participants with the opportunity to compete without any entry fees or costs. To take part, all you need to do is complete the registration process. The prize fund is set at $1,500, and winners will receive their prizes in the form of a no-deposit bonus. However, please note that this bonus will require some processing before it can be withdrawn. It is important to note that the rules related to no deposit bonuses apply specifically to the prize money you receive when you participate in and win a free tournament.
Paid tournaments are a type of tournament where participants need to pay a small fee, typically ranging from $5 to $15, in order to enter. In these tournaments, the prizes awarded to the winners are given as real money. However, it's important to note that the winnings usually need to go through a processing step before they can be withdrawn by the participants. In the event that there is no trading volume on the real account, the company retains the authority to withhold prize payment. Paid tournaments on Binarium come in different durations, ranging from daily to monthly. The specific duration for each tournament is clearly outlined in the terms and conditions provided by Binarium. Make sure to review these terms before participating in any tournament.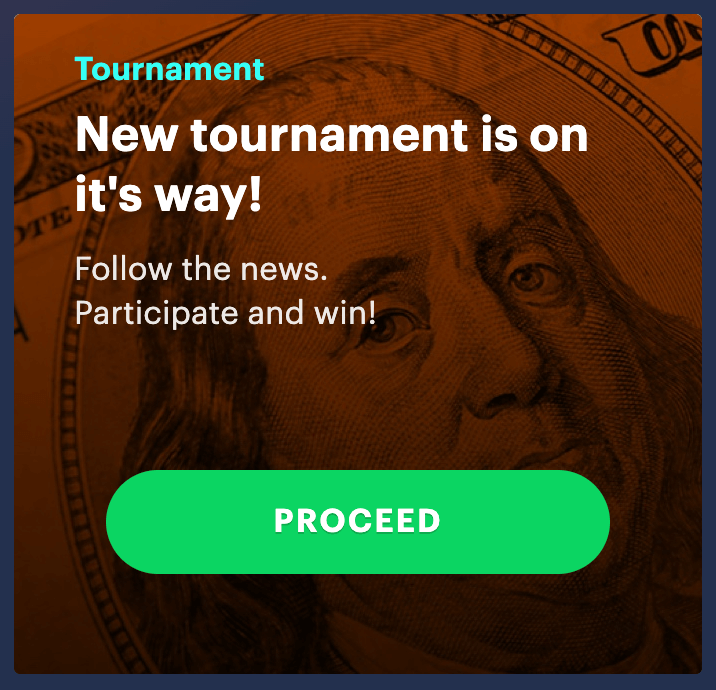 Binarium Tradeback
Tradeback is a form of compensation that aims to partially offset the losses incurred on a real trading account during the previous week. It serves as a way to provide some financial relief to traders who may have experienced setbacks in their trading activities. To receive a tradeback credit, it is important to note that it only applies if your trading activity for the week resulted in an overall loss. This means that the number of trades that ended up being unprofitable should exceed the number of profitable trades conducted from your real account during that particular week. The amount and format of the Tradeback, whether it's in the form of a bonus or real funds, depend on your account type. For detailed information on this, please refer to the Account Types section on the official website of Binarium.
When Tradeback is credited?
Tradeback, if eligible, is credited to your account every Tuesday at 00:00 GMT+0.
How can I withdraw my Tradeback from Binarium?
Withdrawing Tradebacks follows a procedure similar to that of regular bonus withdrawals. In fact, it is often even easier to withdraw Tradeback that has been accumulated in the bonus account. Once you have reached a trading volume of x20, or x40 in case you want to receive a bonus, you will be able to proceed with the designated action.
VIP account holders enjoy a special advantage when it comes to withdrawing Tradeback. Unlike regular users, they receive the tradeback amount as real funds without the need for any processing. This means that VIP account holders can withdraw their funds immediately, providing them with greater flexibility and convenience.
How is the tradeback calculated?
The calculation of Tradeback is specifically based on the loss of real funds. It does not take into account any losses incurred with bonus funds. When both bonus and real funds are utilized for trading, it is important to note that only the real funds will be taken into account when calculating losses for Tradeback purposes.
The platform determines the Tradeback using a specific formula. It multiplies the loss from the previous week by the tradeback percentage assigned to the account type. It is worth noting that higher account statuses correspond to higher payout percentages.
Suppose the Business account holder incurred a loss of $1,000 during the last week with a deduction rate of 10%. In this case, the Tradeback would be calculated as follows: $1,000 multiplied by 10% equals $100.
How to disable Tradeback?
To disable Tradeback in your personal account, simply navigate to the Tradeback options section. From there, you will be able to find the necessary settings to turn off this feature. You have the flexibility to activate the service whenever you want. However, it's important to note that if tradeback is disabled during a certain period, you won't be eligible for any tradeback payouts during that time.
Customer Support
When considering a Binary Options Broker, it's crucial to factor in their support and customer service for traders. A reliable broker should provide excellent assistance and be responsive to any queries or issues you may encounter during your trading journey. Investing in a broker with strong support can help ensure a smooth experience and enhance your overall trading satisfaction. During my testing, I also had the opportunity to evaluate Binarium's service. It is worth noting that Binarium provides customers with a variety of support options, including telephone, email, Telegram bot, and online chat. What's more impressive is that their support team is available 24 hours a day to assist customers whenever they need help. International traders require communication in various languages. To cater to this diversity, websites often provide contact information that is readily accessible to visitors. This enables traders to directly connect with the company and address any queries or concerns they may have.
Based on my personal experience, I found the customer support to be highly efficient and prompt. I had the opportunity to test their response time multiple times, and they consistently answered queries swiftly. Additionally, they were readily available to assist with any issues encountered while using the platform. In addition to their other helpful features, They can also guide you through using the trading platform. After careful evaluation, it seems that the customer support team offers a remarkably high level of support.
Telephone, Chat, Email, and Telegram Bot
24/7 support available
Quick and professional support
Personal Account Managers
Binarium customer support phone number:
Contact information for Russian-speaking clients:
+ 7 (499) 703 35 81
Contact information for English-speaking clients:
+357(22)052784
+44(203)6957705
Customer support Email: support@binarium.com
Available countries
Binarium is a trading platform that welcomes traders from various countries worldwide. However, it's important to note that there are certain restrictions in place for residents of two specific countries. The broker has certain restrictions on accepting traders from the United States of America and the UAE. However, they are open to traders from all other countries. Additionally, their website is conveniently available in 10 different languages to cater to a wider audience.
Binarium is popular in:
India
South Africa
Malaysia
Indonesia
Philippines
Thailand
China
Europe
And more
Binarium vs other brokers
Binarium stands out among other binary brokers due to its impressive performance. It has been rated with a solid score of 4 out of 5 points, indicating its reliability and effectiveness in the industry. One benefit offered is the availability of a free bonus for each deposit made. However, it's important to note that the broker is not regulated. Another aspect to consider is that Binarium provides a lower yield, with returns of up to 80%.
| | Binarium | Pocket Option | Quotex |
| --- | --- | --- | --- |
| Rating: | 4/5 | 5/5 | 5/5 |
| Regulation: | Not regulated | IFMRRC | No regulated |
| Digital Options: | Yes | Yes | Yes |
| Return: | Up to 80%+ | Up to 93%+ | Up to 98%+ |
| Assets: | 100+ | 100+ | 300+ |
| Support: | 24/7 | 24/7 | 24/7 |
| Advantages: | Free bonus for each deposit! | Offers 30-second trades | Offers better returns per trade |
| Disadvantages: | Lower yield | Higher minimum deposit | Trading app is not available on iOS |
| | Sign-up with Binarium | Sign-up with Pocket Option | Sign-up with Quotex |
Conclusion
Based on my personal experience, I can assure you that Binarum is not a scam. I took the time to review it using the Demo Account feature, which allowed me to get a feel for how it works without using real money. Additionally, I also tested it with a small investment of $100 to see its performance in an actual trading scenario. The broker is known for its efficient speed, ensuring quick transactions for both deposits and withdrawals. Users can enjoy a hassle-free experience with their financial transactions. While there are clear advantages to using Binarium, it is important to acknowledge that the lack of regulation can be perceived as a disadvantage.
This platform is highly recommended for beginners due to its user-friendly interface and simplicity. It is designed in a way that even those with limited experience can easily navigate through it. Another advantage for beginners is the option to start with a small initial investment, allowing them to test the waters without risking too much capital. I was pleasantly surprised by the incredibly fast execution provided by this broker, especially when compared to others in the market. One additional aspect worth mentioning is the bonus program. By participating, you have the opportunity to receive a free bonus with no limitations. This can be an excellent strategy to significantly increase your trading account and maximize your potential profits.
(Risk warning: Your capital can be at risk)