Rating: 4.5 out of 5.0 stars4.5
Free demo account: Yes
Payout: Up to 95%
Bonus: Up to 100%
Assets: 300+ Forex, Commodities, Stocks, Cryptos
Exnova is a reputable binary broker that provides traders with a robust online trading platform. With this platform, traders have access to various exceptional features, enhancing their overall trading experience. On Exnova, traders have access to a range of different account types and trading tools. This allows them to explore and choose the options that best suit their individual needs and preferences.
Exnova is dedicated to offering a trading platform that is not only user-friendly but also efficient, catering to both beginners and experienced traders. When considering Exnova as a trading platform, it is important to assess its competitive trading conditions and evaluate whether the investment of time and money would be worthwhile. Let's delve into the details to determine if Exnova meets the needs and expectations of traders.
Exnova quick overview
| | |
| --- | --- |
| Broker | Exnova |
| 📅 Founded | 2017 |
| ⚖️ Regulation | No regulated |
| 💻 Demo | Yes |
| 💳 Minimum Deposit | $10 |
| 📈 Minimum trade | $1 |
| 📊 Assets | 300+, Forex, Commodities, Stocks, Cryptos |
| 💰 Return on investment | 95% |
| 🎁 Bonus | Up to 100% |
| 💵 Deposit Methods | Credit Cards (Visa cards, Mastercard), Webmoney, China UnionPay, Wire Transfer, Cryptocurrencies, Neteller, Qiwi, Yandex-money, and many more |
| 🏧 Withdrawal methods | Credit Cards (Visa cards, Mastercard), Webmoney, China UnionPay, Wire Transfer, Cryptocurrencies, Neteller, Qiwi, Yandex-money, and many more |
| 📍Headquarters | Lighthouse Trust Nevis Ltd, Suit 1, A.L Evelyn Building, Main Street Charlestown, Nevis |
| 💹 Trade Types | Blitz, Digital and Binary options, crypto, CFDs on stocks, commodities, ETF |
| 💻 Trading Platform | Web, Windows, iOS, Android |
| 🌎 Language | English, Spanish, French, Russian, Portuguese, Turkish, Thai, Vietnamese, Indonesian, Korean, Arabic, Hindi, Italiano, Swedish, Bengali |
| 👨‍💻 Social Trading | No |
| 🕌 Islamic account | No |
| ⭐ Rating | 4.5/5 |
(General risk warning: Your capital can be at risk)
What is Exnova?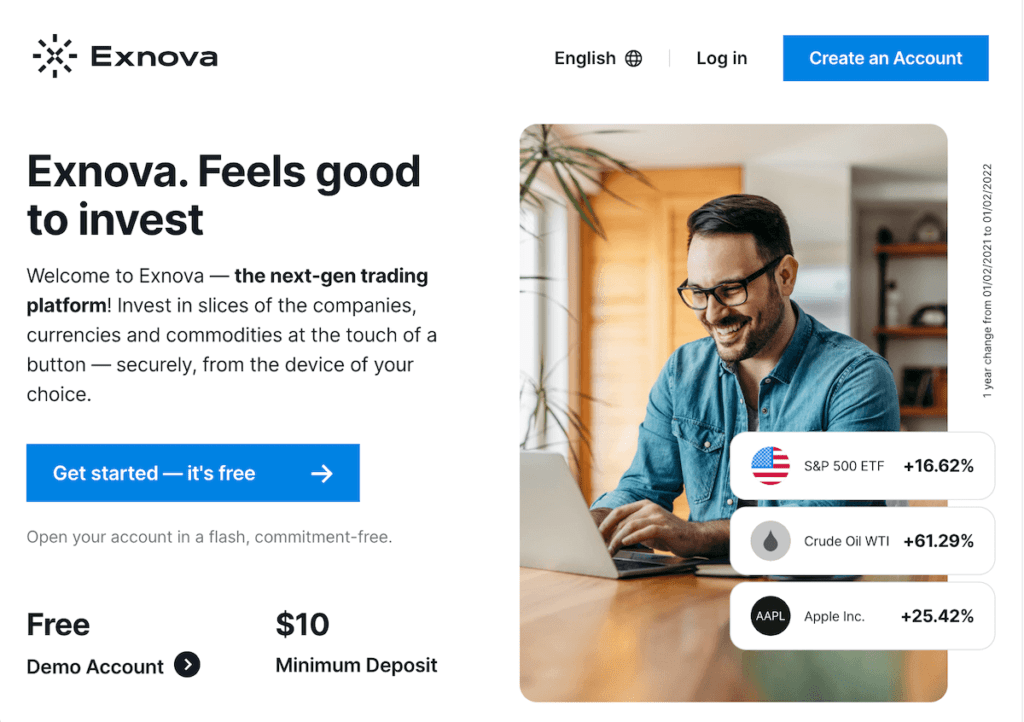 Exnova is a comprehensive trading platform designed to facilitate online trading of various assets. Users can take advantage of this platform to engage in stock trading, forex trading, commodities trading, binary options trading, digital options trading, and even cryptocurrencies. It offers a wide range of options for traders to explore and participate in the global financial markets. The platform provides a variety of features and tools that are specifically designed to assist users in making well-informed trading decisions. These resources aim to equip traders with the necessary information and insights they need to navigate the market successfully.
Exnova prides itself on offering users a trading platform that is both user-friendly and secure. This platform can be accessed through desktop applications, web browsers, and even mobile applications for added convenience. The trading platform has multiple account types available, catering to traders of different skill levels. This allows traders to choose the account type that best suits their expertise and trading style.
Exnova is a highly regarded broker that provides traders with favorable trading conditions. The terms and conditions associated with using this online platform are particularly advantageous for all types of traders.
Exnova distinguishes itself from other options with its fast expirations and high payouts. It offers a thrilling experience that promises instant results you can actually achieve, giving you an adrenaline rush like no other.
Blitz Options: With the use of this feature, results can be obtained in a matter of seconds, as the expiration time is set at just 5 seconds. This ensures lightning-fast outcomes, providing almost instant gratification. Additionally, users can benefit from a high payout ratio of up to 95%, adding to the attractiveness of this option.
In contrast to gambling, successful trading is not solely reliant on luck. Clients employ a trading strategy designed for short-term deals, enabling them to make accurate predictions about price movements and achieve a remarkable 80% success rate in closing profitable trades.
Trailing Options (coming soon): By incorporating the principles of trading into the "Aviator" game, players can experience the excitement of a "candle pump" which has the potential to generate substantial profits. These profits can range from 10 times to even 100 times the initial investment, all visualized on a dynamic trading graph.
Event Options (coming soon): Event trading can be an exciting activity, especially when you tie your prediction to a specific event. By doing so, you can track the growth of the graph and see how accurate your prediction turns out to be. News trading has been made simpler with this approach, allowing individuals to engage in this form of speculation with ease.
Digital & Turbo Options: With the digital and turbo option, you have the flexibility to manually set strike prices. This allows you to aim for higher profits by striking at a higher level.
If the previous information hasn't convinced you yet, rest assured that Exnova is a recently established broker that is just getting started. They are constantly working on developing new features that are unique and exclusive to their platform. Make sure to stay updated for exciting additions in the future!
Pros and cons of Exnova
After conducting a thorough comparison between Exnova and other trading platforms, I will provide you with a detailed analysis of the advantages and disadvantages of using Exnova. Just like any other platform or broker, it's important to be aware of potential disadvantages that may come with using them. Based on my perspective, the benefits of using the broker Exnova outweigh any potential drawbacks. When traders are considering whether to use a specific trading platform, it's important for them to weigh the potential pros and cons. By evaluating these factors, they can make a more informed decision that aligns with their individual needs and goals.
There are several advantages to using Exnova:
Pros
The Exnova broker offers a wide range of types of options to trade, whether Blitz options with an expiration of only 5 seconds, classic high low binary options or more exotic options such as trailing options and event options, this in makes it an ideal platform for digital option traders.
With this online trading platform, you gain access to a free demo account to discover the features of the trading platform and gain trading experience without the risk of losing your hard-earned money.
Exnova's trading platform offers one of the largest collections of technical analysis tools that can greatly enhance our trading experience. These tools provide valuable market insights, real-time data analysis, and advanced trading features to help traders make informed decisions and optimize their trading strategies. From charting software and technical indicators to algorithmic trading platforms and risk management tools, the options are abundant for traders looking to trade binary options online.
Exnova's basic account type stands out by offering a very accessible minimum deposit requirement of just $10. This makes it easy for individuals to get started and start investing without having to commit a large sum of money upfront.
The platform offers versatile language support, catering to traders from various regions across the globe. With this feature, individuals can comfortably utilize the platform and engage in trading activities regardless of their native language.
Cons
Unfortunately, Exnova does not provide the MetaTrader suite for traders. This may be a drawback for some individuals who prefer trading platforms like MetaTrader 4 and 5 (MT4 and MT5) or cTrader. It's essential for traders to consider their preferred platform when choosing a broker.
Although Exnova provides certain educational resources like market analysis and webinars, it may not offer the same extensive range of educational content as some other brokers do.
Some traders may find it inconvenient that this broker has limited payment methods available.
Compared to other brokers, this one may have a slightly more limited range of assets to choose from.
(General risk warning: Your capital can be at risk)
Exnova Regulation
Exnova is a relatively new binary options broker, so it's understandable that there may be limited information about its regulations on the website. It would be helpful to reach out to their customer support or refer to other reliable sources to obtain more detailed information about their regulatory framework. Exnova takes the security of its clients' data and transactions seriously. They implement industry-standard security measures such as SSL encryption and two-factor authentication to ensure that sensitive information is protected. By employing these measures, Exnova aims to provide a secure environment for their clients' data and transactions.
Furthermore, Exnova ensures the safety of clients' funds by keeping them in segregated accounts held with reputable banks. This practice adds an additional layer of protection to safeguard the clients' funds.
Traders can feel confident in the safety of trading with Exnova. Our thorough analysis has found no evidence of scams or fraud on the platform, providing a secure environment for traders.
Exnova trading platform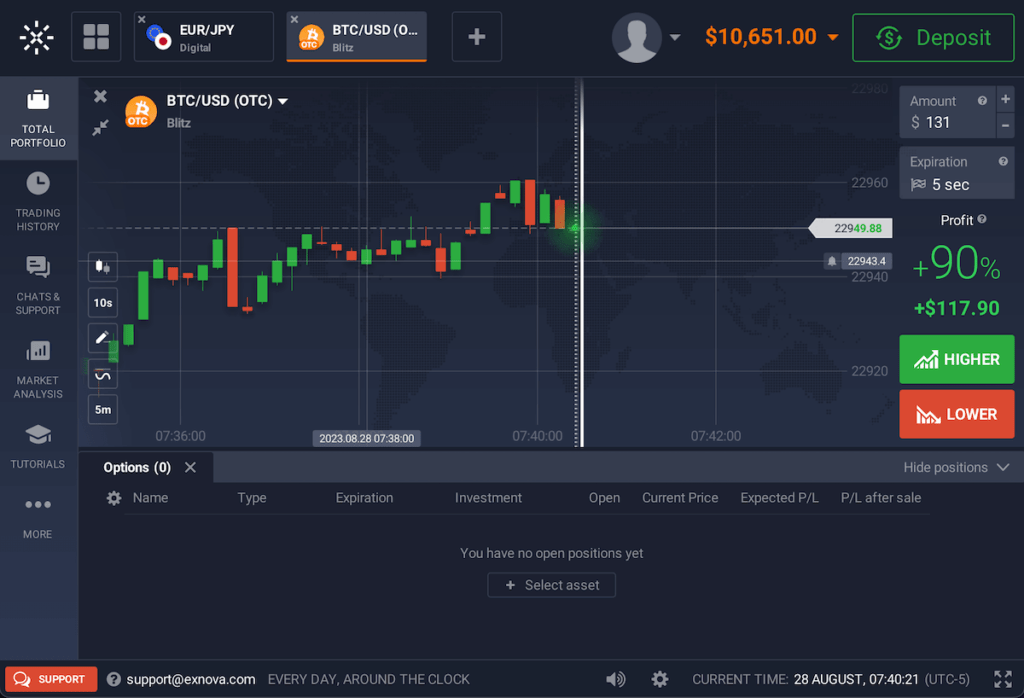 Exnova provides traders with two trading platforms to cater to their specific needs and preferences. This allows them to select the platform that best suits their trading requirements.
The Exnova App
Exnova provides traders with a convenient mobile trading application, enabling them to engage in trading activities even while on the move. This mobile app offers the same level of functionality as its web counterpart, ensuring that traders can easily access and trade within the financial markets at any time and from any location.
The mobile application offers all the features that can be found on the web version. This ensures users have access to the same functionality and capabilities regardless of whether they are using the application on their mobile devices or accessing it through a web browser.
(General risk warning: Your capital can be at risk)
Web trading platform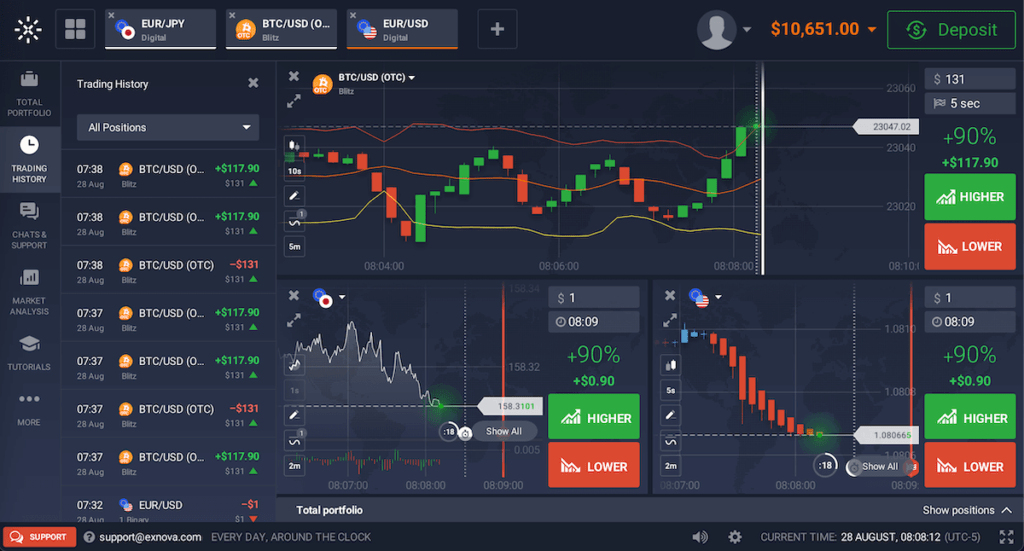 Exnova offers a web-based trading platform that is exclusively designed for traders seeking a seamless and efficient trading experience. With Exnova's proprietary platform, you can enjoy a streamlined interface that caters to your preferences and enhances your overall trading journey. Users can access this trading platform conveniently from any web browser.
WebTrader is a trading platform that provides users with an interface that is easy to navigate and use. It also offers real-time market data, allowing traders to make informed decisions based on the most up-to-date information. Additionally, WebTrader provides a variety of advanced trading tools to enhance the trading experience and assist users in making profitable trades. Traders now have access to a range of convenient features that enhance their trading experience. With one-click trading, executing trades has become quicker and more efficient. Customizable charts allow traders to tailor their visualizations to suit their specific needs. Additionally, in-depth market analysis tools are available, providing valuable insights for making informed trading decisions.
Chart type and Analytical tools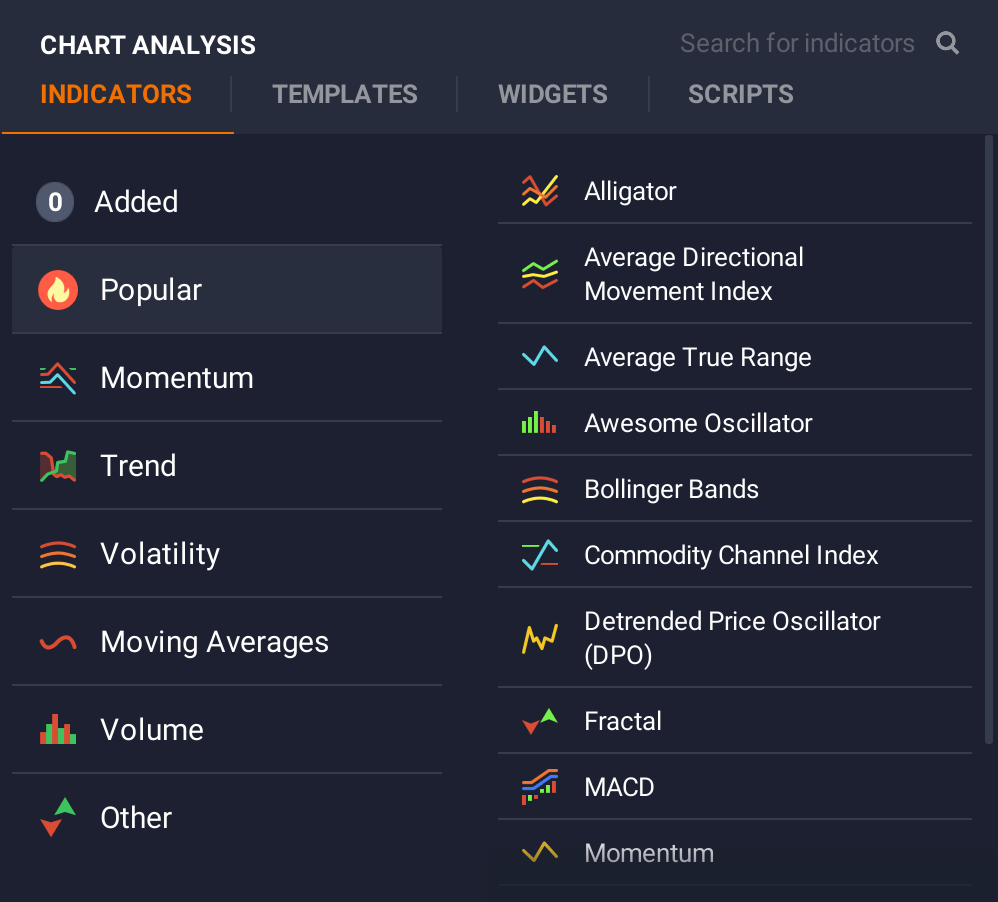 Traders using the Exnova trading platform have access to a variety of charting tools. These tools are designed to simplify the trading process by providing visual representations of market data and trends. They allow traders to make more informed decisions based on the information presented in the charts. On this platform, traders have the opportunity to perform thorough analysis before executing their trades. They can utilize various tools such as oscillators and the Fibonacci retracement to make informed decisions. By utilizing these techniques, traders can effectively analyze market trends and identify potential price reversals. This ultimately enhances their likelihood of achieving success in online trading.
On this platform, traders have the opportunity to utilize charting features that provide real-time data for a wide range of assets. This enables them to stay updated and make informed decisions based on the most current market information available. These features can be utilized for trading various financial instruments such as forex, commodities, indices, and cryptocurrencies. Users have the flexibility to customize these charts by adding different indicators and adjusting time frames based on their preferences.
Trading Tools
Exnova provides a range of trading tools designed to assist traders with technical analysis. These tools are invaluable for traders looking to improve their trading strategies and make more informed decisions. Here are some of the top tools that traders can utilize in their trading endeavors:
Technical indicators: Exnova provides a wide range of technical indicators that traders can utilize on charts to analyze market trends and identify lucrative trading opportunities. By incorporating these indicators into their trading strategies, traders can make informed decisions based on market data.
Drawing tools: Exnova offers a wide range of drawing tools that traders can utilize. Among these tools are trend lines and Fibonacci retracements, which allow them to mark significant levels on their charts. This feature enables traders to analyze market trends and make more informed trading decisions
Trading signals: Traders who choose this broker can benefit from free trading signals. These signals are generated using advanced algorithms and technical analysis techniques. This can be useful in making informed trading decisions based on market trends and patterns.
Trading conditions and offers
Exnova provides a range of trading conditions that may be appealing to traders. One noteworthy aspect is their competitive fee structure, which can provide cost-effective trading opportunities for investors.
In addition to its other features, this platform provides variable spreads that can adjust based on the current market conditions. The spreads for major currency pairs start from as low as 0.9 pips, making it a competitive option compared to other brokers in the industry.
Exnova provides a diverse range of trading assets for its users. Traders have the flexibility to choose from various options including forex, commodities, indices, and cryptocurrencies. This allows them to tailor their trading strategies based on their preferences and market trends.
(General risk warning: Your capital can be at risk)
Asset and Markets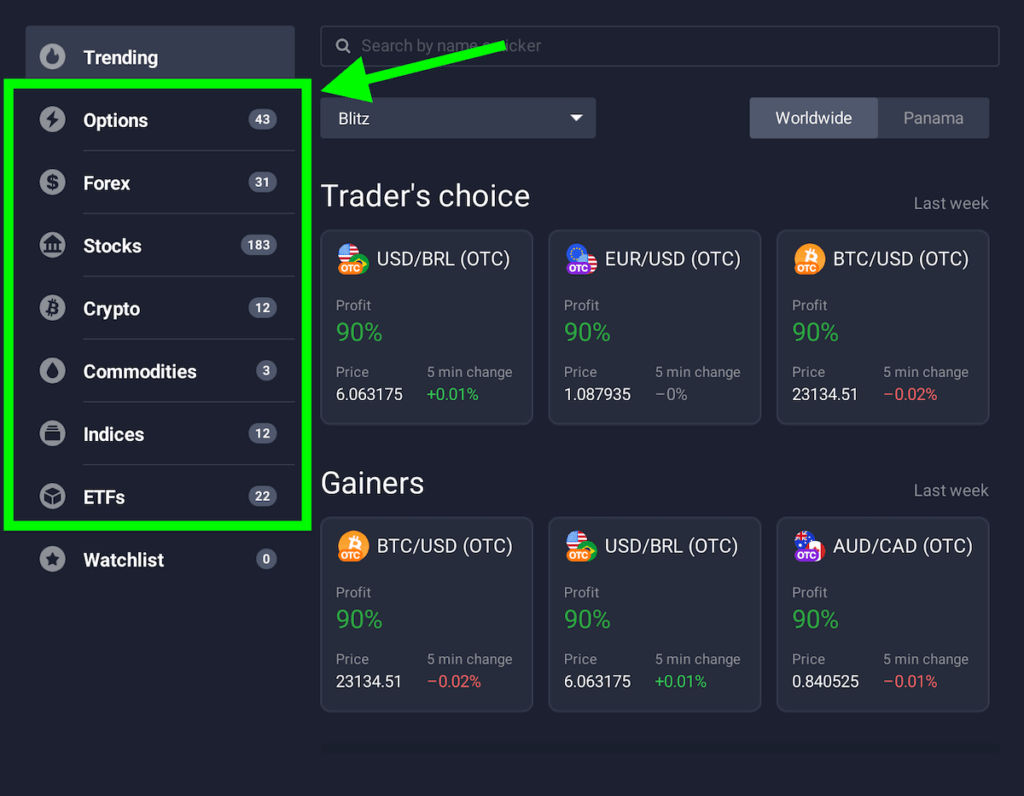 Traders who trade on Exnova have the ability to trade a wide range of assets and markets, including Options, Forex, Stocks, Crypto, commodity, Indices and ETFs.
Exnova is an innovative trading platform that offers traders a wide range of assets and markets to engage with. From options and forex to stocks, crypto, commodities, indices, and ETFs, Exnova provides a comprehensive selection for traders to explore. This diverse offering allows traders to diversify their portfolios and take advantage of various market opportunities.
With Exnova, traders have the flexibility to engage in different types of trading strategies across multiple markets. Whether you are interested in trading currency pairs in the forex market or exploring the potential of cryptocurrencies, Exnova provides a user-friendly interface that caters to both beginners and experienced traders.
The platform's inclusion of options trading adds an additional layer of sophistication for those seeking more advanced strategies. Traders can leverage options contracts to hedge their positions or speculate on price movements with controlled risk.
Furthermore, Exnova ensures that its users have access to real-time market data and analysis tools that can support their decision-making process. This valuable information empowers traders by providing them with insights into market trends, price movements, and other relevant data points.
In summary, Exnova offers a diverse range of assets and markets for traders looking to expand their investment horizons. The platform's user-friendly interface coupled with real-time market data makes it an ideal choice for both novice and seasoned traders alike.
(General risk warning: Your capital can be at risk)
Binary options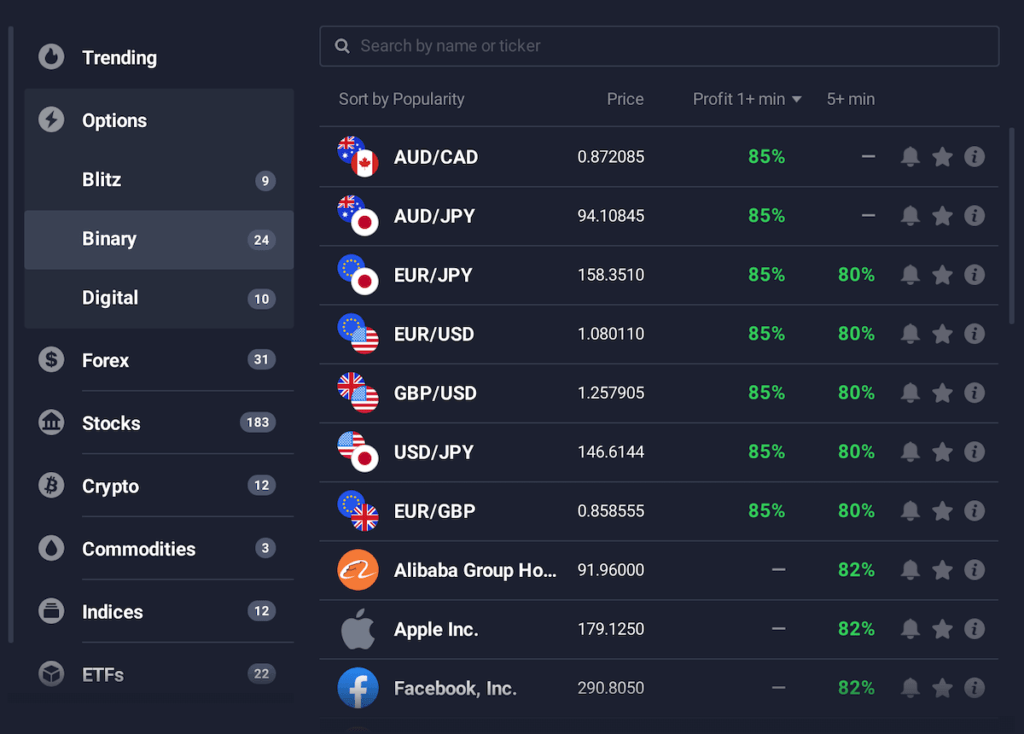 This trading platform offers the option to engage in binary options trading as well. Traders have the flexibility to select their preferred underlying assets to trade with binary options. The broker also offers support for digital options trading, which can offer up to 900% return on investment.
Blitz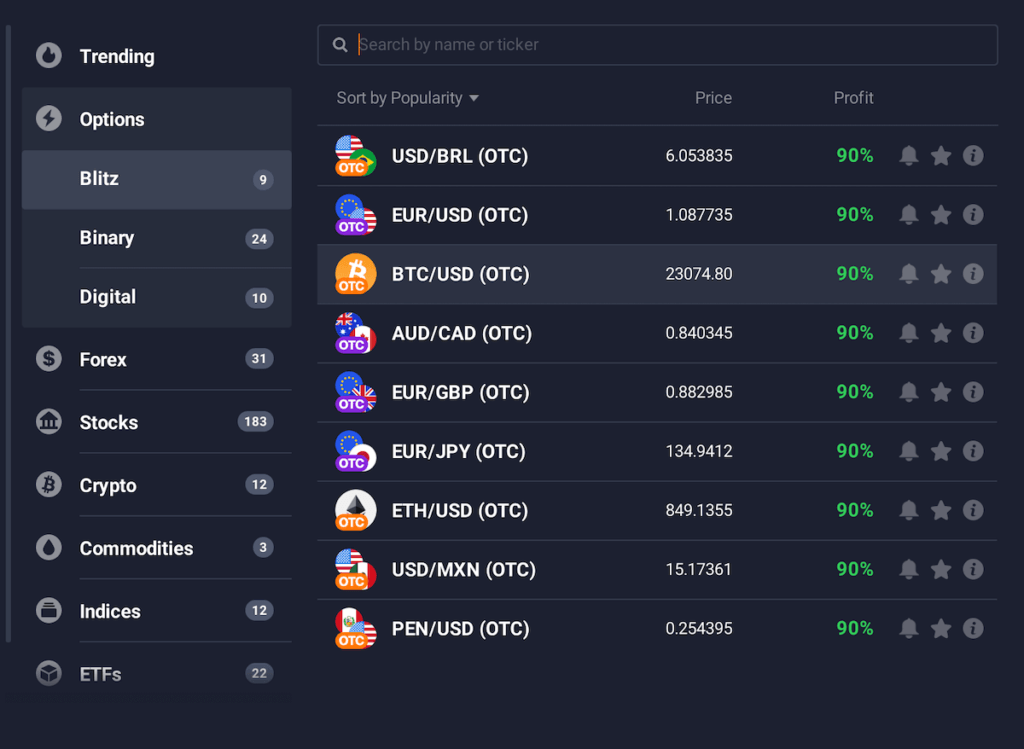 The Blitz options refers to 5 seconds binary options on Exnova. This type of binary option offers a high return per trade in an ultra-short period of time.
The term "blitz option" refers to a specific type of binary option trading available on the Exnova platform. In this type of binary option, traders have the opportunity to earn a high return on their investment within an incredibly short timeframe of just 5 seconds.
The appeal of blitz options lies in their ability to provide quick profits for traders who are looking for immediate results. Unlike traditional binary options that may require longer timeframes for trades to mature, blitz options offer an accelerated trading experience.
With blitz options, traders can take advantage of rapid price movements in the market and potentially generate substantial returns within seconds. This ultra-short period makes it ideal for those who prefer fast-paced trading and want to maximize their profit potential in a shorter amount of time.
Forex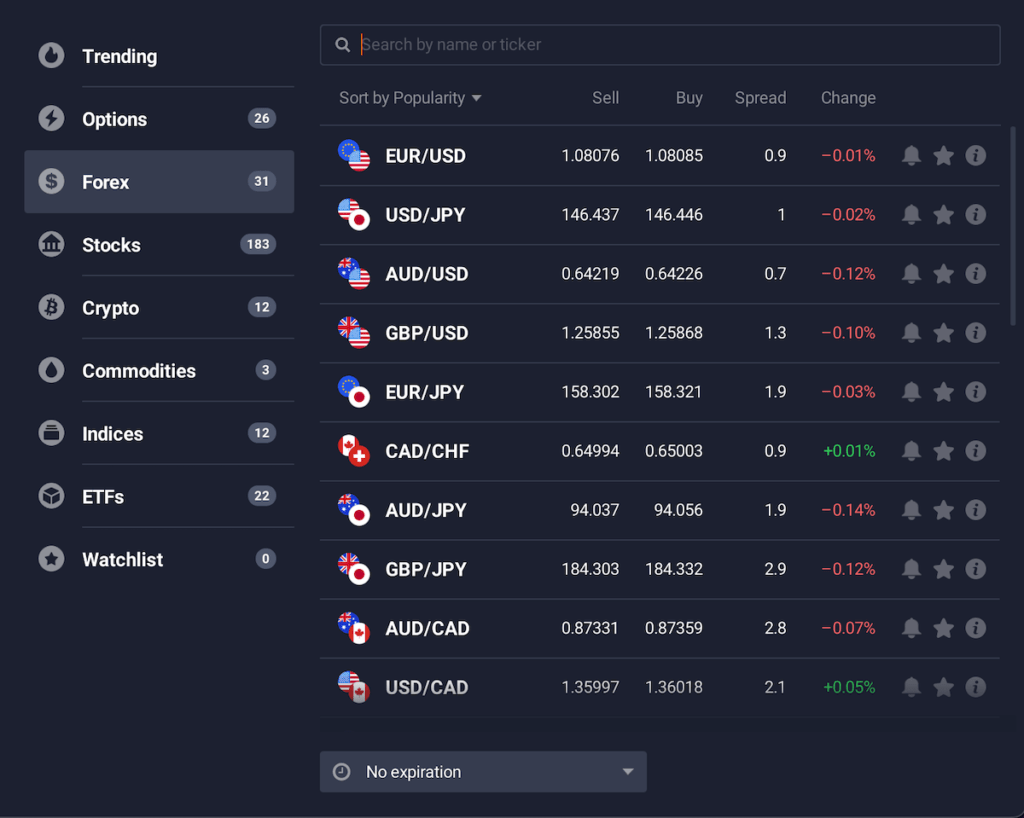 Exnova provides an extensive range of forex trading options, offering access to more than 31 currency pairs. These pairs include major currencies, minor currencies, and exotic currency pairs. This broad selection allows for diverse trading strategies and the opportunity to explore various global markets.
Stocks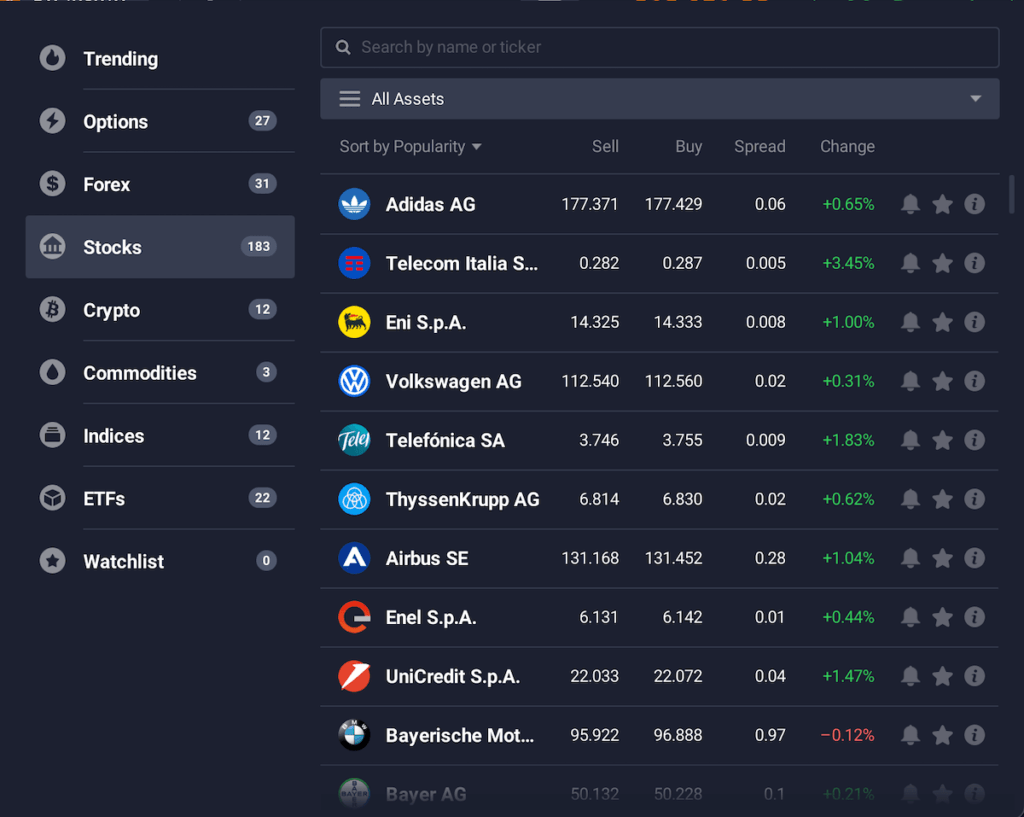 Exnova is a trading platform that provides traders with the exciting opportunity to trade stocks. With a wide range of options, this platform allows users to engage in trading up to 183 stocks. Among these stocks are well-known and established companies such as McDonald's, Apple, Coca-Cola, and Mastercard. These "blue chip" stocks are highly regarded in the investment world due to their stability and strong performance over time. This platform also offers exotics and volatile stocks for traders who like high volatility.
This platform caters to traders who thrive on high volatility and are looking for more exotic and volatile stocks. With a wide selection of stocks, including those with higher risk levels like legal cannabis companies stocks, traders can take advantage of market fluctuations and potentially earn substantial profits. By offering access to these types of stocks, the platform provides a unique opportunity for traders seeking more aggressive investment options.
Cryptocurrencies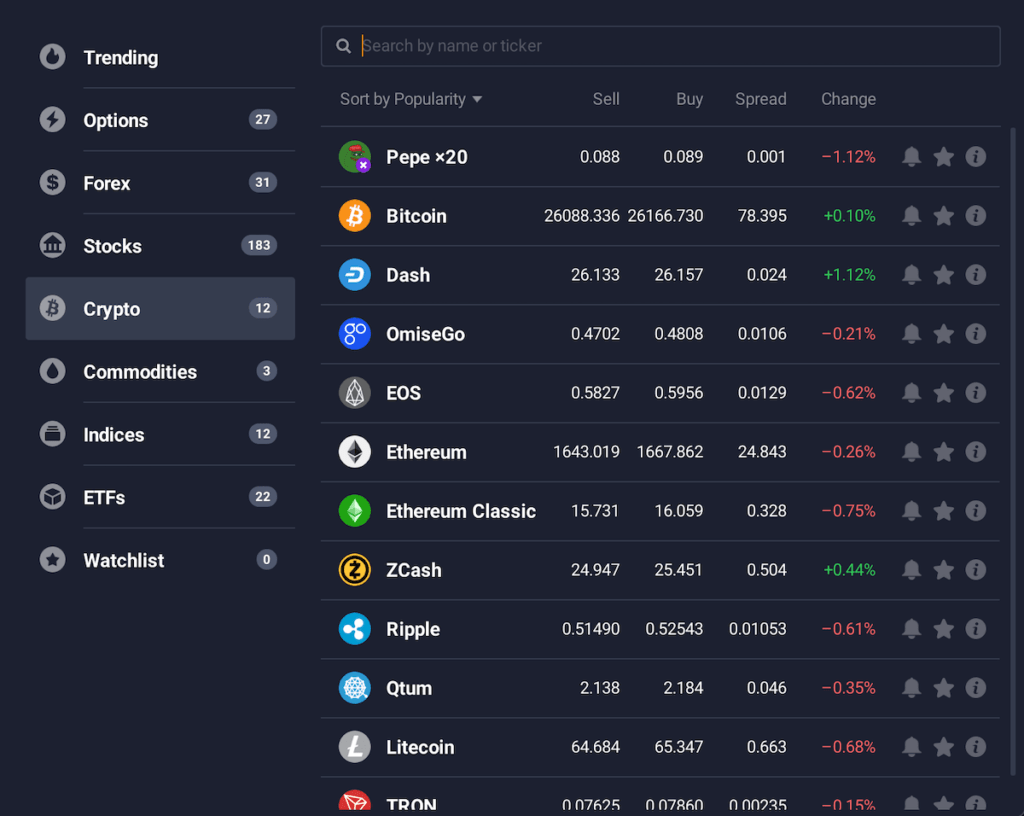 Exnova provides traders with an exciting platform to engage in trading activities involving a wide range of popular cryptocurrencies. With the rising popularity of digital currencies, Exnova allows users to participate in the dynamic world of cryptocurrency trading. From Bitcoin to Ethereum, Ripple to Litecoin, traders have an abundance of options to explore and capitalize on potential market opportunities.
Commodities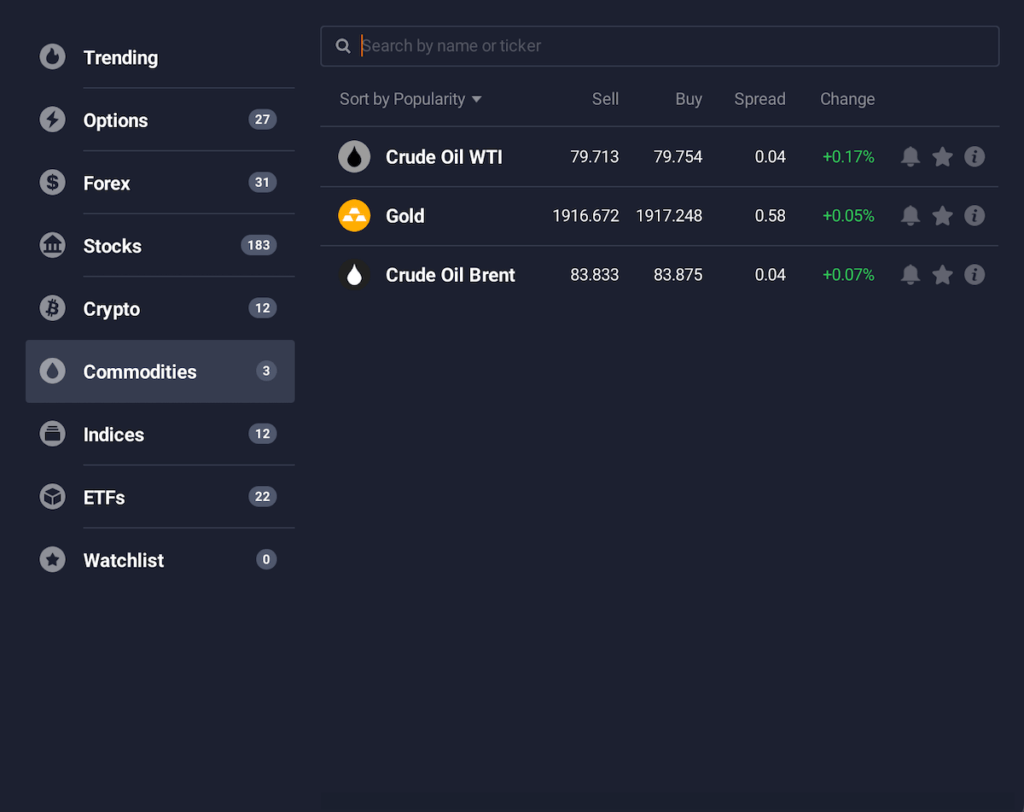 Traders have the opportunity to trade a wide range of commodities, such as precious metals like gold and silver, as well as energy products like crude oil and natural gas. This allows them to diversify their portfolios and take advantage of opportunities in different markets.
Indices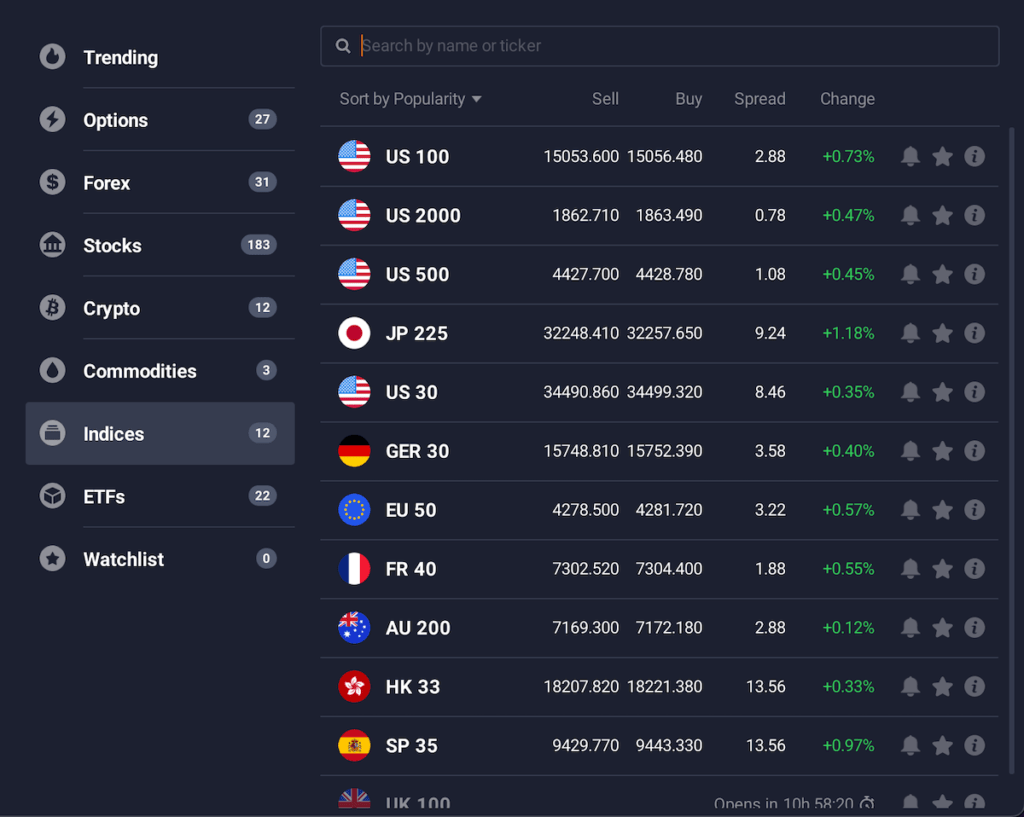 Exnova offers traders the opportunity to place trades on a wide range of global stock indices, including well-known ones like the S&P 500, NASDAQ, and FTSE 100. This gives traders access to diversified investment options and allows them to take advantage of global market movements in different regions around the world.
With Exnova's user-friendly interface and advanced trading tools, traders can easily access these indices and take advantage of the diverse investment opportunities they offer. Whether you are an experienced trader or just starting out, Exnova provides a reliable platform for exploring and investing in the world's most prominent stock indices.
ETFs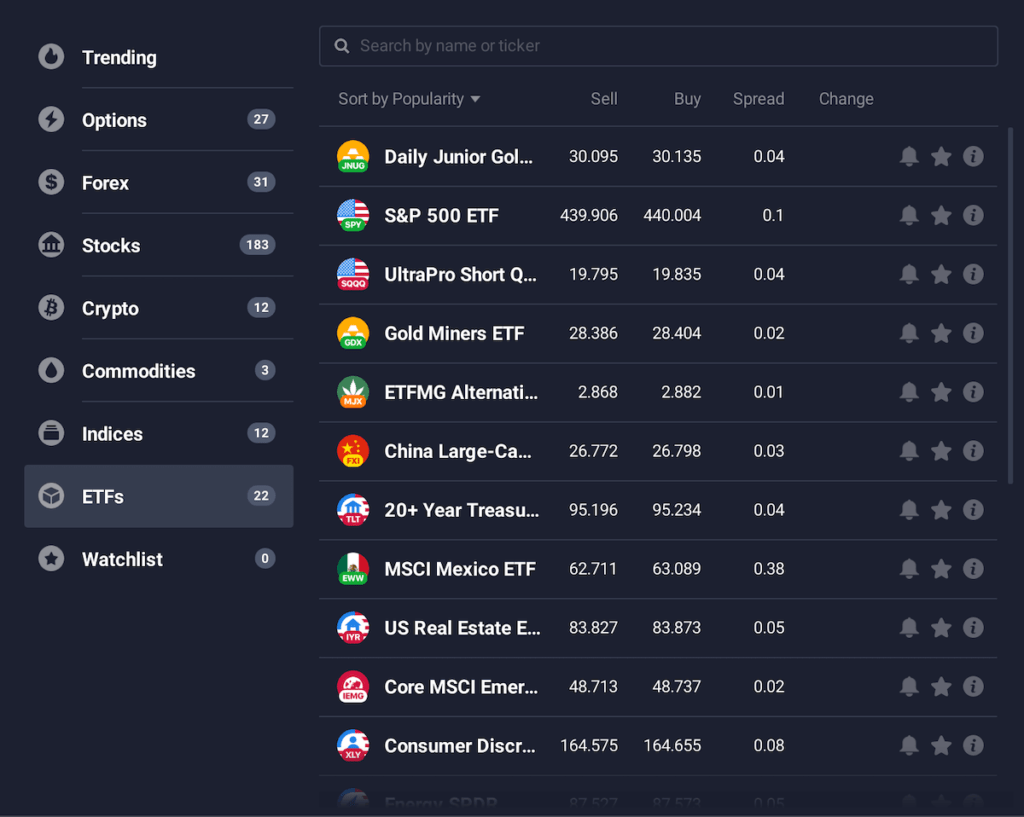 The Exnova trading platform provides traders with a wide range of investment opportunities, including the ability to trade a diverse selection of Exchange-Traded Funds (ETFs). ETFs are investment funds that trade on stock exchanges, and they offer investors exposure to various asset classes, sectors, or indices.
For exemple, the Daily Junior Gold ETF. This ETF allows investors to gain exposure to the junior gold mining sector, which consists of smaller companies engaged in gold exploration and production. Another popular ETF offered by Exnova is the S&P 500 ETF. This particular fund aims to track the performance of the S&P 500 index, which is composed of 500 large-cap U.S. companies across different sectors. By investing in this ETF, traders can gain broad market exposure and potentially benefit from the overall performance of the U.S. stock market.
Additionally, Exnova offers access to a variety of other ETFs such as those managed by ETFMG. These funds cover a range of sectors and themes, allowing investors to target specific industries or investment strategies that align with their goals and preferences.
(General risk warning: Your capital can be at risk)
Exnova Account types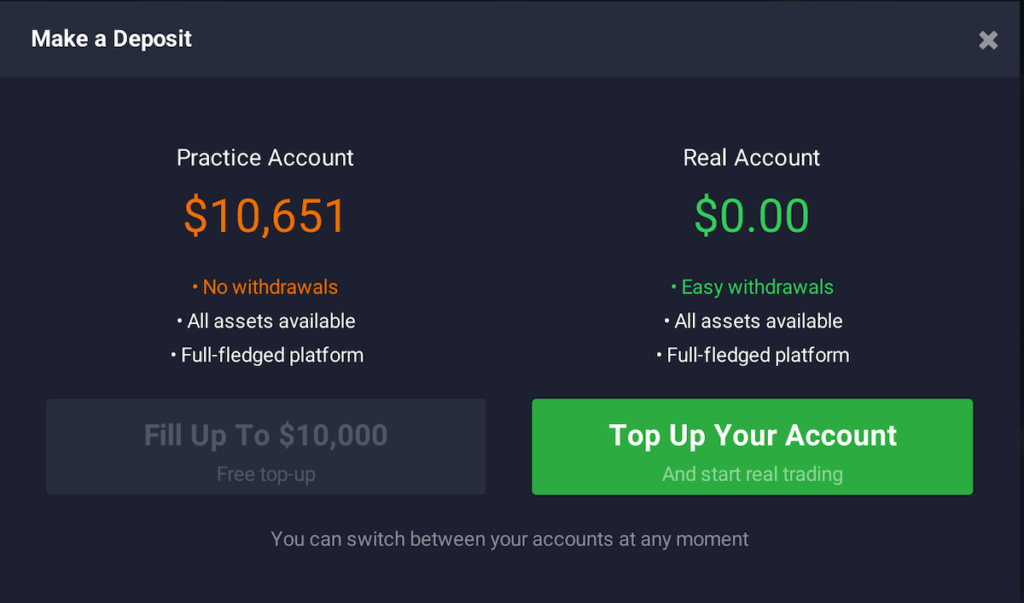 Exnova offers traders the flexibility to choose a trading account that suits their level of expertise. The platform provides two main types of accounts for users to select from.
Exnova Demo account
The broker Exnova provides traders with a free demo account. By utilizing this feature, traders are given the opportunity to boost their trading skills with ease. In fact, they can access up to $10,000 in their demo accounts. Traders can freely replenish the demo account at any time. This allows them to practice trading without taking any financial risks.
Exnova provides a demo account specifically designed for traders who want to gain hands-on experience in trading. This demo account is equipped with a generous sum of $10,000 in virtual funds, allowing users to practice and refine their trading strategies without risking any real money. This online trading account is specifically designed for individuals who are new to trading and lack experience in the field. It provides a user-friendly platform that makes it easier for beginners to navigate and learn the ropes of trading. Additionally, this account type is perfect for traders who want to test out different strategies or get familiar with the trading platform before diving into more advanced options.
Exnova Real account
The real account option is designed to give traders the opportunity to use their actual funds for trading purposes. With a real account, traders have the ability to trade with all available assets in their portfolio. They can conveniently deposit funds into their real accounts and withdraw them as they make profits from successful trades.
(General risk warning: Your capital can be at risk)
Fees on Exnova
Spreads: Spreads on major currency pairs typically begin at 0.9 pips. However, it's important to note that spreads on other assets like commodities and indices may vary depending on the specific asset and market conditions.
Commissions: Exnova implements commission fees on select accounts, namely the Platinum and VIP accounts. The amount of commission charged for a trade is calculated based on the percentage of the trade size. The commission rate can vary depending on the type of asset that is being traded.
Swap fees: Exnova applies swap fees for positions that are kept open overnight. It's worth noting that the specific fee amount can vary. On this trading platform, there is a swap fee that traders are required to pay. Swap fees typically range from 0.01% to 0.5% and varies depending on the specific asset being traded.
Start trading on Exnova – Quick and Easy Step-by-step guide
To begin trading on Exnova, traders are required to follow a step-by-step guide that helps them navigate the platform effectively. In general, traders can follow the following steps to initiate trading on Exnova:
1. Create an account
Register an account on Exnova
To get started with Exnova, traders need to register an account on their website. This involves filling out a signup form where they will be asked to provide their personal information.
(General risk warning: Your capital can be at risk)
2. Verify your new trading account
Exnova email verification
After registering on certain platforms, traders may be required to verify their identity or email address, depending on their location. Identity verification typically involves submitting a government-issued identification document and proof of address. This step adds an extra layer of security and helps ensure the integrity of the trading process.
3. Deposit funds to your account
Funding on Exnova
To begin trading with Exnova, traders are required to fund their trading account. Fortunately, Exnova provides a variety of deposit options to choose from, including cards and e-wallets. This allows traders to select the payment method that best suits their preferences and needs.
4. Choose a trading platform
My tip: Download their app for an even faster trading experience
Exnova provides traders with the convenience of web and mobile trading platforms. Traders have the option to choose and download/install their preferred platform on their devices.
5. Choose an asset
Choose an asset on Exnova
Once traders have funded their trading account on Exnova, they can start placing trades. Exnova provides a wide variety of assets to trade, giving traders the flexibility to choose an asset they are familiar with and confident in trading. This allows them to make informed decisions based on their expertise and comfort level.
6. Analyze the markets
Indicators on Exnova
Before placing a trade, it is crucial for traders to carefully analyze the markets. Exnova stands out in this field by providing a variety of tools to assist with trading analysis. These tools include charting features and access to economic calendars, which can aid traders in making informed decisions.
7. Place a trade on Exnova
Trading on Exnova
After conducting a thorough analysis of the markets and identifying a potential trading opportunity, traders have the option to execute trades. Traders have the flexibility to choose the underlying asset they wish to trade. This means they can select from a wide range of assets, such as stocks, commodities, currencies, or indices, based on their preferences and market opportunities. Once traders have made their decisions, they have the ability to select the size of their trades, establish stop loss and take profit levels, and ultimately execute their trades. This process allows them to actively participate in the market and carry out their trading strategies.
8. Monitor the trade
Trade minitoring
To ensure successful trading, it is crucial for traders to closely monitor their trades. Exnova, a leading platform, offers real-time price feeds and efficient trade execution capabilities. Traders have the ability to closely monitor their trades and make necessary adjustments to their trading strategy if needed.
9. Close your trade and take profit
Closing a trade on Exnova
Once a trade has reached the targeted profit or stop loss level, traders have the option to close it. This can be done easily by simply clicking on a designated button on the trading platform and confirming the closure of the trade.
(General risk warning: Your capital can be at risk)
Exnova apps
(General risk warning: Your capital can be at risk)
Exnova provides a convenient mobile trading app that is compatible with all types of devices. This online trading platform offers a free mobile application for users to easily access and use. Traders will find that the features offered on both the web platform and the mobile application are quite similar. This allows for a seamless trading experience across different devices, ensuring that traders can easily access all necessary functionalities regardless of whether they are using their desktop or mobile device.
Users of the mobile app for trading have access to a wide range of trading instruments. They can conveniently view real-time quotes, charts, and their own trading history. This empowers traders with the necessary information to make informed decisions on the go. You can conveniently manage your account through the mobile application as well.
To use the Exnova app:
To access the Exnova mobile app, you can easily download and install it onto your smartphone or tablet. Simply go to your device's app store, search for "Exnova", and click on the download/install button. The app will then be installed onto your device, allowing you to enjoy its features and functionality on the go.
To access your Exnova trading account, simply log in using your credentials. If you don't yet have an account, no worries! You can easily create one directly through the app.
Fund your account.
Please choose the specific financial instrument that you would like to trade on the Exnova app.
To make an informed trading decision, you can analyze the chart provided and utilize the technical indicators and tools available in the mobile app. These indicators and tools are designed to assist you in understanding market trends, identifying potential entry or exit points, and evaluating risk. By leveraging these resources, you can enhance your decision-making process and increase your chances of success in trading.
When it comes to trading, you have the option to select your preferred order type. This choice will determine how your trade is executed in the market. It's important to understand the different types of orders available and choose the one that best aligns with your trading strategy and goals.
To ensure your trading order is executed successfully, you can conveniently confirm it directly through the app. Once confirmed, you can easily track and monitor the progress of your order in real-time.
(General risk warning: Your capital can be at risk)
Special features:
Exnova provides traders with a range of special features that enhance their trading experience. Let's take a look at some unique offerings from this broker.
Community chats
Exnova provides a convenient community chat feature that enables traders to connect with multiple like-minded traders. This feature fosters interaction and collaboration, allowing traders to share insights, strategies, and knowledge for a more comprehensive trading experience. Using this platform, users have the opportunity to learn from successful traders who have a proven track record. By participating in community chats, traders can engage in discussions and seek advice from experienced individuals with valuable insights.
Cryptocurrency trading
At Exnova, you can engage in cryptocurrency trading with a wide range of options available. Not only do they support well-known cryptocurrencies like Bitcoin, but they also offer many other digital currencies for you to explore and invest in. In addition to its primary features, this platform offers traders the convenience of depositing and withdrawing funds in both cryptocurrencies and traditional fiat currencies.
On Exnova, traders have access to a range of powerful tools for cryptocurrency trading. The platform offers advanced charting tools and a variety of technical analysis indicators. These features enable traders to effectively analyze market trends when trading cryptocurrencies on the platform.
If you're a trader interested in cryptocurrency trading, Exnova is a popular platform to consider. They offer competitive spreads and low trading fees, which can be appealing for those seeking cost-effective options. It's worth exploring if you're looking to invest in this dynamic market.
Market sentiment and Trading signals
Exnova provides market sentiment indicators, which are valuable tools for traders. These indicators help individuals assess the overall sentiment of the market. By analyzing these indicators, traders can have a clearer understanding of market trends and dynamics, ultimately leading to better trading decisions. The platform offers various indicators, including tools like sentiment analysis, volume analysis, and order book analysis. These indicators can assist users in making informed decisions by providing valuable insights and information about market trends and exchange volumes.
Free video tutorials
Video tutorials on Exnova
The broker's website features a collection of free video tutorials aimed at traders of all levels. These tutorials serve as a valuable resource for individuals looking to enhance their trading abilities and knowledge. The videos offer traders valuable and practical insights that they can immediately implement in their trading strategies. They serve as a helpful resource for traders to enhance their trading skills.
In order to keep traders well-informed and up-to-date, the broker consistently adds new videos to its library. This ensures that traders have access to the most recent information and trends in the ever-evolving financial markets.
Weekly newsletter
Exnova has a valuable weekly newsletter for subscribers. The newsletter includes market insights, analysis, and updates to keep traders informed and up-to-date with the latest trends. This resource offers valuable advice and techniques for traders who are seeking to enhance their trading abilities and optimize their profitability.
How to deposit and withdraw money
To ensure smooth and efficient trading on Exnova, it's essential for traders to familiarize themselves with the deposit and withdrawal procedures provided by the broker. Being proficient in these processes will enable traders to seamlessly manage their funds and have a hassle-free trading experience. Traders often prefer both processes due to their seamless nature, which ensures smooth and hassle-free operation.
Payment methods

Exnova provides a range of payment methods for depositing and withdrawing funds. The availability of these payment options may vary depending on the client's country of residence. There are several popular payment methods that traders on Exnova use for deposits and withdrawals. Some of the top options include:
Credit/debit cards
Bank transfers
E-wallets (Skrill, Neteller, and PayPal)
Cryptocurrencies
In addition to the mentioned options, traders have a range of alternative payment methods available to them. These include Boleto, Pix, Advcash, Perfect Money, and Webmoney. After a trader has selected a deposit method for funding their Exnova trading account, they can proceed to start the deposit process.
Deposit on Exnova
To add funds to your account, simply locate and click on the green 'Deposit' button. It's important for traders to meet Exnova's minimum deposit requirement when funding their trading accounts. The minimum deposit requirement set by Exnova is an affordable $10.
Traders have the option to fund their Exnova account with just $10, allowing them to get started with their trading journey. They can place trades at a minimum value of only $1, providing flexibility and accessibility for traders of all levels.
After traders have completed the sign-up process, they can move forward with making their initial deposit.
Log in to your Exnova account.
Go to the "Deposit" section.
Select one of the deposit methods available.
Follow the instructions to complete the deposit process.
After your deposit has been confirmed and processed, the funds will be added to your Exnova account. Once the funds are credited, you will be able to begin trading..
Withdrawal on Exnova
To withdraw your funds from the trading platform, simply click on your profile picture and select the option 'Withdraw funds.' It's important to note that the withdrawal process is essentially the opposite of the deposit process.
To access the "Withdrawal" section of your Exnova account, simply log in and click on your profile picture. This will take you to the platform where you can find the desired section.
Please select the method you would like to use to withdraw your funds.
To complete your transaction, please provide the required amount along with the relevant account or payment information. This will ensure a smooth and hassle-free process.
To request a withdrawal from Exnova, simply submit the withdrawal form or request through the appropriate channels. Once you've submitted your request, it will be processed by Exnova's team. Please note that processing times may vary, so it's important to be patient while waiting for your withdrawal to be completed.
Once the confirmation and processing of the Exnova withdrawal is complete, traders can expect to receive their funds in the specified account.
(General risk warning: Your capital can be at risk)
Exnova bonus, coupons and promotions
Exnova, as a binary options brokerage company, has the potential to offer a range of bonuses and promotions to its clients. It is important to note that these bonuses may come with certain terms and conditions that traders need to be aware of. Depending on the specific bonus or promotion that Exnova is offering, these terms may change. Before accepting bonuses on the Exnova trading platform, it is essential for traders to carefully review the associated conditions. This will ensure that they fully understand the requirements and potential limitations of these bonuses.
Additional fees
To gain a better understanding of their fee structure, I suggest reading the document titled 'General Fees'. It contains valuable information that will help you grasp how their fees are structured and what to expect. Making use of this resource will enable you to make informed decisions regarding their services and pricing.
Traders should be aware that brokers may impose additional fees. Here are some of the main fees that traders may need to pay to Exnova:
Withdrawal fees
Exnova implements different withdrawal fees based on the chosen method and currency type. It's worth noting that certain methods might incur higher charges compared to others.
Let's take bank wire transfers as an example. When compared to e-wallets or credit/debit card withdrawals, bank wire transfers typically involve higher fees.
In addition, certain types of accounts may qualify for fee-free withdrawals or reduced withdrawal fees. Typically, Exnova imposes a withdrawal fee equivalent to 2% of the withdrawn amount.
Exnova imposes withdrawal fees that vary depending on the amount being withdrawn. The minimum and maximum withdrawal fees are outlined as follows.
Inactivity fees
Exnova charges a monthly inactivity fee of 10 Euros. Traders who use different currencies may have to pay an equivalent amount based on the current exchange rates.
Traders need to be aware of the inactivity fee, which is charged on accounts when no transactions or trades have been made for a continuous period of 90 days. To avoid this fee, traders should ensure they make at least one trade within every 90-day period.
Swap fees
Traders using Exnova should be aware that the platform imposes swap fees for holding positions overnight. The fee range typically starts at 0.01% and can go up to 0.5%. It's important to note that the specific fee amount may vary based on the value of your trade.
(General risk warning: Your capital can be at risk)
Support and Education
Exnova offers a variety of support and educational resources to assist you. Here are some of the notable ones provided by Exnova:
Customer support: Exnova provides customer support through various channels to ensure a seamless and accessible experience for their customers. This includes options such as live chat and phone support, allowing customers to choose the most convenient method of communication based on their preference or urgency of the issue. The broker provides a comprehensive email support service to traders. This means that traders can reach out to the support team at any time, day or night, for assistance with account-related matters, technical difficulties, or queries about trading.
Trading guides:Exnova offers a diverse selection of trading guides that cater to different subjects. Traders have access to high-quality trading strategies and valuable insights on risk management psychology. These resources are designed to support traders in enhancing their trading skills and knowledge.
Webinars: Exnova frequently organizes webinars that delve into various trading-related subjects. These webinars offer traders valuable insights into market analysis, trading strategies, and effective risk management techniques. Participating in these sessions can greatly benefit traders in enhancing their knowledge and skills in the field of trading. These webinars are led by experienced traders who have a wealth of knowledge and expertise in their field. By attending these sessions, participants can benefit from the insights and strategies shared by these professionals, which can greatly enhance their understanding and skills in trading.
Trading signals: In addition to their brokerage services, this broker also provides trading signals that include comprehensive analysis and recommendations. These signals are generated using a combination of technical and fundamental analysis methods, giving traders valuable insights into market trends and potential trading opportunities.
Economic calendar: In addition, the platform provides an economic calendar feature which is highly useful for traders. This calendar presents crucial economic events and indicators that have the potential to influence the market. Traders can leverage this information to make informed decisions and stay proactive in their trading strategies.
Restricted countries:
Exnova is an international broker that offers trading services to users worldwide. However, there are certain restrictions on who can trade on their platform. Unfortunately, individuals from these jurisdictions are not allowed to trade with Exnova:
Restricted countries list: ALL EEA countries, Afghanistan, Albania, American Samoa, Australia, Canada, Cocos Islands, Comoros, Democratic Republic of Congo, Gibraltar, Grenada, Guadeloupe, Guernsey, Guernsey, Iran, Isle of Man, Israel, Japan, Jersey, Kosovo, Martinique, Mayotte, Melilla, Montserrat, Norfolk Island, North Korea, Northern Mariana Islands, Palestine, Pitcairn Islands, Puerto Rico, Réunion, Russia, Saint Barthélemy, Saint Helena, and Tristan da Cunha, Saint Vincent and the Grenadines, South Sudan, St. Helena, Syria, Turks and Caicos Islands, Ukraine, the USA and the Vatican.
Conclusion
Exnova, as a trading platform, is considered a safe option for traders who prioritize reliability. The broker takes several precautions to protect both client funds and data, ensuring a secure trading environment. Traders who choose Exnova can enjoy numerous benefits. These include competitively low spreads, generous leverage options, and a diverse selection of tradable assets. While the broker Exnova has its advantages, it is important to consider some drawbacks as well. One limitation is the availability of educational resources, which may be limited compared to other platforms. Additionally, there are withdrawal fees associated with certain methods, which could potentially affect your overall profitability.
Exnova is a highly regarded online trading platform that provides a wide range of financial instruments for traders. Traders can be assured that there are no scams when using this platform. It offers a variety of account types, each with its own set of features and trading conditions. In addition, multiple trading platforms are available, all equipped with advanced charting and analysis tools to enhance trading capabilities.
(General risk warning: Your capital can be at risk)