Rating: 4.0 out of 5.0 stars4.0
Free demo account: Yes
Payout: Up to 95%
Bonus: Up to 100%
Assets: 100+ Forex, Commodities, Stocks, Cryptos
In this comprehensive review, I will delve into Expert Option, a widely recognized online broker known for its binary options offerings. I will explore crucial aspects such as the step-by-step deposit and withdrawal process, the investing platform provided by ExpertOption, the various types of accounts available to traders, and lastly, their demo trading account, which allows you to practice risk-free. By the end of this review, you will have a firm understanding of what Expert Option has to offer as an online broker in 2023. Furthermore, I thoroughly examined the mobile trading app as part of my comprehensive review.
Expert Option quick overview
| | |
| --- | --- |
| Broker | Expert Option |
| 📅 Founded | 2014 |
| ⚖️ Regulation | The Financial Commission |
| 💻 Demo | Yes |
| 💳 Minimum Deposit | $10 |
| 📈 Minimum trade | $1 |
| 📊 Assets | 100+, Forex, Commodities, Stocks, Cryptos, ETFs |
| 💰 Return on investment | 95% |
| 🎁 Bonus | 100% |
| 💵 Deposit Methods | Bank Cards (Visa, Mastercard, Maestro), Skrill, Neteller, JCB, BinancePay, UPI, QIWI, RuPay, PayTM, India Online Banking, Cryptocurrencies |
| 🏧 Withdrawal methods | Bank Cards (Visa, Mastercard, Maestro), Skrill, Neteller, JCB, BinancePay, UPI, QIWI, RuPay, PayTM, India Online Banking, Cryptocurrencies |
| 📍Headquarters | First Floor, First St. Vincent Bank Ltd., James Street, PO Box 1574, Kingstown, St. Vincent and the Grenadines. |
| 💹 Trade Types | High/low |
| 💻 Trading Platform | Web, Windows, iOS, Android |
| 🌎 Language | English, Simplified Chinese, Traditional Chinese, Thai, Korean, Vietnamese, Arabic, Turkish, Hindi, Bahasa Indonesia, Bahasa Malaysia, Portuguese, Spanish, Russian, Tagalog, Japanese, Urdu, Bengali, French |
| 👨‍💻 Social Trading | Yes |
| 🕌 Islamic account | No |
| ⭐ Rating | 4/5 |
(General risk warning: Your capital can be at risk)
What is Expert Option?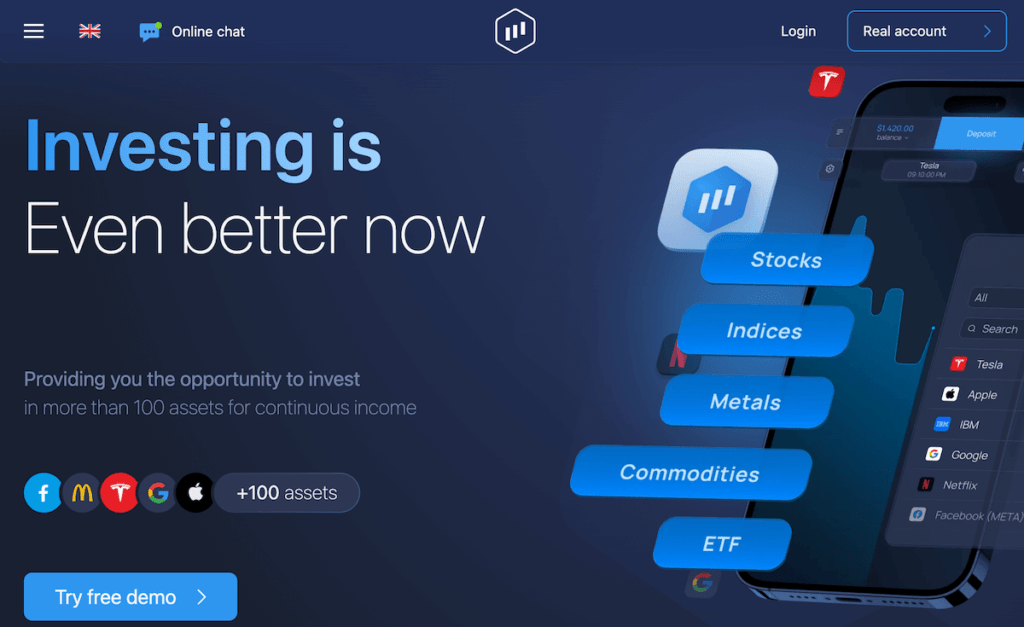 Expert Option is a binary options broker that aims to provide traders with a straightforward and user-friendly trading experience. They have developed a customized platform that is designed to be intuitive and easy to use. Traders have the opportunity to access a wide range of popular assets through binary options contracts. These contracts offer lucrative payouts of up to 95%. In addition, traders can benefit from free educational resources that can enhance their trading skills. Furthermore, upper-tier account holders gain access to valuable market data, providing them with a competitive edge in their trading activities.
Expert Option is a trading platform, has been offering its services to traders since 2014. With a strong track record, it currently facilitates over 30 million deals on a monthly basis. The company extends its services to a wide range of 48 countries, catering to customers all around the globe. Impressively, the brand has amassed over 70 million registered users worldwide as of now.
Pros
User friendly trading platform
20+ accepted payment methods
Social Trading
Free educational materials
High payouts up to 95%
Generous bonus offers
No deposit and withdrawal fees
Low minimum deposit (just $10)
Cons
Small list of assets in comparison to competitors
No traders accepted from some countries and regions including the US
$10/monthly inactivity fee penalizes less active traders
Less suitable for long-term trading strategies
(General risk warning: Your capital can be at risk)
Expert Option regulation
When it comes to trading platforms, regulation is a crucial factor for ensuring the safety and reliability of the platform. Expert Option, a popular trading platform, is proud to be regulated by The Financial Commission. The Financial Commission is an independent organization that acts as a neutral third party to resolve disputes between traders and their brokers. By being regulated by The Financial Commission, Expert Option demonstrates its commitment to maintaining high standards of transparency and accountability in its operations. Traders can have peace of mind knowing that their funds are protected up to $20,000 and that they have recourse in case any issues arise during their trading journey on the Expert Option platform.
Expert Option Security
In order to ensure the utmost protection of your personal information, financial institutions have implemented VBV and MasterCard verification standards. These measures guarantee that your data is kept safe during transactions. Additionally, it is necessary for your bank card to have 3D Secure enabled so that you can conveniently make international payments without any issues. These security measures prioritize the safety and security of your financial transactions at all times.
Rest assured, all transactions made through the platform are fully compliant with the Payment Card Industry Data Security Standard (PCI DSS). This means that the broker adhere to rigorous bank security standards, ensuring that your data is encrypted and kept completely private. Furthermore, they never store any of your sensitive information on their servers, providing you with peace of mind and the utmost security for all your transactions. Moreover, the broker implements robust anti-money laundering (AML) and know your customer (KYC) policies. This ensures that all necessary measures are taken to prevent any illegal financial activities and maintain a high level of security for their customers.
Trading Platforms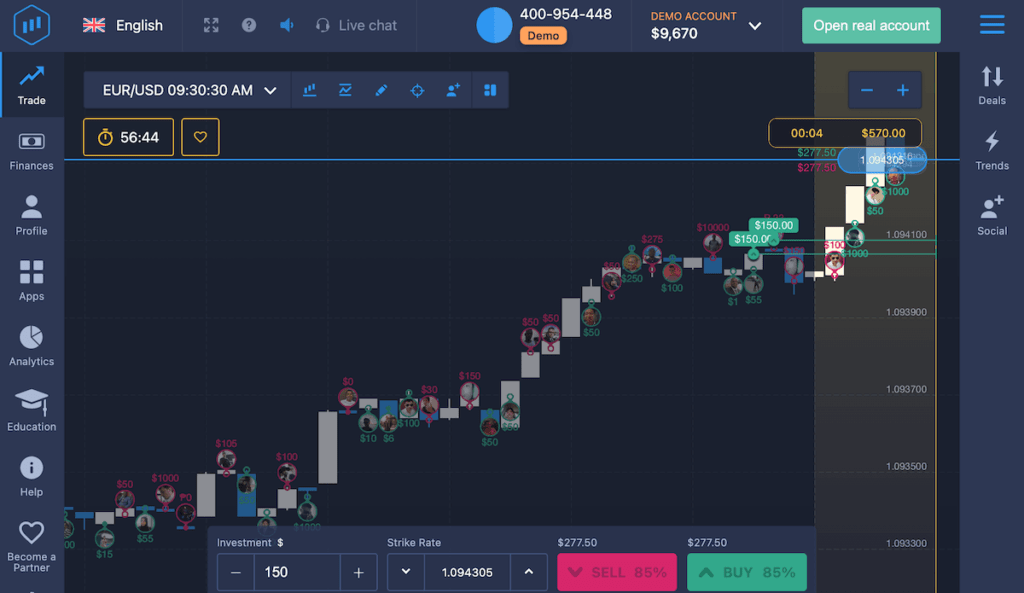 ExpertOption understands the importance of convenience and offers a range of user-friendly platforms for trading. Whether you prefer to trade on the web, through a mobile app, or via a dedicated desktop trading terminal, they have options to suit your needs. This flexibility allows you to access their services anytime and anywhere that works best for you.
Unlike many brokers who opt for existing platforms like MetaTrader 4 or MetaTrader 5, Expert Option stands out by developing its own platform. This unique platform offers full customization options, allowing clients to personalize it according to their specific requirements and preferences. Regardless of whether you're using a desktop or a mobile device, all the features of the boker can be seamlessly integrated. This ensures a smooth and user-friendly experience for investors on any platform they choose to use.
There are various signal and analysis tools available for you to utilize. These include: Eight different indicators that can help you gain insights and make informed decisions.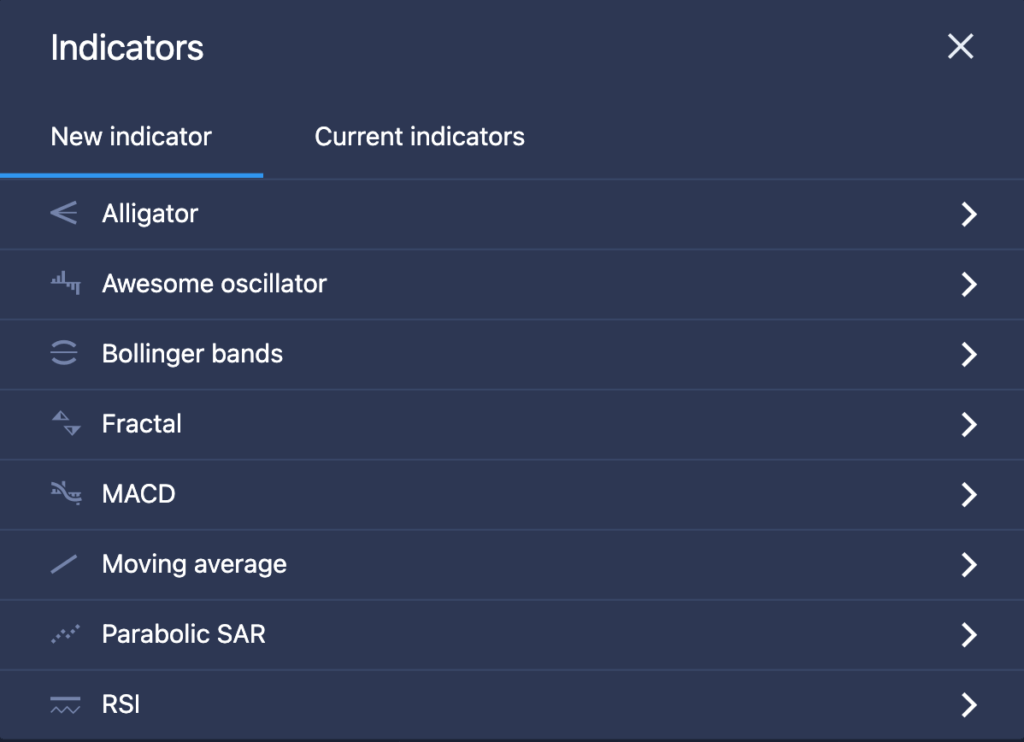 Four types of charts that provide visual representations of data, allowing for easier interpretation and analysis.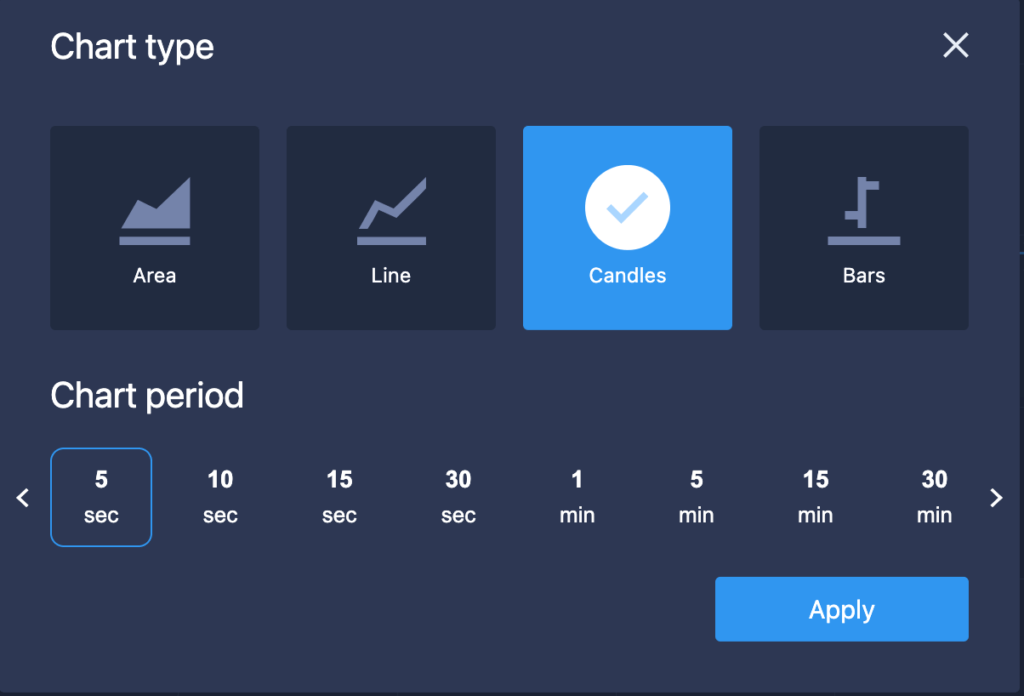 The ability to draw multiple trend lines, which can be useful in identifying patterns and forecasting future trends.
The platform offers a unique feature called social trading, which allows clients to monitor and replicate the trading activities of top traders. This can be a helpful tool for maximizing profits by learning from successful traders and implementing their strategies automaticaly.
(General risk warning: Your capital can be at risk)
Assets and Markets
ExpertOption offers a wide range of trading instruments, with over 100 options to choose from. These include popular and widely traded assets such as stocks, commodities, currency pairs, ETFs, and cryptocurrencies. Whether you're interested in traditional investments or the exciting world of cryptocurrencies, ExpertOption has got you covered.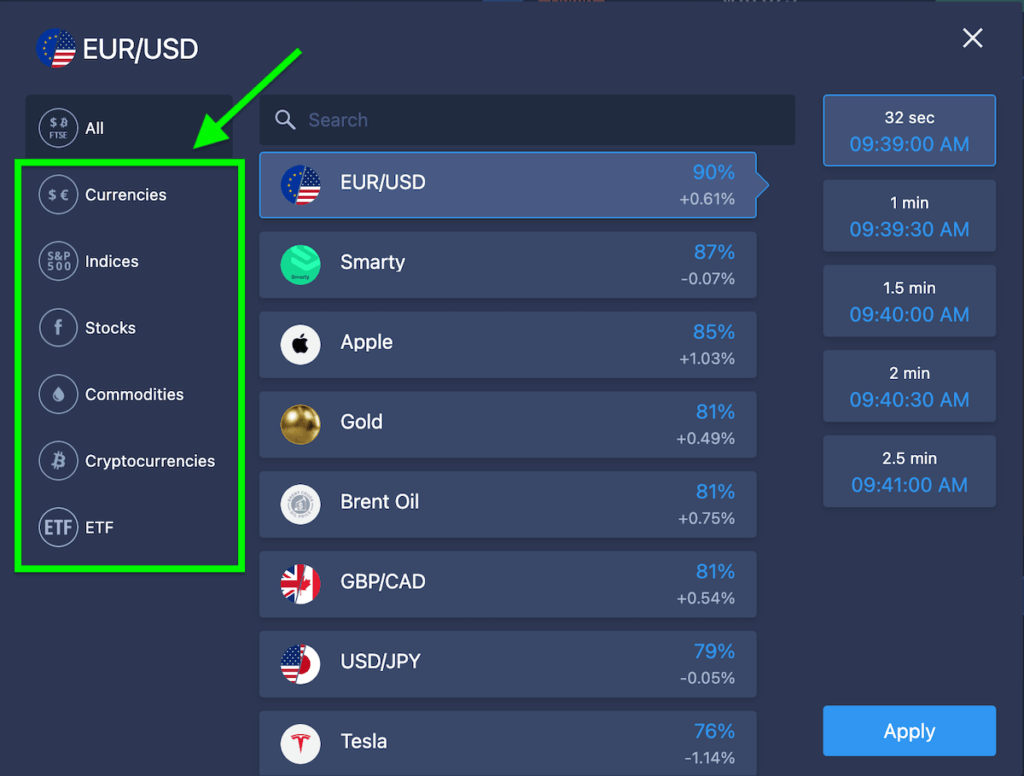 Some of the most sought-after assets offered by Expert Option include well-known equities such as McDonald's, Facebook, and Apple. They also offer popular commodities like gold, platinum, and silver. Additionally, they provide top forex pairs like USD/EUR, GBP/USD, and EUR/GBP for trading purposes. Moreover, they also offer cryptocurrencies, including Bitcoin, Bitcoin Cash, and Ethereum as part of their diverse asset portfolio.
Binary Option Trading
Expert Option is a reputable broker in the binary options industry. They offer traders access to a wide range of 100 assets, giving them ample choices to invest in. Additionally, their payout rate for successful trades can go as high as 95%, making it an attractive platform for those seeking profitable trading opportunities. The platform offers competitive payouts and allows users to easily speculate on price movements with just one click. It is web-accessible, making it convenient for traders to access it from anywhere. This platform offers binary options specifically tailored for short-term trading. You can choose from a variety of options with durations as short as 30 seconds and as long as 5 minutes.
Forex Trading
Traders who are experienced in options trading can take advantage of Expert Option's platform to access a variety of popular forex pairs, such as USD/EUR, GBP/USD, and GBP/EUR. These forex pairs can be traded through binary options contracts that offer high payouts of up to 95%. This payout percentage exceeds the industry average, which typically hovers around 85%.
Stocks Trading
This broker does not provide direct trading and ownership of stocks. Instead, they offer binary options with high/low outcomes and potential payouts of up to 95%. These options are available on a variety of popular stocks like Facebook/META, Google, Tesla, and Apple.
CFD Trading
Not Available
Crypto Trading
On the Expert option trading platform, traders have the opportunity to speculate on the price fluctuations of popular cryptocurrencies such as Bitcoin (BTC), Ethereum (ETH), and Ripple (XRP). By utilizing high/low binary options, traders can potentially profit from correctly predicting whether the price of these cryptocurrencies will rise or fall. While these three cryptocurrencies may be well-known in the market, it's important to note that their offerings may not have the same variety and volatility as some less popular tokens. It's worth exploring beyond these mainstream options to potentially discover opportunities for greater diversity and potential growth.
Copy Trading
To enhance your potential returns, you have the opportunity to analyze and emulate the strategies of respected VIPs. By studying their positions in various asset classes and reviewing their past performance, users can identify master traders who have achieved consistent success over time. This allows for a more informed approach to investment decision-making. Social traders now have access to a helpful leaderboard. This feature allows traders to easily track and compare their performance within the social trading platform. It provides valuable insights into the success and strategies of other traders, offering an opportunity to learn from top performers and improve their own trading skills.
(General risk warning: Your capital can be at risk)
Spreads and Commission
Expert Option is a platform that does not impose any commission fees on its users.
Joining Expert Option is absolutely free of charge. When it comes to trading, there are no fees involved. However, it's important to note that there is an inactivity fee of $10 per month if your account remains idle.
Expert option App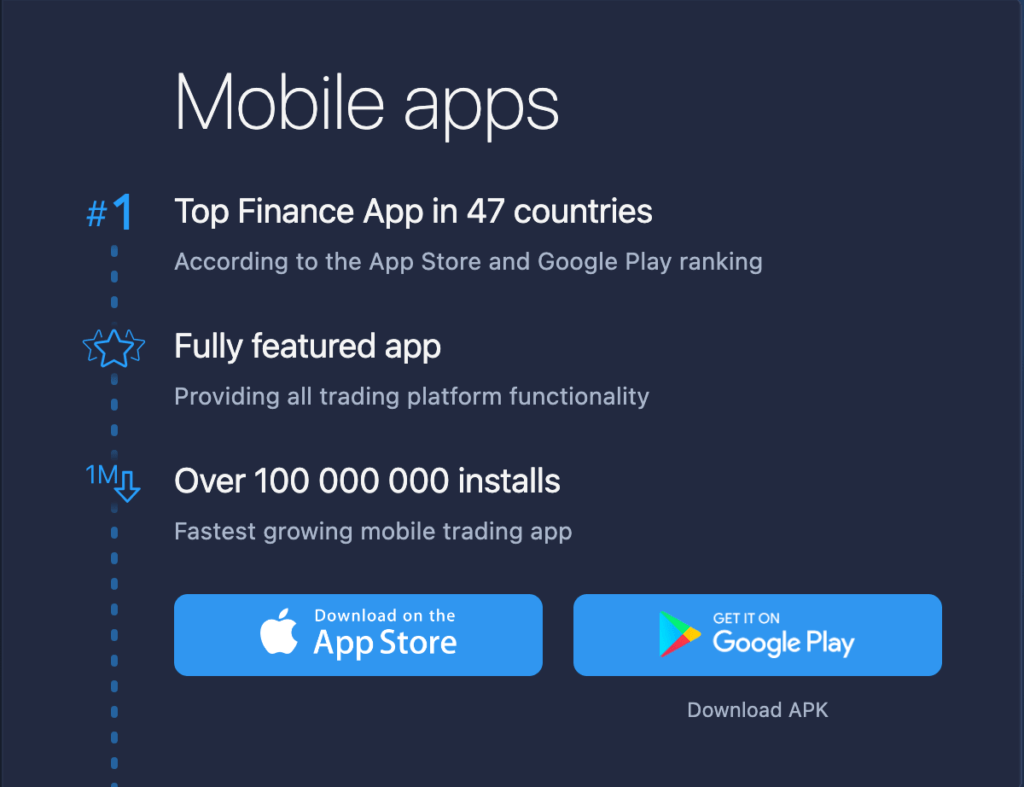 Expert Option offers convenient mobile apps specifically designed for Android and iOS devices. Users can easily download these applications from the Google Play Store or Apple App Store to access the platform on their smartphones or tablets. Users also have the option of directly downloading the APK install file from the official website. It's worth noting that each mobile app has received high ratings in their respective app stores.
In our app review, we liked the speedy withdrawal process, availability of a free demo account, and the wide selection of over 100 instruments. These features are accompanied by professional investment conditions that enhance the overall user experience. For individuals seeking a more technical experience, it is advisable to utilize the dedicated desktop application or web platform. These specialized tools offer additional features and capabilities that may better suit the needs of advanced users.
(General risk warning, your capital is at risk)
Payment Methods
ExpertOption offers a wide range of deposit and withdrawal options to its users, ensuring that traders from all over the world can easily access and utilize the platform. This inclusivity is one of the key aspects that sets ExpertOption apart, making it accessible to a diverse range of traders.
Deposits
By setting the minimum deposit at $10, the platform ensures that individuals from different backgrounds can easily access and start their trading journeys. This low entry requirement accommodates investors from all walks of life, providing them with an opportunity to participate in trading activities. On Expert Option, you have the flexibility to make deals starting from as low as $1 and can deposit funds in your local currency. However, please note that the maximum deposit amount allowed is $5000. It is recommended by Expert Option to split larger sums into multiple transactions for better convenience and security.
Investors can benefit greatly from the deposit process, thanks to the availability of more than 20 payment systems. They can choose a payment method that suits their preferences and easily make deposits without any hassle.
When it comes to online payments, there are a few payment options that are particularly popular among consumers. These options include:
UPI
Visa
Skrill
QIWI
RuPay
PayTM
Yandex
Neteller
Fasapay
Maestro
UnionPay
WebMoney
MasterCard
Wire Transfers
Perfect Money
India Online Banking
Cryptocurrencies like Bitcoin, Ethereum and Ripple
Please be aware that the broker does not support PayPal as a payment method.
Withdrawals
ExpertOption has made significant improvements to their payment process, ensuring that all requests are processed efficiently. With their streamlined system, you can expect your payment to be fully processed within two business days, from Monday to Friday. This allows for a prompt and hassle-free experience when it comes to receiving your funds. Withdrawals from certain accounts can be processed quickly, often within seconds or minutes. This is especially true when using methods such as cryptocurrency or e-wallets. The specific processing time may vary depending on the account type and chosen withdrawal method.
When it comes to withdrawing funds, you'll be happy to know that the minimum amount allowed is just $10. However, keep in mind that in most cases, you will need to go through an account verification process before your withdrawal can be approved. For the initial withdrawal, it is necessary to use the same payment method that was used for the deposit.
Expert Option Demo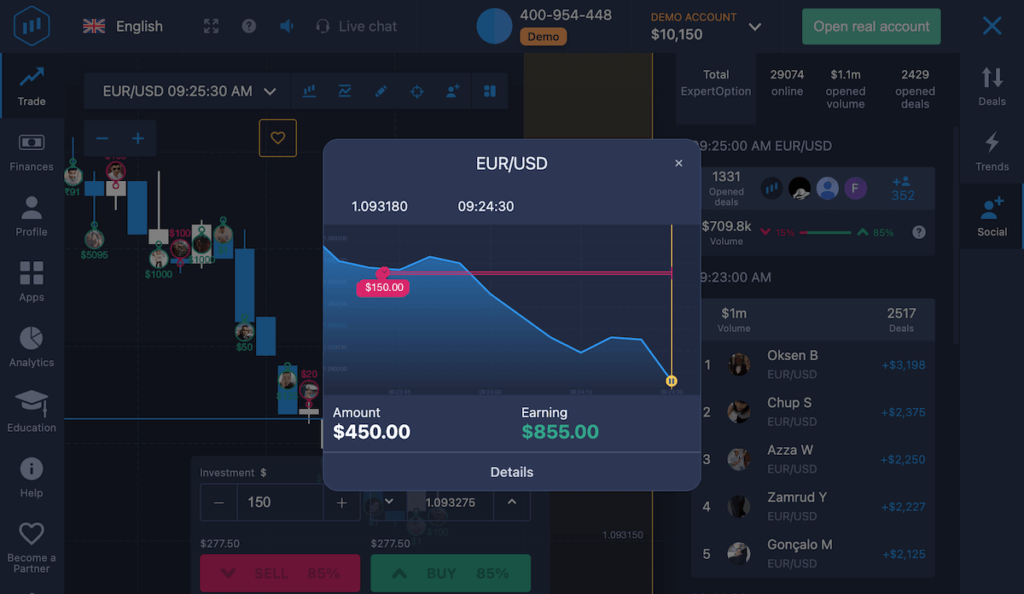 Expert Option offers a demo account to its clients, allowing them to practice and familiarize themselves with the platform before making actual investments. When you sign up for a demo account, you will receive a starting balance of $10,000. To get started, simply select "create account" and then proceed to log in with the demo option. This allows you to explore the platform and its features without risking any actual funds.
(General risk warning: Your capital can be at risk)
Bonuses and Promotions
On this trading platform, new users are eligible for a generous 100% welcome bonus when they make their first deposit of $30 or more. It's important to note that there is a specific time limit for users to claim this bonus – they have one hour from the moment their account is created.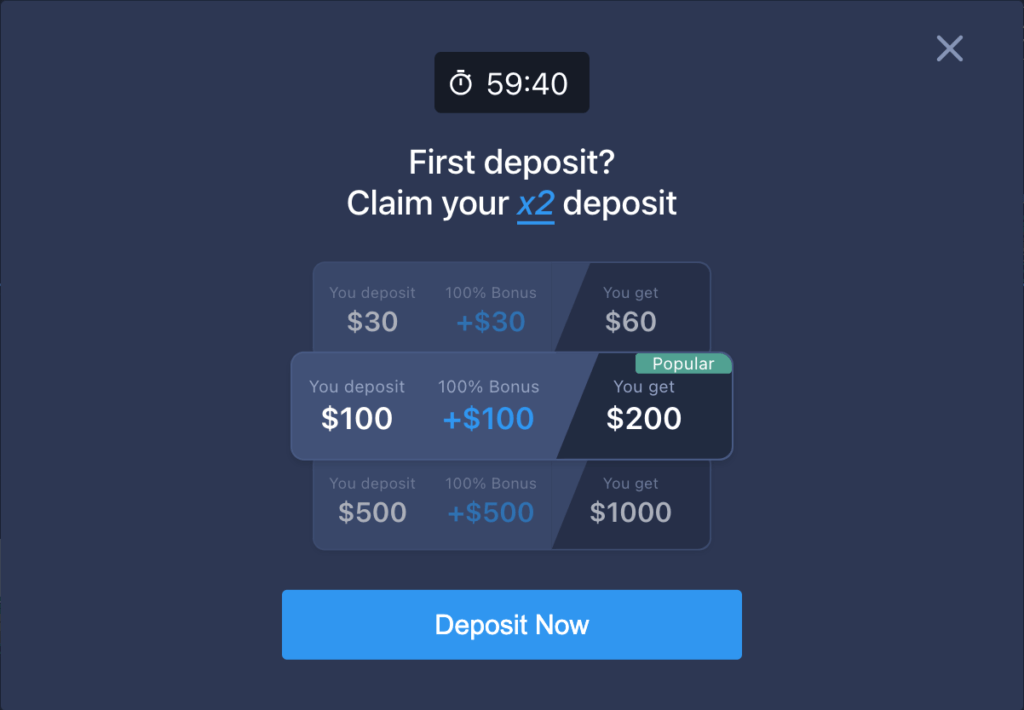 Existing traders can also enjoy perks, although the percentage offered may vary compared to those making their first deposit.
It is crucial to note that bonuses offered on the platform cannot be withdrawn. Instead, they can only be used within the site's platform for various purposes. You have the freedom to withdraw any profits earned from these bonuses whenever you want.
Additional Features
On ExpertOption's website, you will find a comprehensive education section that caters to investors of all experience levels. It is designed to provide informative resources and materials that can enhance your investment knowledge and skills, regardless of whether you are a beginner or an advanced investor. Customers have the opportunity to educate themselves on various financial topics such as stock indices, currencies, binary options, and detailed trading strategies.
To enhance their understanding of market signals and the functioning of indicators, traders can rely on a variety of educational materials. These include webinars, video tutorials, and in-depth articles. These resources offer valuable insights that can help traders navigate the market more effectively. Investors have the convenience of accessing a comprehensive glossary that contains all the relevant trading terms and their definitions. This allows them to easily understand and navigate through the complex jargon commonly used in the trading industry.
A standout feature of the Expert Option platform is its social trading functionality. Users have the unique opportunity to observe and analyze the trading activities of VIP traders. Users have the option to pay a fee in order to replicate the expertise and skills of experienced professionals. This is particularly beneficial for those who are looking to enhance their own knowledge and abilities in a specific field.
Expert Option Accounts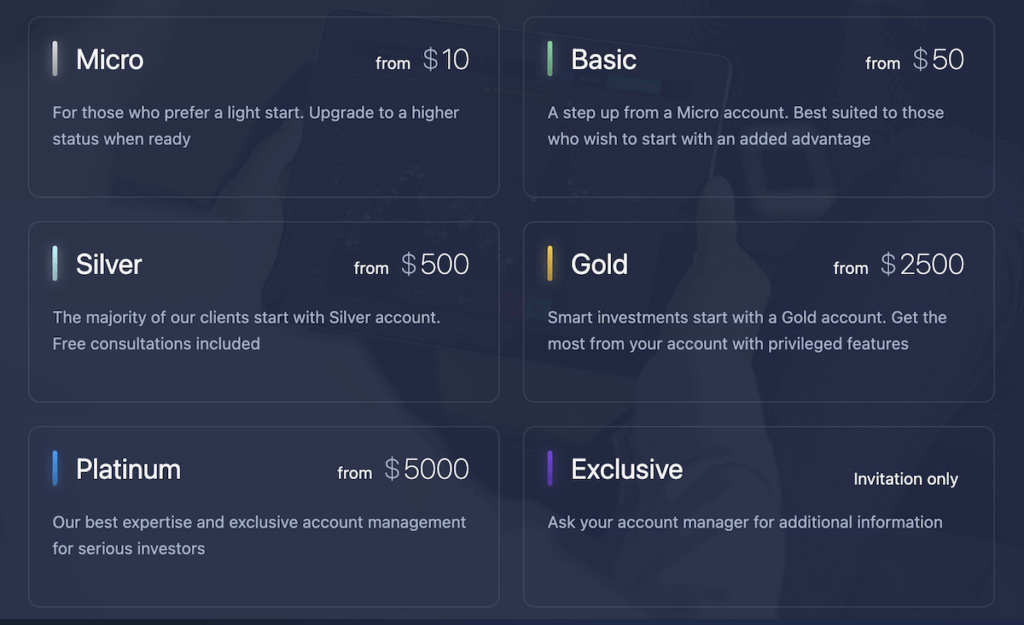 ExpertOption understands the importance of a seamless user experience. That's why they have designed a registration process that is both simple and hassle-free. Once you're registered, you'll have access to not just one, but six different types of accounts to choose from. This variety ensures that you can find an account that perfectly matches your trading needs and preferences
Micro
Basic
$50 minimum deposit
24/7 trading access
Educational materials
Access to privileges
Silver
The most popular choice. All the Basic features plus:
$500 minimum deposit
Free consultations
Personal account manager
Daily market reviews and financial research
Gold
All the Silver features plus:
$2,500 minimum deposit
Increased asset profit of up to 2%
Priority withdrawals
Platinum
All the Gold features plus:
$5,000 minimum deposit
Increased asset profit of up to 4%
1 to 1 training
Account management
Trading signals from an analytical agency
Unlimited number of simultaneously open deals
Exclusive
All the Platinum features plus:
By invite only
Increased asset profit of up to 6%
Access to strategies
Wealth creation plan
Senior account manager
When traders make deposits, they open the door to enhancing their overall account status. Each deposit made contributes to reaching higher tiers, such as Gold or Platinum accounts. This progression allows traders to access even more benefits and privileges.
(General risk warning: Your capital can be at risk)
Accepted Countries
Look no further if you're a trader from Thailand, South Africa, Hong Kong, India, United Arab Emirates, Saudi Arabia, Kuwait, Qatar or any other country. Expert Option warmly welcomes traders from all around the globe and provides them with an exceptional trading experience. However, Expert Option's services are not available to individuals residing in Australia, Belarus, Canada, member states of the European Union, Iceland, Iran, Israel, Japan, Liechtenstein, New Zealand, North Korea, Norway, Puerto Rico, Russia, Singapore, Sudan, Switzerland, United Kingdom, Ukraine, United States of America, and Yemen.
Opening Hours
With the ExpertOption platform, you have the convenience of 24/7 access, ensuring that you can trade whenever it suits you, no matter the time or day. Whether you prefer using your mobile device or desktop computer, this user-friendly platform allows seamless trading anytime and anywhere. By providing round-the-clock availability, ExpertOption empowers traders with flexibility and opportunity to capitalize on market movements at their own convenience. It is important to consider that markets are not available 24/7. While you can access Expert Option at any time you like, please note that trading activities can only take place during the hours when markets are open.
Expert Option Customer Support
One of the advantages Expert Option offers is its exceptional customer service department. With a team available round the clock, they are always ready to provide reliable assistance whenever you need it. Expert Option offers a variety of convenient methods to reach their support team. One such method is their live chat facility, easily accessible through the logo located at the top of the page. This feature ensures traders receive prompt assistance in multiple languages, allowing for quick and efficient problem-solving. In addition to Expert Option's reliable email ticketing system, they also offer a convenient contact form and responsive phone support. This means that no matter your preferred method of communication, you can always count on prompt assistance from their dedicated team.
Contact Details:
Conclusion
When it comes to Expert Option trading, reviews from experts unanimously agree that the platform offers a truly innovative and exceptional investing experience. With its cutting-edge features and user-friendly interface, it provides traders with unique opportunities for success in the financial markets. The positive feedback from these seasoned professionals further strengthens the credibility of Expert Option as a reliable and trustworthy trading platform. Expert Option offers a comprehensive range of cutting-edge features and advancements in online investing. With its user-friendly interface and responsive design, navigating the platform is effortless. The broker also provides extensive educational resources to help you enhance your knowledge and skills in trading. Additionally, they offer social trading capabilities, allowing you to connect with experienced traders and gain insights from their strategies.
(General risk warning: Your capital can be at risk)
FAQ
Is ExpertOption legitimate?
When it comes to reliability and trustworthiness, ExpertOption is a top choice. It is widely recognized as a legitimate broker for traders, thanks to its membership in The Financial Commission. Rest assured, you can confidently rely on ExpertOption for your trading needs.
Can I Trade On Expert Option From India?
Absolutely! Expert Option is completely legal and accessible to users in India. You can trade with this platform without any hesitation or concerns about its legality.
Does Expert Option Have Bots?
Absolutely! The robot offers you the incredible opportunity to automate your trading, whether it's on demo or live accounts. It's conveniently available for download on the official Expert Option website.
Does Expert Option Give Payment Proof?
Yes, your payment or withdrawal proof can easily be accessed in the dedicated 'payment history' section of your account. This convenient feature ensures that you have a reliable record of all financial transactions, providing you with peace of mind and easy access to important documentation whenever needed.
What Is The Best Strategy on Expert Option?
The broker's educational resources are packed with valuable tips and tricks designed to help you succeed. The key to winning lies in finding a strategy that aligns with your unique investment style and risk tolerance.
Can You Still Trade On ExpertOption?
The Expert option trading platform is readily available to users across the globe, making it accessible from a wide range of locations. However, for regulatory reasons, Expert Option is unable to accept residents of certain regions, including the European Economic Area, USA, Canada, Israel, Australia, Russia, Switzerland, New Zealand, North Korea, Puerto Rico, Iran, Singapore and Yemen. The company adheres to strict guidelines to ensure compliance with applicable laws and regulations in each jurisdiction it operates.
How do I close my Expert Option account?
If you're ready to close your account, we recommend reaching out to the dedicated Client Support Department via email at help@expertoption.com. They will be more than happy to assist you throughout the process and address any concerns you may have along the way.