Rating: 5.0 out of 5.0 stars5.0
Free demo account: Yes
Payout: Up to 95%
Bonus: Up to 50%
Assets: 100+ Forex, Commodities, Stocks, Cryptos
Pocket Option is an online trading platform that was established in 2017 by a team of experts in Financial Technology and Information Technology. It was specifically created to meet the needs of the binary options and Forex markets. The company's objective was to develop a user interface that prioritizes convenience, ease of use, and an enjoyable experience, surpassing the average broker and platform in terms of usability and enjoyment.
Pocket Option Overview
Here is a quick overview of the features of Pocket Option.
| | |
| --- | --- |
| Broker | Pocket Option |
| 📅 Founded | 2017 |
| ⚖️ Regulation | Mwali International Services Authority |
| 💻 Demo | Yes |
| 💳 Minimum Deposit | $10 |
| 📈 Minimum trade | $1 |
| 📊 Assets | 100+, Forex, Commodities, Stocks, Cryptos |
| 💰 Return on investment | 95% |
| 🎁 Bonus | 50% |
| 💵 Deposit Methods | Credit Cards (Visa cards, Mastercard), Webmoney, China UnionPay, Wire Transfer, Cryptocurrencies, Neteller, Qiwi, Yandex-money, and many more |
| 🏧 Withdrawal methods | Credit Cards (Visa cards, Mastercard), Webmoney, China UnionPay, Wire Transfer, Cryptocurrencies, Neteller, Qiwi, Yandex-money, and many more |
| 📍Headquarters | San Jose- San Jose Mata Redonda, Neighborhood Las Vegas, Blue Building Diagonal To La Salle High School, Republic Of Costa Rica |
| 💹 Trade Types | High/low, Turbo, Forex |
| 💻 Trading Platform | Web, Windows, iOS, Android, MT5 |
| 🌎 Language | English, Spanish, French, Russian, Ukrainian, Portuguese, Turkish, Thai, Vietnamese, Indonesian, Persian, Japanese, Arabic, Hindi, Tagalog, Polish, Italiano, Romanian, Greek, Serbian |
| 👨‍💻 Social Trading | Yes |
| 🕌 Islamic account | Yes |
| ⭐ Rating | 5/5 |
(General risk warning: Your capital can be at risk)
What is Pocket Option?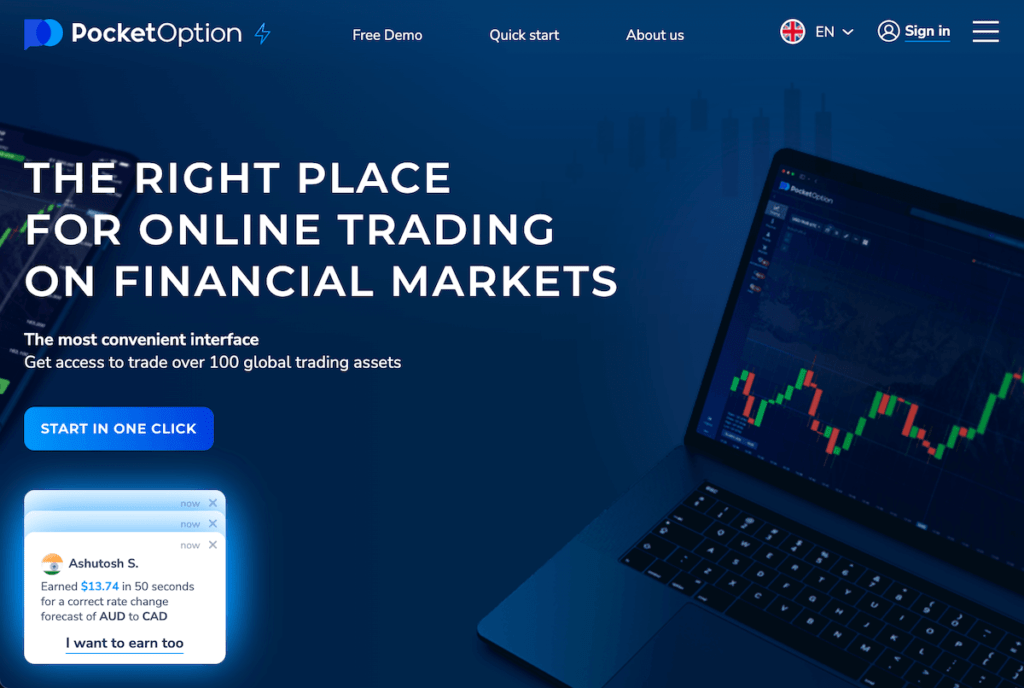 Pocket Option is a binary options broker that provides a wide range of options for traders. With over 100 different assets to choose from, including Forex currency pairs, stocks, and cryptocurrencies, users have a diverse selection to invest in. This variety allows traders to explore different markets and potentially take advantage of various investment opportunities. Pocket Option's clients have the advantage of accessing regulated services in a wide range of countries and regions. This online trading platform is designed to be user-friendly and offers seamless customer service if customer support is required.
Regulation
Pocket Option is a regulated trading platform that falls under the supervision of the Mwali International Services Authority. This means Pocket Option operates in compliance with regulations and standards set by the Mwali International Services Authority to protect the interests of traders and ensure fair and transparent trading practices. This broker is registered with the license number T2023322. They prioritize the Know-Your-Customer policy and strictly adhere to the Anti-Money Laundering Policy.
Trading Platform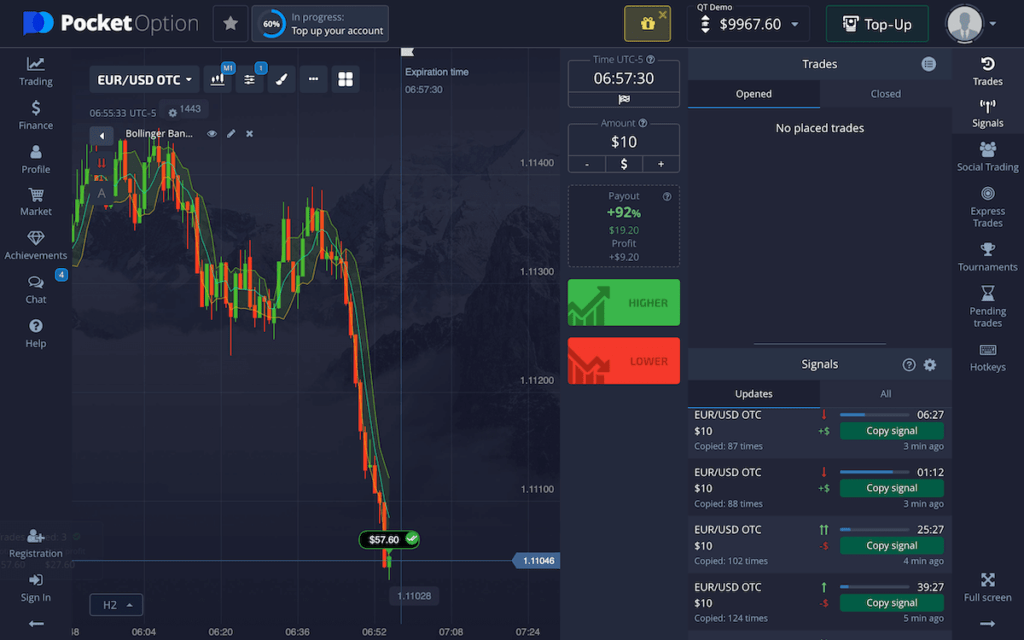 Our comprehensive testing revealed that their trading platform is highly intuitive and user-friendly. Users will find it easy to navigate and execute trades efficiently. The pocket option trading platform is accessible via the web, PC, MAC, iOS, and Android devices and boasts an impressive design that enhances the user experience. In addition, they provide MetaTrader 5 for forex trading, a powerful platform that enables automated trading and offers excellent technical analysis tools. They also offer Trading bots, This feature allows traders to execute trades automatically based on predefined criteria and access advanced tools for analyzing market data.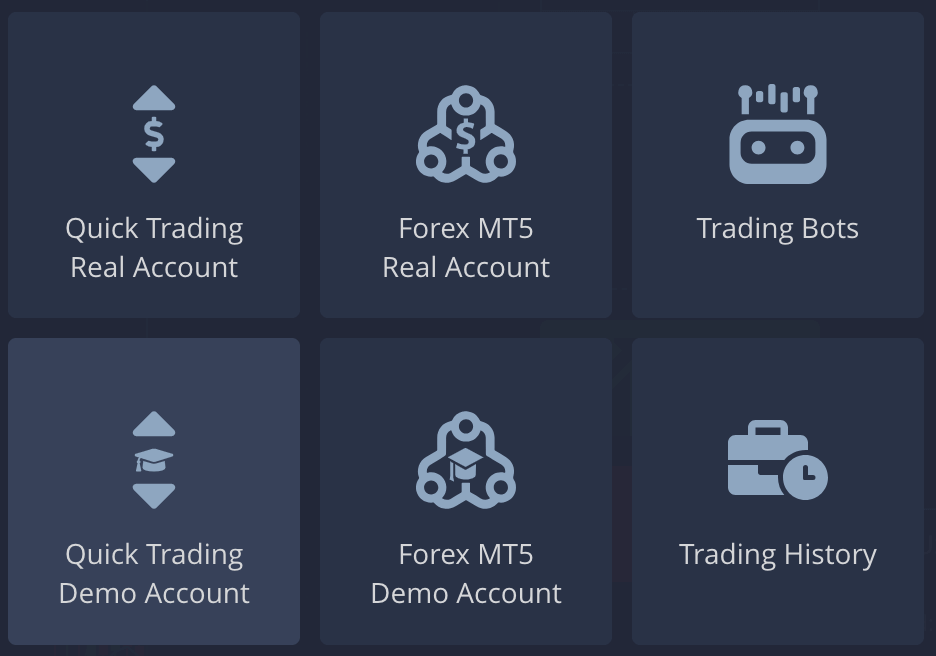 Charting tools
Charting tools are highly effective and comprehensive, offering a range of essential chart types such as line, candlestick, bar, and Heiken Ashi. These tools provide users with a versatile set of options to effectively analyze and present data. Furthermore, it is worth mentioning that you have the flexibility to customize the time frames according to your preferences. You can set it as short as 5 seconds or extend it up to 1 day, depending on your specific needs and requirements. This level of customization allows you to tailor the indicator's speed and time frame on your trading terminal.
Indicators
Pocket Option offers a comprehensive collection of 30 indicators for your convenience. This selection includes all of the well-known technical indicators and analysis tools that are widely used in the industry. There are several technical indicators available to traders, including the Accelerator Oscillator, Commodity Channel Index (CCI), Average Directional Index (ADX), Bollinger Bands, Moving Average, Moving Average Convergence Divergence (MACD), Momentum, Relative Strength Index (RSI), Average True Range (ATR), and many others. These indicators can help analyze price movements and trends in the financial markets.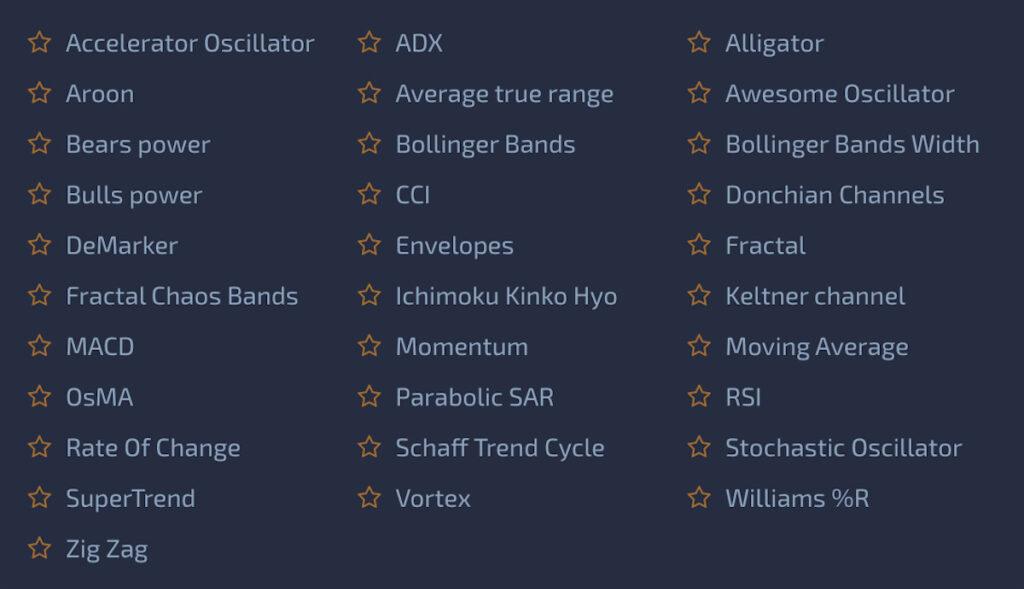 Copy trading feature
Pocket Option provides a Social Trading feature that allows traders to easily replicate the trades of other traders on their platform. This feature enables users to observe and follow the trading strategies of successful traders, potentially improving their own trading outcomes. After accessing the menu, you will be able to view the trader's statistics and performance. This information provides valuable insights into their trading abilities and track record. One useful feature offered by copy trading is the ability to communicate with the trader directly. In addition, you can easily gather information about their popularity, such as how many people are copying them. Furthermore, you can access data on their trading activity, including the number of deals executed and the maximum trade amount. The platform also provides insights into their performance, including the maximum profit earned and the percentage of profitable deals. These features empower users to make informed decisions when participating in copy trading on Pocket Option.
Trading Signals
One convenient feature we found in Pocket Option is the trading signal. These signals allow users to easily copy trading signals with different expiry times. With just a single click of a button on the platform, you can immediately take advantage of these signals and make informed trading decisions. With the assistance of their Telegram Signal bot, traders can receive high-quality signals and conveniently place trades using the Telegram app. This feature simplifies the trading process and helps ensure accurate execution of trades.
To enhance your trading experience, they provide hotkeys that enable faster actions and streamline the overall process. This feature allows for a more intuitive and efficient trading experience.
Trading App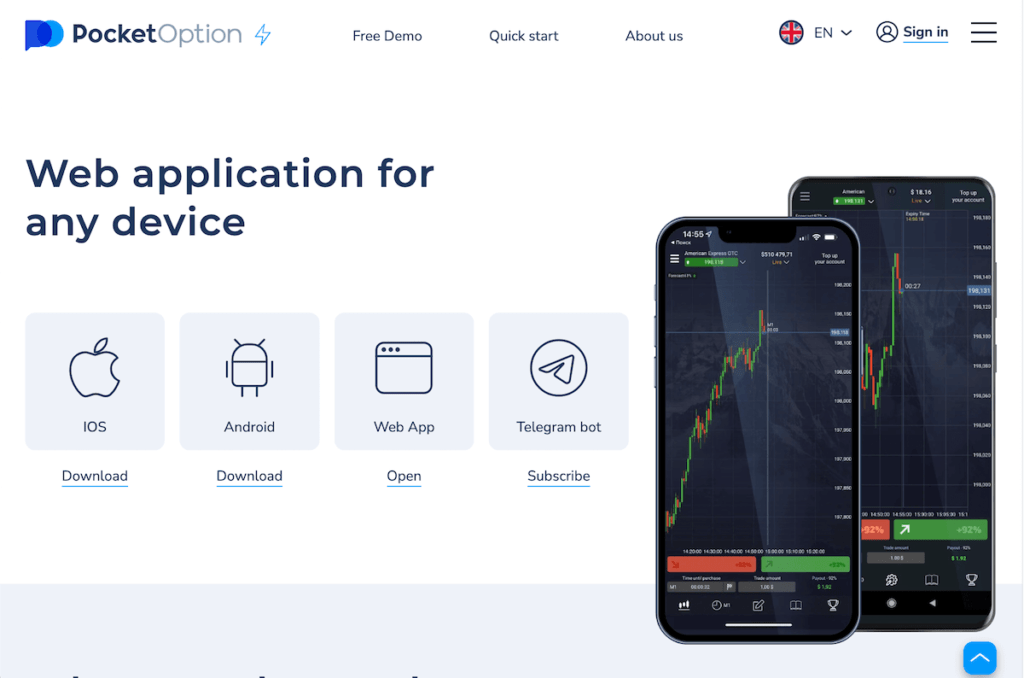 You can easily stay up-to-date with the latest market news through our mobile app, which is compatible with both iOS and Android devices. This ensures that you can access the app regardless of your preferred operating system. Pocket Options has developed an iOS and Android app that caters to users who prefer trading on MetaTrader 5 (MT5). This mobile application allows traders to conveniently access their accounts and execute trades on-the-go, providing a seamless trading experience. Pocket Option offers a web-based platform as the central trading hub. This means that users can access it conveniently from their PCs or mobile devices for seamless trading experiences. Whether you prefer to trade on a computer or on-the-go, Pocket Option has got you covered.
The Pocket Option mobile app offers all the features of the web platform, making it convenient for traders on the go. This is possible due to the trading platform's user-friendly interface and simple design, optimized for mobile usage.
You'll be happy to know that the app comes at no cost to you, making it an affordable option. Additionally, the installation process is quick and hassle-free, allowing you to get started without any delays. The interface itself is designed for speed, ensuring a seamless and efficient user experience from the moment you start using it. To access the iOS app, you can use it on either an iPad or iPod as long as your device has iOS 11.0 or a later version installed. On the other hand, if you are an Android user, you will need at least version 4.4 or a more recent one to use the app.
Fees and Commissions
Our team of analysts conducted a thorough review of the trading terms offered by Pocket Option. The main objective was to investigate if there were any undisclosed or hidden commissions that traders should be aware of. When it comes to trading fees, there's good news. There are no hidden fees associated with trading on this platform. Additionally, depositing funds into your trading account is completely free of charge. However, it's important to note that when withdrawing funds, there is a small fee charged by Perfect Money (0.5 percent). Additionally, depending on the bank you use for the transfer, they may also impose their own fee for processing the transaction. You can make withdrawals using various electronic payment methods or credit cards without any additional charges. By default, this platform automatically generates swap-free accounts for all its clients without requiring any changes in the settings or the need to contact customer support. This feature is designed to ensure that clients can trade without incurring any overnight fees or interest charges, making it a convenient option for those who follow Islamic principles or simply prefer not to engage in activities involving interest.
What are binary options?
That's a great question, and it's important to have at least some familiarity with the answer if you're considering investing in this strategy. Understanding the basics will help you make informed decisions about your investment. When it comes to comprehending the mechanics of binary options, many find it relatively simpler in comparison to traditional stock trading. Binary options involve predicting whether an asset's value will rise or fall within a specific timeframe, while stock trading encompasses buying and selling shares of individual companies on the open market.
In traditional stock trading, investors typically buy stocks at a specific price and have the opportunity to sell them later on when the value of the stocks increases. By selling at a higher price than what they initially paid, investors can profit from the difference in value. When the value of a stock decreases, investors may face a loss if they choose to sell their shares.
Numerous factors have an impact on the stock market, which opens up a wide range of potential scenarios. The value of stocks can fluctuate in countless ways, making it unpredictable and offering both risks and opportunities for investors. Binary options are a type of financial instrument that offers only two possible outcomes. These outcomes are determined by a predetermined time limit. In binary options trading, if you choose to invest and the stock's value exceeds a predetermined fixed amount by the time it expires, you will make a profit or "win" that particular binary option.
If the value falls below the agreed amount, it means that you have incurred a loss on your investment. You can also make a profit if the value falls if you predict correctly that the value will be lower at the expiration time. The unique approach of this trade makes it stand out, but it is relatively easy to understand. This simplicity makes it an attractive investment option for many people. Due to their growing popularity and the fact that these investment trades are not typically available on traditional stock exchanges, many individual brokerages are now offering them. It is worth noting that these trades often take place outside the US market. One reputable online brokerage that you may consider is PocketOption.com.
Pocket Option Sign-up
When you visit the homepage of Pocket Option, you will be prompted to create an account. You can easily access this service for free by signing up with a username and password. Alternatively, you can also use your existing Facebook or Google account to log in. While the signup process is generally simple to follow, there may be some additional information that you need to provide. Rest assured, the overall process is designed to be user-friendly and shouldn't pose any major challenges.
After becoming a registered member of the site, you gain access to a fascinating feature – the ability to participate in trades using virtual money. This allows you to experience binary trading without the need to put your real funds at risk. It's a great way to get a feel for the process and practice your trading skills in a safe environment. For those who are new to binary options trading, this feature is an excellent tool. It is designed to be user-friendly, allowing even the most inexperienced individuals to gain hands-on experience and learn how binary option trading works.
Pocket Option Demo Account
With Pocket Option, users have the opportunity to try out their trading platform through a demo account. The best part is that you can access this demo account without needing to register. It allows you to explore and familiarize yourself with the features and functionalities of the platform before deciding to start trading with real money. Using a trading platform can be quite overwhelming at first, especially for beginners. However, it can be made easier with the help of useful tools. These tools can assist you in understanding the basics of trading, familiarizing yourself with the platform's functionalities, and providing a hands-on learning experience. Ultimately, they serve as an excellent resource for beginners to gain confidence and knowledge in trading. If you're interested in virtual trading with $10,000, simply visit their website and click on the demo account button. It's always a wise decision to test the waters with a demo account before investing actual money.
Participating in the demo will allow you to gain practical experience and determine whether or not you want to move forward with the chosen option. The Pocket Option platform offers a user-friendly account layout, making it easy for users to navigate and understand. With this intuitive interface, you can quickly determine whether you are comfortable with more complex tasks or not.
Real Account
If you're considering transitioning from experimenting with binary options demos to trading with real money, Pocket Option is a platform that simplifies the process and makes it highly accessible. With their user-friendly interface and intuitive features, getting started with real money trading becomes effortless.
To access the deposit feature, log in to your account and navigate to the left menu bar. Locate and click on the "FINANCE" section, then proceed by clicking on the "DEPOSIT" option. When it comes to making deposits, you have several options to choose from.
You can use different methods, such as cryptocurrency, debit, or credit cards, and even connect directly to your existing bank account. This variety of deposit methods gives you the flexibility to choose the one that suits your preferences and needs best.
The most appealing aspect of this step is that you only need to make a minimum deposit of $10. This allows for greater accessibility and affordability for individuals wanting to participate in the process. The pricing for binary options in the industry is generally considered to be quite low. This affordability makes it accessible for individuals who are looking to gain experience with real binary options trading without having to invest large amounts of money and take on substantial risks.
The trading platform of Pocket Option offers a wide range of features and includes real-time interactive charts. These charts provide up-to-date information on stocks, currencies, indices, and commodities. This comprehensive tool allows users to analyze market trends and make informed decisions based on current data. You'll have all the necessary tools and information right at your fingertips to make well-informed decisions when it comes to binary options. And once you're prepared and ready, executing your first trade is a relatively straightforward process.
To begin trading, start by selecting an asset from the list of available options. Once you've made your selection, you can enter the desired amount of money you want to invest for that specific trade.
Now, let's focus on predictions. Your objective is to determine whether the asset you are investing in will have a higher or lower value when the trade time comes to an end. You have the flexibility to choose the duration of your trade. Whether you want quick results or prefer a longer-term investment, you can tailor your trading strategy to suit your goals and preferences. When it comes to trading options, you have the choice between a "call" option and a "put" option. A "call" option is used when you anticipate that the value of an asset will increase. On the other hand, a "put" option is utilized when you believe that the value of an asset will decrease. It's important to carefully consider your expectations before making these decisions in order to maximize potential profits.
At the end of the trading period, if your prediction turns out to be correct, you will win the trade and make a profit. Generally, the amount you earn is usually around 75-98% of your initial investment. In the event that your prediction turns out to be incorrect, it is important to note that you may lose the entire amount that you had invested. The risk-reward aspect of binary options is what makes it a risky investment. However, its popularity is still on the rise because of the ease with which trades can be conducted and the quick profit that is possible to earn.
Although Pocket Option is commonly used for binary options trading, it's important to note that they are not the sole means of earning money on the platform. You can also trading forex in the classic way. There are alternative methods and strategies available that can also be profitable for traders.
Special Offer: Click Here to Avail Exclusive Offer on Pocket Option (Get a 50% Bonus)
(General risk warning: Your capital can be at risk)
Trading Assets and markets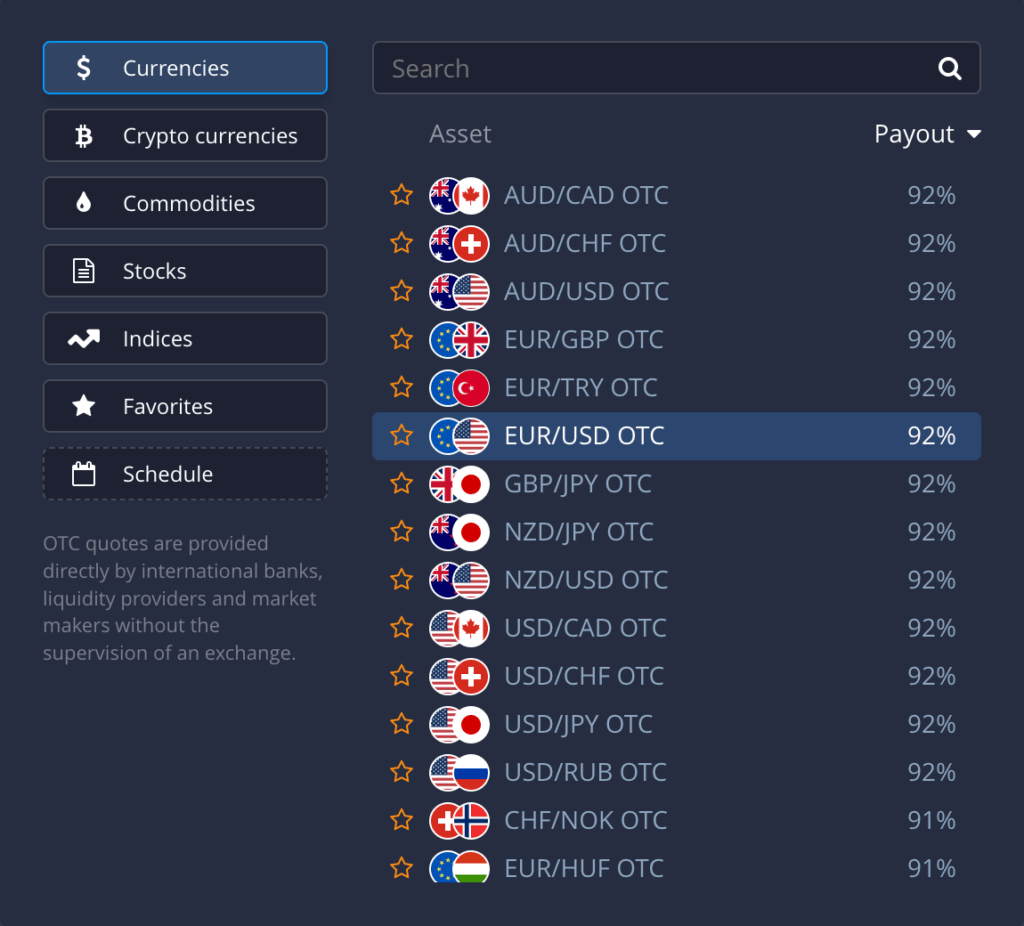 Pocket Option provides a diverse selection of over 130 assets for trading. These assets are organized into five distinct categories, allowing users to easily navigate and choose from a wide range of options.
Forex
Cryptocurrency
Indices
Stocks
Commodities
On the website, you can find a trading schedule that shows you the assets being traded in real-time. It also provides information on the percentage of payout for each asset. This allows users to make informed decisions based on current market conditions and potential returns.
Trade Types at Pocket Option
Pocket Option offers a range of trade types, including simple high/low options. These types of trades are straightforward and easy to understand for traders. With high/low options, traders simply predict whether the price of an asset will be higher or lower than the current price at expiration. This simplicity makes it a popular choice for both beginner and experienced traders on the Pocket Option platform. High/low options are a simple and easy-to-understand type of trade when it comes to binary options. With this type of trade, you establish a predetermined time limit and make predictions about whether the asset price will increase or decrease compared to its initial value. High/low options are an ideal choice for binary options traders due to their ability to provide quick payouts. This means that traders can receive their payments almost instantly, making these options highly convenient and efficient. If you're a beginner in binary options trading, high/low options can be a great way to practice and refine your trading strategies quickly. With these options, you have the flexibility to set your desired expiration time, ranging from as little as 5 seconds to several hours. This allows you to experiment with different approaches and gain valuable experience and the possibility to earn a high payout per trade in a relatively short period of time.
Payouts on binary options
Pocket Option is renowned for its exceptional payout rates in the binary options market. Traders are attracted to this platform due to the lucrative returns it offers on their investments. The minimum percentage you can earn is 50%, but on average, the earning potential is significantly higher. When it comes to accurately predict high/low binary options, you can usually count on receiving a payout ranging from 80% to 100% per trade.
In the realm of financial instruments, it is possible to come across impressive payout rates, with some reaching as high as 218%. These rates significantly surpass the industry average and present exciting opportunities for those involved. Binary options companies, even the most reputable ones, typically advertise maximum rewards of up to 200%.
It's important to keep in mind that engaging in high/low trading can lead to higher payouts compared to other types of binary options trading, like ladder or pair options.
If you are looking for a quick and convenient way to become acquainted with Pocket Option, engaging in 60-second high/low options trades can be highly advantageous. Not only do these trades allow you to gain familiarity with the platform, but they also have the potential to generate significant profits within a short time frame. You can even trade on shorter time frames, like 5-second binary options, for scalpers and other short-term and high-frequency traders. It's important to note that trading high/low options can be risky. If you consistently experience too many losing trades, it can result in financial losses. It's crucial to carefully evaluate the risks involved and implement proper risk management strategies when engaging in this type of trading.
Deposit and Withdrawal Methods
Pocket Option accepts a wide range of payment methods, including all major ones. This provides users with convenient options for funding their accounts and making transactions on the platform.
Visa
Mastercard
Maestro
Mir (RUB)
Bank transfer
Cryptocurrencies
MTN
Thailand QR banking
Touch&Go
Boost
QR Banking MMK
Shopee
QR Banking LAK
QR Banking KHR
Nagad
Bkash
Easypaisa
Filipina Bank Transfer
Mexico Online Banking
Japan Bank Transfer
Singapore Bank Transfer
UPI
QRIS
Система быстрых платежей
LATAM Banking
LATAM Cash
Dai (DAI)
Corean Online Banking
Promptpay
MoMo Pay
Vietnam Internet Banking
Uniswap (UNI)
Binance Coin (BNBBSC)
YooMoney
Altel
Bank transfer PKR
Bank transfer AED
Wallets INR
Kcell
PayRedeem
Coins.ph
Gcash
Pago
Oxxo
WebMoney
Bank Transfer ZAR
Jeton
Perfect Money
FasaPay
PayCash
Payeer
Dana
Tiger Pay
Minimum Deposit
At Pocket Option, the minimum deposit required is $10 for most payment methods, some payment options can provide a 5$ minimum deposit. Which aligns with the industry average. This means that you can start trading with low initial investment. Additionally, the minimum trade amount per trade is set at $1, allowing for flexibility and accessibility in executing trades.
Pocket Option provides its users with a range of convenient deposit and withdrawal methods to choose from.
Pocket Option provides users with a convenient option to make deposits using various cryptocurrencies. Some of the supported cryptocurrencies include Bitcoin, Litecoin, Ethereum, Bitcoin Cash, Ripple, USDK, ZCash, Dai, Tether, and USD Coin. This diverse range of options allows users to choose the cryptocurrency that suits their preferences and needs best when making deposits on the platform.
Bonuses and Promotions
When you open a live account with Pocket Option, you can take advantage of their generous offer of a 50% deposit bonus on your initial deposit. This bonus provides a great opportunity to maximize the value of your investment and gives you more potential for trading success. The amount of bonus you receive is directly proportional to the size of your initial trading capital. The larger your capital, the higher the 50% bonus you can expect to receive.
Exclusive Pocket Option Bonus Promo Code
To receive a 50% bonus when depositing $50 or more, simply use the code provided below: 50START (Only available for new Pocket Option users who join Pocket Option by clicking on the button below)
*terms and conditions apply
(General risk warning: Your capital can be at risk)
Pocket Option Bonus Rules
In order to be eligible for the bonus offered at Pocket Option, you are required to generate a trading turnover that is equivalent to fifty times the amount of the bonus. This ensures that you meet the necessary criteria to claim the bonus. Here's an example to illustrate how the bonus works. Let's say you deposit $10, and with a 100% bonus, you will receive an extra $10. To be eligible to claim the bonus, your net trading turnover should equal $10 multiplied by 50, which is $500.
In order to withdraw the bonus, it is necessary to initiate trading activities and fulfill the specified conditions. When using Pocket Option, it is important to note that trades must be trading on the platform before attempting to withdraw any bonuses. This requirement is in place to prevent investors from signing up solely with the intention of withdrawing the bonus funds along with their initial deposit.
Pocket Option provides a range of additional features to enhance your trading experience. By opening a live account, you gain access to various tools such as social trading, tournaments, achievements, and indicators and signals. These features are designed to provide you with more options and help optimize your trading strategies.
Tournaments
Tournaments available on Pocket Option provide traders with the opportunity to engage in friendly competition and have a chance to win exciting prizes. By participating in these tournaments, traders can showcase their skills against fellow traders and potentially earn rewards for their trading abilities. While social trading and competitive trading environments may differ, one common aspect is the ability to compare your performance with that of other traders. While social trading emphasizes collaboration and sharing, a competitive environment focuses on individual success. Nevertheless, in both scenarios, you have the opportunity to gauge your performance relative to others in the field. By actively participating in tournaments, you have the opportunity to not only showcase your skills and compete with others but also win achievements and prizes. These tournaments can provide a platform for recognition and rewards based on your performance and dedication. Certain prizes offered in trading can be quite lucrative, reaching up to $50,000 or even more. These prizes may come in various forms, such as payout percentage bonuses or additional trading funds. Participating in these competitions can give traders a chance to boost their earnings and take advantage of extra trading benefits.
Achievements
Achievements obtained through tournaments are more than just decorative badges showcasing your trading experience. They hold significance and represent noteworthy accomplishments in the trading world. Winning achievements are highly valuable and should not be overlooked, as they hold significant worth, just like the $50,000 prize money. Additionally, achieving success also comes with various trading benefits that can further enhance your professional growth and opportunities. By participating in trading, you have the opportunity to earn various benefits that can enhance your trading skills and increase your chances of profitability. These benefits may include trading funds, a bonus based on your payout percentage, and other advantages that can support your growth as a trader.
How to Withdraw Your Funds at Pocket Option
To withdraw funds at Pocket Option, follow these steps:
1. Login to your Pocket Option account.
2. Click on the "Finance" tab or a similar option that allows you to access your account funding.
3. Look for the "Withdrawal" section within your "finance" settings.
4. Select your preferred withdrawal method from the available options (such as bank transfer, credit/debit card, e-wallets).
5. Enter the amount you wish to withdraw and any other required details, such as bank account information or e-wallet credentials.
6. Double-check all the information entered to ensure accuracy.
7. Confirm your withdrawal request and wait for it to be processed by Pocket Option's financial team.
8. Monitor your email or account notifications for updates on the status of your withdrawal request.
Please note that processing times may vary depending on the chosen withdrawal method and any additional verification processes required by Pocket Option's security measures.
In general, the minimum withdrawal amount is set at $10, ensuring that users can access their funds conveniently. The withdrawal process typically takes anywhere from 24 hours to 2 business days to be completed. No matter which method you choose, you can expect a smooth experience when it comes to depositing and withdrawing cash. Rest assured that there should be no issues in this process. When it comes to binary options brokers, they stand out from the competition by not charging any fees or commissions for transactions. However, it's essential to consider currency conversions when engaging in these trades. It's important to note that several banks will impose a fee for these services. Therefore, it is crucial to be mindful of any potential additional costs that may arise.
Is Pocket Option Safe and Legit?
Pocket Option is a reliable and trustworthy platform for binary options trading. It has gained a positive reputation for its safety and legitimacy. Many traders consider it to be one of the most trustworthy brokers in the industry. Through extensive research and practical experience, we have found that this trading platform is a reliable option. It offers secure methods for both depositing funds and withdrawing them, ensuring the safety of your transactions. Pocket Option is a regulated broker that operates under the supervision of the Mwali International Services Authority. As a regulated entity, Pocket Option follows strict Anti-Money Laundering (AML) and Know-Your-Customer (KYC) policies. These measures are in place to safeguard against any fraudulent activities, and they can't share the personal information of their clients with third parties.
Infinite Trade LLC is the parent company name of Pocket Option. It is officially registered with the Mwali International Services Authority license: T2023322.
Customer Support
The customer support team is readily accessible and ensures convenience by being available round the clock. You can easily reach out to them via email or phone, as their official website prominently provides both contact options. In addition to its website, Pocket Option maintains a presence on popular social media platforms like Facebook, Instagram, and Twitter. This allows users to connect with the platform through their preferred social media channels and stay updated with the latest news and updates from Pocket Option. You can conveniently engage with their customer support team through the live chat service available on their website. Simply open the chat and start discussing your inquiry with them. Alternatively, if you're pressed for time, you can fill out the contact form on their website, and they will promptly respond to your message. To get in touch with them, you can use the following information provided below:
Pros and Cons of Pocket Option
As a trader, it's important to be aware of both the benefits and drawbacks of using PocketOption. This platform offers a range of features that may appeal to you, such as advanced trading tools and a user-friendly interface. However, it's equally important to understand the potential downsides. These could include limited customer support options or certain limitations on trading options. Being informed about all aspects of PocketOption can help you make an educated decision on whether it aligns with your trading needs and goals.
Pros:
Pocket Option offers a wide range of features, making it a comprehensive service. Now, let's explore some of the notable benefits you can enjoy by using this platform:
By utilizing a simple sign-up process, you can quickly create your initial account. You have the option to use an existing Facebook or Google account, which allows for a seamless and efficient setup. This means you can get started without any delay, saving you valuable time and getting you up and running in no time at all.
You can effectively learn about binary options trading without any financial risk through Pocket Option's complimentary binary options trading simulator, called a demo account. By using your free pocket option demo account, you can acquire valuable knowledge and a deeper understanding of the trading process. The best part is that you don't have to risk any real money in the process.
Entering the world of earning money is made easier with a low entry risk. You can start making real money by investing as little as $10, allowing you to test the waters without a significant financial commitment. With one of the lowest minimums in the industry, this amount provides an opportunity for beginner investors to start generating real profits with minimal risk. It's a great way to enter the market and begin building wealth.
In addition to the primary binary options trading platform, Pocket Option offers an impressive affiliate program that presents additional income opportunities. By referring others to the platform, you can earn money through this program by inviting other traders to trade on Pocket Option.
Cons:
Although Pocket Option has its advantages, it is important to note that no platform is flawless. There are also certain drawbacks associated with using Pocket Option.
While the platform may have low entry barriers for traditional binary options, it's important to note that Forex trading requires a minimum investment of $1000. This higher minimum can limit access to Forex trading for many individuals who may not be able to meet this requirement..
Some users have expressed their dissatisfaction with Pocket Option's support response time. Despite advertising 24/7 support, there have been reports of delayed responses, with some users stating that it took 24-48 hours to receive a reply after submitting their support request. Dealing with slow response times can be frustrating, especially when you are investing considerable amounts of money.
Conclusion
Pocket Option is a powerful trading platform that caters to both new and experienced binary options traders. With its user-friendly interface, even beginners can easily navigate and start earning on this platform. It provides a simple yet effective way to generate income through binary options trading. Many people find this option appealing due to the combination of multiple deposit choices and low investment minimums. With a wide range of deposit options available, individuals have the flexibility to choose what works best for them. Additionally, the low investment minimums make it accessible to a larger number of individuals who may not have significant funds to invest initially. Their affiliate platform offers users a way to generate income, either as an alternative or in addition to earning money through binary options. This additional opportunity allows users to maximize their earning potential and diversify their sources of income.
If you're interested in getting started with binary options trading, Pocket Option could be the ideal platform for you. It provides a user-friendly website that can serve as a great starting point for your trading journey. Pocket Option offers a reliable solution for traders or influencers who are seeking products or services to promote as affiliates. Whether you're looking for a platform to trade on or an opportunity to earn through affiliate marketing, Pocket Option can cater to your needs.
Binary option trading is known for its high level of risk. While Pocket Option may offer opportunities to earn through these trades, it is crucial to conduct thorough research and exercise caution when investing in any trade or platform. Understanding the potential risks involved and making informed decisions can help protect your investment. We send our best wishes and hope for your success, regardless of the path you choose to take.
(General risk warning: Your capital can be at risk)
FAQ
Does Pocket Option Have Rollover?
Currently, Rollovers are not available on Pocket Option. This means that traders are unable to extend their expiry times beyond what is initially set.
Is Pocket Option Legal in the US?
Pocket Option is no legal in the USA, as is not regulated by official US regulators like the CFTC. United States doesn't allow US citizens to trade binary options with non-CFTC or non-US regulated entities.
Is Pocket Option Legal in the UK?
No, Pocket Option is not legal in the UK.
Pocket Option is a trading platform that prioritizes security for its users. However, it is important to note that the platform is not considered legal in the United Kingdom. In the UK, the Financial Conduct Authority (FCA) oversees and regulates online trading activities for UK residents, and they have explicitly prohibited the use of binary options in this region. It is advised to adhere to local regulations and seek alternative platforms that comply with the legal requirements set by regulatory bodies in your jurisdiction.
Is Pocket Option Legal in India?
Yes, Pocket Option is legal in India.
Pocket Option is a legitimate trading platform that operates legally in India. It has been established since 2017 and has garnered numerous positive customer reviews. Traders from India now have access to a wide range of assets for trading, including Forex, high/low options, CFDs, and many more. In India, it is legal to engage in trading activities using Pocket Option.