Rating: 4.5 out of 5.0 stars4.5
Free demo account: Yes
Payout: Up to 98%
Bonus: Up to 200%
Assets: 100+ Forex, Commodities, Stocks, Cryptos
In recent years, there has been a surge in the popularity of binary options trading. Brokers like IQCent offer individuals the opportunity to potentially generate substantial profits within a relatively short period of time. As a result, an increasing number of individuals are becoming interested in and involved in this form of trading.
When it comes to binary options trading, brokers like IQCent play a significant role. IQCent is a trusted binary options broker that stands out for its offering of automated trading functions, such as copy trading. This feature allows users to automatically copy the trades of successful traders, potentially increasing their chances of profitable investments.
Some traders possess exceptional skills in market analysis and can execute trades on your behalf. Their expertise allows them to identify profitable opportunities, assess risks, and make informed decisions. By entrusting your trading activities to these experienced individuals, you can benefit from their knowledge and maximize your investment potential.
Our team of experts conducted an extensive review of IQCent, examining various aspects of their trading services. We thoroughly tested everything from minimum deposits and withdrawal speeds to demo accounts and promo codes to provide you with comprehensive insights into their offerings.
This thorough review will provide you with an in-depth analysis of IQCent, including how this broker operates, its key features, advantages and disadvantages. By the end of this review, you will have enough information to make an informed decision on whether or not IQCent is suitable for your needs.
IQCent quick overview
| | |
| --- | --- |
| Broker | IQCent |
| 📅 Founded | 2017 |
| ⚖️ Regulation | No |
| 💻 Demo | Yes |
| 💳 Minimum Deposit | $50 |
| 📈 Minimum trade | $0.01 |
| 📊 Assets | 100+, Forex, Commodities, Stocks, Cryptos |
| 💰 Return on investment | Up to 98% |
| 🎁 Bonus | Up to 200% |
| 💵 Deposit Methods | Bank Cards (Visa cards, Mastercard), Wire Transfer, Cryptocurrencies |
| 🏧 Withdrawal methods | Bank Cards (Visa cards, Mastercard), Wire Transfer, Cryptocurrencies |
| 📍Headquarters | Wave Makers LTD – Nr. 103581, Trust Company Complex, Ajeltake Road, Ajeltake Island, Majuro, Marshall Islands MH96960 |
| 💹 Trade Types | High/low, Turbo, CFDs |
| 💻 Trading Platform | Web |
| 🌎 Language | English, Spanish, Russian, Indonesian, Hindi |
| 👨‍💻 Social Trading | Yes |
| 🕌 Islamic account | No |
| ⭐ Rating | 4.5/5 |
(General risk warning: Your capital can be at risk)
What is IQCent?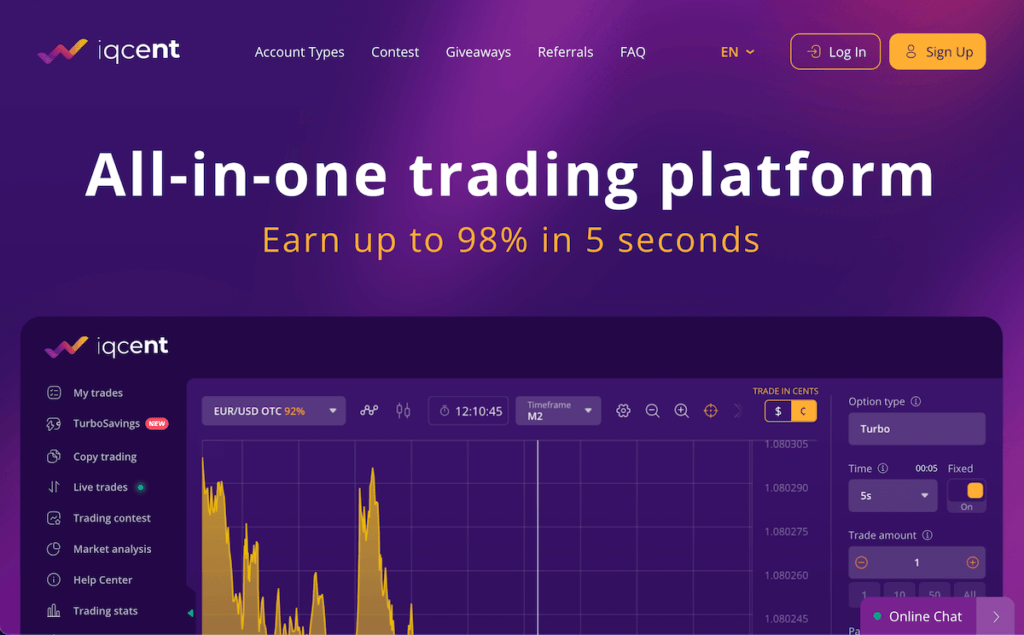 IQCent has been providing online trading services to retail clients since 2017. IQCent is a broker that specializes in binary options and CFD trading. It is well-suited for beginners, as it offers a user-friendly platform and provides trading opportunities across more than 100 different assets. Account holders can take advantage of a range of benefits when using this platform. One key advantage is the ability to trade non-stop, even on weekends, allowing for greater flexibility and convenience. Additionally, the broker offers a copy trading feature that allows users to follow and automatically replicate the trades of successful traders. The IQCent trading platform can be used to trade Forex, Options, Cryptocurrencies and offers an auto-trading function.

Lastly, this platform offers impressive payouts of up to 98%, providing account holders with the potential for significant returns on their investments.
In addition to traditional binary options with fixed outcomes, users also have the option to trade Contracts for Difference (CFDs) with leverage of up to 1:500. This opens up a wide range of trading opportunities across various markets, such as forex, stocks, commodities, and cryptocurrencies.
To get started in trading, you can begin with a minimum trade size of just $0.01. Additionally, new users have the option to make a minimum deposit of $50 through over 10 supported payment methods. This allows for flexibility and accessibility when it comes to entering the world of trading.
Pros
There are several benefits of trading binary options with IQCent. Some of these advantages include:
Payouts up to 98%
$0.01 minimum trade size
Copy trading feature
Double-up, rollover, and sell-out features
100+ assets: forex, stocks, commodities, and cryptocurrencies
Turbo, intra-day and long-term binary options
Cryptocurrency deposits
Various bonuses and financial incentives
Fast account verification times
Cons
Drawbacks of opening an account with IQCent include:
Unregulated broker
Limited demo account
No MetaTrader 4
No mobile trading app
Limited educational content and tutorials
(General risk warning: Your capital can be at risk)
IQCent Regulation
IQCent currently does not possess a license with a top-tier financial regulator. Although this is quite common in the industry, it is important to note that users may have limited protections in the event of the brokerage experiencing financial difficulties or bankruptcy. It is advisable to consider this aspect when making decisions regarding your investments. Traders may not have access to investor compensation schemes, which are designed to protect investors in case of financial loss or fraud.
While IQCent may not be bound by strict regulations, rest assured that they prioritize security. They implement industry-standard practices like 256-bit SSL transaction encryption and 3D secure for processing payments. These measures ensure the safety of your transactions and protect your sensitive information. Your funds are kept safe and secure in European banks. This provides an added layer of protection and peace of mind for you as a customer. European banks have a reputation for maintaining high standards of security and compliance, ensuring that your money is in trusted hands. By keeping your funds in these banks, you can have peace of mind knowing that they will be held securely.
Trading Platform
With IQCent, users can access their trading platform without the need to download any software. Their proprietary web-based platform makes it easy and convenient to trade. The platform is designed to be beginner-friendly, with easy-to-use navigation and user-friendly features. This means that even those who are new to the platform can quickly understand how to use it and navigate through its various functions.
The platform offers a high level of customization for charts, allowing users to tailor them according to their specific needs. There are six different timeframes available (M2, M10, M30, H1, H4, D1), providing flexibility in analyzing data and making informed decisions. You have the option to access price data through different types of charts, such as candlestick or tick charts. These charts come equipped with various features, including drawing tools, text annotations, and XABCD patterns. With these tools at your disposal, you can analyze the market and make informed trading decisions.
Additionally, the binary options broker includes a range of built-in indicators for traders to utilize. These indicators consist of momentum, relative strength, and average range. Furthermore, users of IQCent can enjoy the advantages of third-party market analysis. These platforms provide valuable insights and recommendations from seasoned traders, advising on potential investment decisions such as buying or selling assets. This feature equips users with expert perspectives and enhances their ability to make informed choices in the market.
In addition to the platform, users have access to an integrated economic calendar and up-to-date news. This feature allows you to stay informed about market events and economic indicators that may impact your trading decisions. With the latest update to the trading platform, you now have access to your complete trading history. This feature allows you to easily track your past trades and observe patterns for better decision-making. Additionally, you can now see positions opened by top traders, giving you valuable insights into successful strategies. Moreover, depositing funds has never been easier; simply click a button and your funds will be available for trading in no time.
Assets and Markets
At IQCent, traders have the opportunity to engage in trading on a wide range of assets. With over 100 options available, including binary options and CFDs, there is a diverse selection to choose from. This allows traders to explore different markets and diversify their investment portfolios.
IQ Cent provides a selection of three commodities: Gold, Copper, and Brent Crude Oil. These commodities offer different investment opportunities and can be traded on IQ Cent's platform.
IQCent offers 4 German stocks: There are four German stocks that are worth mentioning, namely Deutsche Bank, Lufthansa, and BMW. These companies play a significant role in the German economy and have a strong presence in the global market. Investing in these stocks can offer potential opportunities for investors seeking exposure to the German business landscape.
The seven major stock indices in the world. These indices represent a broad range of companies and provide investors with an overall view of the market's performance. Other notable indices include the Dow Jones Industrial Average, Nikkei 225, DAX 30, CAC 40, and Shanghai Composite Index. Each index has its own methodology for selecting and weighing stocks, making them essential tools for evaluating global market trends.
There is a wide range of currency pairs available for trading, with over 40 major and minor options to choose from. Some popular examples include EUR/USD, GBP/JPY, and USD/CAD. This variety allows traders to take advantage of different opportunities in the foreign exchange market.
There are several digital currencies available, with some of the notable ones being Bitcoin, Dogecoin, and Ethereum. These cryptocurrencies have gained significant popularity and recognition in the digital market.
Binary Options Trading
IQCent provides its users with a variety of binary options to choose from. These include three distinct types, each offering unique features and benefits.
Turbo Options: Turbo options offer a flexible range of expiry times, typically spanning from 5 seconds to 30 minutes. This type of option is perfect for traders looking to gain high potential profit in a very short period of time.
Intraday Options: Intraday options are a type of financial derivative that offer expiry times of up to 24 hours, with increments of 1 hour. This allows traders to have more flexibility in their investment strategies and take advantage of short-term market movements within a day.
Long-term options: With long-term options, you have the flexibility to choose an expiry time ranging from 24 hours to 30 days. You can select any duration within this range with increments of one day. This allows you to tailor your options according to your specific trading strategy and goals.
The broker provides a range of trading options, including the commonly used high/low options. With this type of option, traders are only required to make a prediction about whether the price of an asset will increase or decrease. It is a straightforward and popular choice for many traders in the market. On the trading platform, you will notice a bar located on the left-hand side. This bar serves the purpose of displaying the potential payout for each asset. It provides you with valuable information regarding the potential returns associated with different assets available for trading.
CFD Trading
A contract for difference (CFD) is a type of derivative tool that enables investors to track the value of an underlying asset, such as stocks. It allows traders to speculate on price fluctuations without actually owning the asset itself. When trading Contracts for Difference (CFDs), clients often use leverage to enhance their trading capabilities. Leverage allows users to maximize their purchasing power and potential profits by putting down a small capital outlay and borrowing funds from the broker. This approach enables traders to potentially increase their returns.
IQCent offers flexible leverage options to its traders, allowing them to trade with leverage of up to 1:500. However, it's important to note that the leverage may vary depending on the instrument being traded, with crypto CFDs having maximum leverage of 1:10. Additionally, margin calls are triggered when the account equity falls below 5%.
Our platform offers account holders the opportunity to trade Contracts for Difference (CFDs) without any commission fees. What's more, we provide floating spreads starting as low as 0.7 pips. This allows traders to access the financial markets with greater flexibility and potentially maximize their trading profits. If you choose to keep your positions open overnight, it's important to note that swap fees will be applied. These fees typically amount to 0.07% of the face value of the position.
(General risk warning: Your capital can be at risk)
How to Trade Binary Options on IQCent
Executing a binary options trade is relatively simple and doesn't require extensive knowledge or experience in trading.
To access the order screen, you can locate it on the right-hand side of the platform. Simply navigate to that section and you will be able to place your orders.
To choose the asset you want to trade, simply use the drop-down bar. You can search for a specific asset or filter your options by asset class. This helps you easily navigate through the available assets and select the one that suits your trading needs.
When selecting the option type, there are three main choices to consider: turbo, intra-day, and long-term. Each option type has its own characteristics and timeframes that cater to different trading strategies and goals.
When choosing a contract, it is important to consider the timeframe, which refers to the duration of the agreement. This refers to how long the contract will remain in effect and dictates when it will expire or need renewal.
You have the option to select either fixed or flexible timing for your task. To do this, you can use the sliding bar provided.
To determine the amount you'd like to bet, simply click on the plus (+) or minus (-) icons. These buttons will allow you to increase or decrease the stake value as per your preference.
Please choose 'up' or 'down' based on your price prediction.
Trading Features
When utilizing IQCent, our experts discovered a range of supplementary tools that are accessible to binary options traders.
Double-Up – With IQCent, traders have the opportunity to 'double-up' on their investment before it reaches its expiry. This feature allows users to potentially increase their profits or mitigate losses by investing additional funds into a trade that they believe will be successful. By opting to "double-up," traders have the opportunity to increase both their trade size and potential winnings. Essentially, this involves duplicating the position with the same price direction, amount, and expiration time. This strategy allows for a potential doubling of profits if successful.
Rollover – The rollover feature and strategy enable investors to extend their position by 100% for one time. Once this is utilized, a subsequent addition of 30% can be made to the same position. For a rollover to be possible, the contract needs to meet certain criteria. Specifically, it must be classified as out-of-the-money and in the last quarter of its original expiration period. These conditions ensure eligibility for a rollover option.
Sell Out – IQCent also offers the option for a contract to be sold out. Binary options traders have the option to close their positions before the expiration time if the position is already in profit by at least 0.1%. This gives traders the opportunity to secure their profits ahead of schedule and minimize potential risks.
Copy Trading

The IQCent platform offers a copy trading feature, which is especially beneficial for beginners or individuals seeking to invest without dedicating hours to market research. This tool allows users to replicate the trades of experienced traders, thereby providing an opportunity for potentially profitable investments with minimal effort and knowledge required.
Before investing your money, you have the opportunity to review and assess the performance of the top 10 traders. This allows you to make informed decisions by analyzing their track record and accomplishments. Users have the ability to access a variety of useful metrics on the platform. This includes being able to view the profit percentage and location of experienced traders, commonly referred to as 'pro' traders. These insights can help users make informed decisions when it comes to investment strategies.
To begin copy trading on the platform, you'll first need to fund your account and ensure that you have a positive net balance. Once that is done, simply navigate to the left-hand side of the platform and select the 'copy trading' option. This will enable you to start copying the trades of successful traders on the platform. If you're interested in copying traders, the process is simple. You can select the specific trader you want to follow and decide how much money you want to invest in their trades.
The copy trading service is accessible to all live account holders, and the best part is that it's completely free. This means that anyone with an active account can take advantage of this feature without incurring any additional charges.
(General risk warning: Your capital can be at risk)
Turbo Savings
Turbo Savings is a brand-new functionality offered by IQCent
Once The Turbo Savings functionality is enabled, your Net balance becomes an investment that earns daily returns based on the APY percentage that can be set to Flexible or Locked, but once locked, you cannot withdraw the funds while the feature is active.
Turbo Saving is an exciting new feature offered by IQCent that aims to maximize your earning potential. By enabling TurboSaving, your Net balance is transformed into an investment that generates daily returns based on the Annual Percentage Yield (APY) percentage. This APY can be set as either Flexible or Locked, giving you control over how your funds grow.
With TurboSaving enabled, it's important to note that while your funds are actively earning returns, you will not be able to withdraw them. This feature encourages users to keep their funds invested and capitalize on the potential for increased earnings over time.
Whether you choose the Flexible or Locked APY option, TurboSaving provides a convenient way for individuals to make their money work harder for them. By taking advantage of this feature, users can save time and energy by allowing their funds to grow effortlessly in the background.
In summary, TurboSaving is a brand-new functionality offered by IQCent that transforms your Net balance into an investment vehicle with daily returns based on the chosen APY percentage. While this feature is active, withdrawals are not permitted, but it offers a valuable opportunity for individuals looking to optimize their savings and potentially earn more from their investments.
Here's an example to illustrate how your net income can grow with a high APY. Let's say you have a net amount of $1000 and an APY of 128%. Multiplying these values gives you an annual income of $1280. Now, let's calculate your daily passive income by dividing your annual profit of $1250 by 365 days. This results in approximately $3.50 in passive daily income for you.
IQCent App
Unfortunately, our experts have discovered that the IQCent proprietary platform is no longer available as a mobile app. This change may disappoint users who were accustomed to accessing the platform on their mobile devices. Unfortunately, the application mentioned is currently unavailable for download on iPhone (iOS) and Android (APK) devices.
When it comes to using the browser-based terminal, it is worth noting that it can be accessed on mobile and tablet devices. However, based on my findings, you can observe that the stability and charting view are significantly better when using a desktop computer.
IQCent Payouts
When it comes to payouts, this particular option offers a maximum payout of 98%. This is quite competitive compared to other alternatives available on the market.
When utilizing IQCent's binary options trading platform, users have the opportunity to receive payouts up to 98%. The payout ranges from 20% to 75% when engaging in cryptocurrency trades. The payouts on various currencies ranged from 60% to 85%, while commodities were offered at a fixed rate of 75%.
Payment Methods
Deposits
To begin trading with IQCent, a minimum deposit of $50 is required. Users have the flexibility to fund their accounts using various methods, such as debit and credit cards (Visa and MasterCard), wire transfers, or cryptocurrencies like Bitcoin and Ethereum.
When it comes to funding your account, credit/debit card payments offer instant processing, allowing you to start using the funds right away. However, for crypto deposits, delays can occur due to blockchain confirmation times. It's important to keep this in mind when considering depositing funds via cryptocurrencies. The broker does not impose any payment fees on their clients. However, it is important to note that there may be additional expenses associated with third-party services.
Withdrawals
According to the withdrawal rules, it is required that payments are returned to the same method that was used for the initial deposit. The average withdrawal process usually takes about an hour. However, the duration for funds to be fully cleared and reappear in the user's account may vary depending on various factors.
To withdraw funds from IQCent, you must meet a minimum requirement of $20. Keep in mind that there is also a 5% fee associated with credit and debit card withdrawals.
Please be aware that if you do not use your account for a period of 90 days, an inactivity charge of $10 will be applied.
IQCent Accounts
IQCent gives users the opportunity to choose from three different live accounts. These accounts cater to varying trading needs and provide unique features and benefits for traders.
| | | | | |
| --- | --- | --- | --- | --- |
| Special Features | BRONZE | SILVER | GOLD | VIP |
| Minimum deposit | $50 | $1,000 | $5,000 | $50,000 |
| Payouts Boost | +0% | +0,1% | +0,2% | +0,3% |
| Deposit bonus | 0.2% | 0.5% | 1% | 2% |
| Maximum trade size | $250 | $1000 | $5000 | $50000 |
| Free Rollovers | 20 | 50 | 300 | 500 |
| TradeBack | 0.1% | 0.5% | 1% | 2% |
| Withdrawal time | 8 hours | 4 hours | 1 hour | Instant |
| Customer Support | Standard | Priority | Priority | Priority |
| Demo Account | Yes | Yes | Yes | Yes |
| Tech Analysis | Yes | Yes | Yes | Yes |
| Giveaway | Yes | Yes | Yes | Yes |
| Personal Manager | No | No | Yes | Yes |
(General risk warning: Your capital can be at risk)
Bronze
The IQCent Bonze account is a popular option for traders looking to get started with a minimum deposit of $50. While it may not offer the highest payouts boost or deposit bonus, it still provides a range of features and benefits.
With a maximum trade size of $250, traders have the flexibility to execute trades within their desired parameters. Additionally, the account includes 20 free rollovers, allowing traders to extend their trades if needed.
One standout feature of the Bonze account is the quick withdrawal time of 8 hours. This ensures that traders can access their funds in a timely manner, providing convenience and flexibility.
In terms of customer support, the Bonze account offers standard assistance. While there may not be a personal manager assigned to each trader, customers can still rely on reliable support from the platform's representatives.
For those who prefer to explore and practice their trading strategies before committing real funds, the Bonze account also includes access to a demo account. This allows traders to familiarize themselves with the platform's features and test out different strategies in a risk-free environment.
Furthermore, technical analysis tools are available for users of the Bonze account. These tools can provide valuable insights into market trends and patterns, helping traders make informed decisions.
To add excitement for its users, IQCent also offers giveaways as part of their Bonze account package. These promotions can provide additional opportunities for traders to enhance their trading experience.
Overall, while the IQCent Bonze account may not offer all premium features such as higher payouts boosts or personal managers, it provides an accessible entry point for beginners or those who prefer lower-risk trading options.
Silver
The IQCent Silver account is an ideal choice for traders who want to start their journey with a minimum deposit of $1000. With this account, traders can enjoy various benefits and features that enhance their trading experience.
One notable advantage of the Silver account is the payout Boost of +0.1%. This means that traders will receive an additional 0.1% on their successful trades, increasing their potential profits.
Furthermore, the Silver account offers a deposit bonus of 0.5%. This bonus provides traders with extra funds to trade and maximize their investment opportunities.
Traders using the IQCent Silver account can also enjoy a maximum trade size of $1000, allowing them to engage in larger trades and potentially earn higher returns.
Another benefit is the provision of 50 free rollovers. Rollovers allow traders to extend the duration of their trades if they anticipate a change in market conditions or want to give their positions more time to generate profits.
Additionally, with TradeBack at 0.5%, IQCent offers a percentage of each trade back as a cashback reward, providing further incentives for active trading.
Withdrawal time is another aspect where the Silver account shines, as it guarantees withdrawal processing within just 4 hours, ensuring quick access to funds when needed.
The customer support provided for Silver account holders is given priority, ensuring that any queries or concerns are addressed promptly and efficiently by knowledgeable professionals.
For those who prefer hands-on learning and practice before diving into live trading, IQCent offers a demo account feature that allows users to simulate real market conditions without risking actual funds.
Technical analysis tools are also available with the Silver account, enabling traders to make informed decisions based on market trends and indicators.
As an added bonus, IQCent includes giveaways for its Silver account holders as part of its commitment to customer satisfaction and appreciation.
While personal managers are not provided with the IQCent Silver account specifically, customers still have access to excellent customer support and a wealth of resources to guide them in their trading journey.
Overall, the IQCent Silver account offers an attractive package of benefits, tools, and support for traders starting with a minimum deposit of $1000.
Gold
The IQCent Gold account is a premium trading option offered by IQCent, a leading online trading platform. With a minimum deposit requirement of $5000, this account provides traders with exclusive benefits and features to enhance their trading experience.
One of the key advantages of the Gold account is the Payouts Boost, which offers an additional 0.2% payout on trades. This can significantly increase potential profits and improve overall performance.
Additionally, traders with a Gold account enjoy a 1% deposit bonus, providing them with extra funds to trade with. This bonus can be an attractive incentive for those looking to maximize their investment opportunities.
With a maximum trade size of $5000, traders have the flexibility to execute larger trades and potentially generate higher returns. This allows for greater control over investment strategies and risk management.
IQCent Gold account holders also benefit from free rollovers up to 300 times, enabling them to extend positions without incurring additional fees. This feature can be particularly useful for traders who prefer longer-term trading strategies or wish to hold positions overnight.
Furthermore, the TradeBack feature offered by IQCent provides clients with a 1% cashback on their total trading volume. This rewards loyalty and incentivizes active participation in the markets.
Withdrawals are processed swiftly within just one hour, ensuring that traders have quick access to their funds whenever needed. Moreover, Gold account holders receive priority customer support which guarantees prompt assistance in case of any inquiries or issues.
For those who prefer practicing and testing their strategies before diving into live trading, the Gold account includes access to a demo account where users can simulate trades without risking real money.
Technical analysis tools are also available for Gold account holders, allowing them to make informed decisions based on market trends and indicators. These analysis tools can help identify potential entry and exit points for trades.
Additionally, IQCent holds regular giveaways. These giveaways can offer additional rewards and benefits to further enhance the trading experience.
Lastly, Gold account holders are assigned a personal manager who provides personalized guidance and support. This dedicated professional can assist with any account-related queries, trading strategies, or general assistance, ensuring a high level of customer satisfaction.
In conclusion, the IQCent Gold account offers a comprehensive range of features and benefits that cater to the needs of serious traders. With higher payout rates, bonuses, priority customer support, advanced tools, and exclusive perks, this account is designed to enhance trading efficiency and profitability
VIP
The IQCent VIP account offers a range of features and benefits for traders looking to maximize their trading experience. With a minimum deposit of $50,000, this account provides access to exclusive perks and enhanced trading capabilities.
One of the key advantages of the VIP account is the Payouts Boost of +0.3%. This means that traders can potentially earn higher profits on their trades compared to standard accounts. Additionally, the account offers a generous deposit bonus of 2%, allowing traders to increase their trading capital right from the start.
Traders using the IQCent VIP account also benefit from a maximum trade size of $50,000. This allows for larger trades and potentially higher returns on investment. Moreover, with 500 free rollovers included, traders have more flexibility in managing their positions without incurring additional costs.
The TradeBack feature is another highlight of the VIP account. Traders can receive a 2% rebate on their total trading volume, providing an extra incentive to actively participate in the markets. Furthermore, withdrawals are processed instantly for VIP members, ensuring fast access to funds.
Customer support is given priority to VIP account holders, ensuring that any queries or concerns are promptly addressed by knowledgeable professionals. Additionally, traders have access to a demo account and technical analysis tools that can help them refine their strategies and make informed trading decisions.
As an added perk, IQCent offers also giveaways for VIP members. These promotions provide opportunities for additional rewards and benefits beyond regular trading activities.
Lastly, every VIP member is assigned a personal manager who can provide guidance and assistance tailored to individual needs and goals. This personalized support ensures that traders receive optimal assistance throughout their journey with IQCent.
Overall, the IQCent VIP account caters to experienced traders seeking premium features such as higher payouts boosts, increased deposit bonuses, larger trade sizes, instant withdrawals, priority customer support, demo accounts with technical analysis tools as well as giveaways and dedicated personal managers.
Demo Account
If you are interested in trying out IQCent.com, you can take advantage of their demo account feature. To register for a demo account, simply look for the 'sign up' logo located in the top right corner of each webpage, just as you would when creating a live profile. Before creating a real account, you have the option to get acquainted with their platform. After providing your personal details, such as name, email, and phone number, you will gain immediate access to a simulated environment. With this feature, users have the flexibility to log in as often as necessary and become familiar with the platform at their own pace. This helps build confidence and allows for a thorough understanding of the platform before making any investment.
It is important to note that you cannot engage in binary options trading without having a funded live account with IQCent. Essentially, the demo profile is designed to give prospective traders a feel for the trading platform and its functionality.
(General risk warning: Your capital can be at risk)
How To Register
Signing up for a live IQCent profile is a convenient and straightforward process. It takes just a few minutes to create an account and get started.
To register on the website, simply click on the 'sign up' logo located at the top right corner of each webpage. This user-friendly feature allows you to easily create an account without any hassle. To ensure compliance with Know Your Customer (KYC) regulations, it is necessary to undergo an identification verification process. As part of this procedure, you may be asked to provide supporting documents such as a copy of your passport, driving license, or utility bill. These documents are required to establish and authenticate your identity for security purposes.
You can use different account currencies when creating an account, such as USD, EUR, GBP, and RUB.
Bonuses and Promotions
IQCent Bonus
The broker has a bonus program that offers different tiers based on deposit amounts. Traders have the option to receive a 20% bonus for deposits ranging from $0 to $250. For a higher 50% bonus, traders must deposit between $250 and $1000. And for the maximum welcome bonus of 100%, investors need to deposit $1000 or more.
To withdraw bonus funds, it is necessary to meet a specific requirement stated in the terms and conditions. In this case, a turnover of three times the total amount within a three-month period is needed before the bonus funds can be withdrawn. When creating a new profile, you have the option to decline deposit bonuses or promotional codes. This means that you can choose not to take advantage of these offers if you prefer.
Trading Tournaments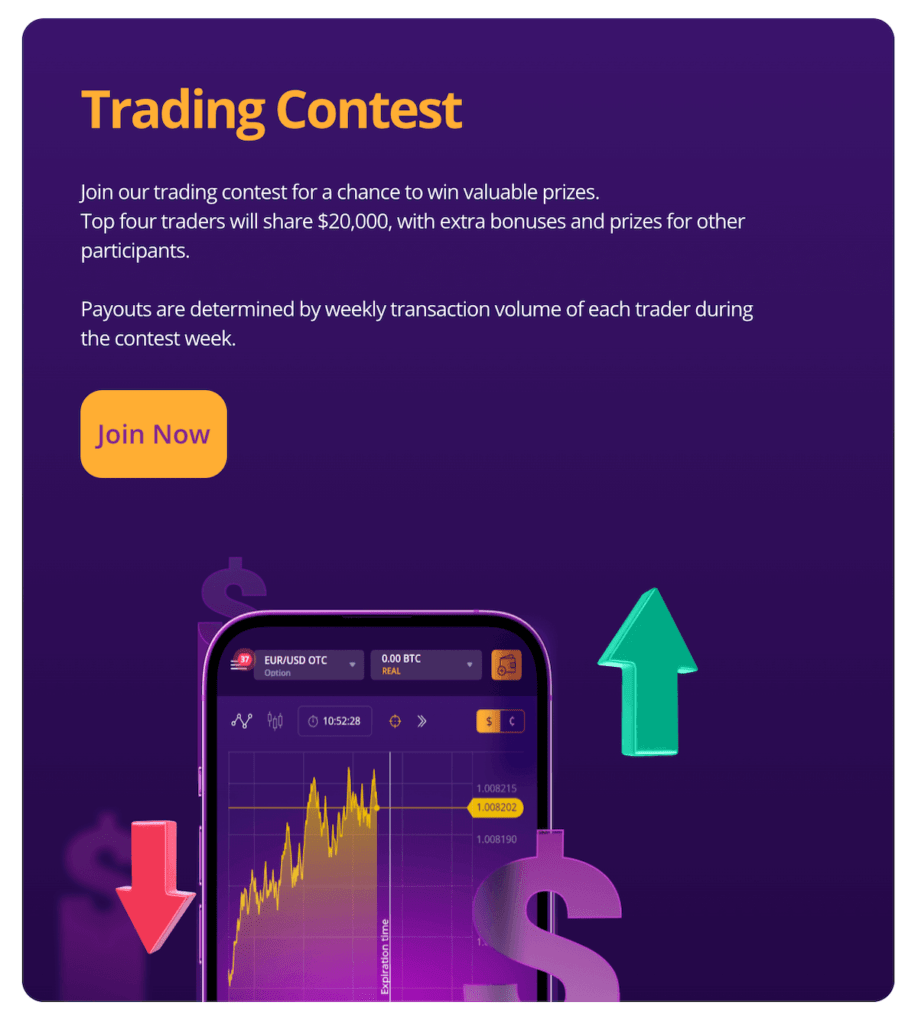 Be on the lookout for trading tournaments that offer enticing rewards such as cash prizes, account bonuses, and even cutting-edge gadgets. Participating in these contests not only adds excitement to your trading journey but also gives you a chance to win valuable incentives. Typically, in trading tournaments, winners are determined based on the number of trades they have executed within a given week.
The competitions usually start on Sundays at 9 PM (GMT) and end on the following Sunday at 8:30 PM (GMT). It's important to note that all IQCent traders are automatically enrolled in the contest.
Referral Bonus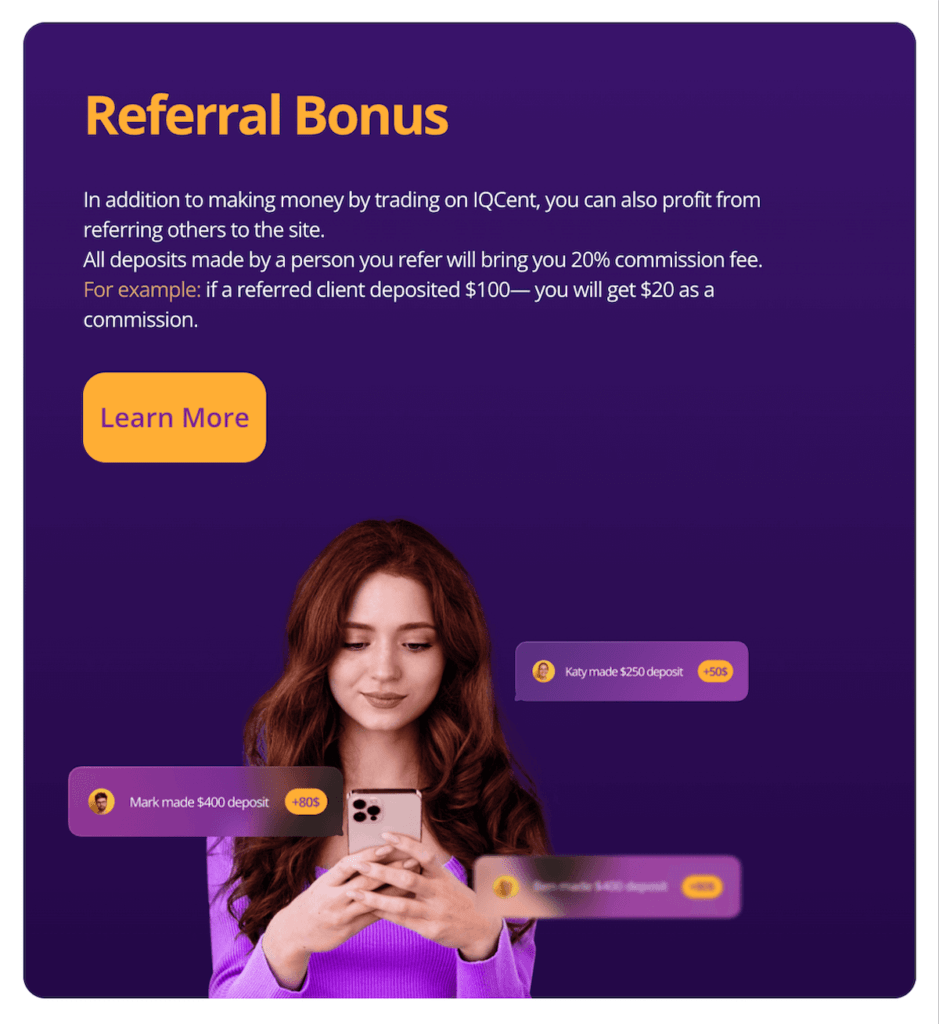 As a binary options trader, you have the opportunity to earn a bonus through the IQCent referral program. By referring others to join the platform, you can receive additional benefits and rewards. This program serves as an incentive for traders to spread the word about IQCent and potentially increase their earnings through referrals. When you have a live account, you will receive a referral link that you can share with your friends and family. By using this link, they can sign up and open their own accounts. As an incentive, both you and your referrals will receive a 20% bonus. You can choose to withdraw these promotional funds or use them for trading purposes.
Customer Support
IQCent provides multiple channels to offer assistance to its customers. You can reach out for help through email using the provided form, call their telephone number, or use the convenient live chat option. The live chat is available 24/7 on both the website and platform, ensuring that you can get support whenever you need it. Please be aware that in order to utilize our 1-to-1 video chat services, it is mandatory to have a registered trading account with IQCent.
The website includes an FAQ section that covers various topics to assist users. It provides information on how to trade on the platform, verify an IQCent account, check verification status, and available funding methods. The section is designed to address common inquiries and provide helpful guidance for users. During our testing, we observed that IQCent had longer response times compared to other platforms such as Pocket Option, Quotex, and Binomo.
Conclusion
IQCent provides a reliable trading platform for binary options with over 100 assets to choose from. They also offer the option of copy trading, allowing users to follow and replicate successful traders' strategies. With payouts reaching up to 98%, traders can potentially earn significant profits. Additionally, IQCent offers leveraged CFDs as an alternative investment option. New users are welcomed with attractive bonuses upon signing up.
While IQCent has its strengths, there are areas where it could enhance its offerings. Firstly, improving the functionality of its demo account would benefit users who want to explore and practice trading before committing real funds. Additionally, expanding their educational materials specifically tailored for beginners would provide valuable support and guidance. Another aspect to consider is the absence of regulatory oversight, which might discourage certain investors who prioritize a regulated environment for their financial activities.
IQCent is a reliable binary options broker that offers competitive payouts, favorable trading conditions, and useful additional features. It is a legitimate platform that can be trusted for your trading needs.
(General risk warning: Your capital can be at risk)
FAQ
Does IQCent Offer Bonuses?
At IQCent, they have a system of tiered joining deposit bonuses based on the amount of your initial payment. Depending on how much you deposit, you can earn anywhere between 20% and 100% of the deposit value. The promotional capital available per account can go up to $1000. It's a great opportunity to maximize your earnings when joining IQCent.
How to Withdraw Money From My IQCent Account?
To make a withdrawal from your account, start by logging into your live profile. Once logged in, navigate to the 'Funds' section and click on 'Withdrawals'. From there, you can select your preferred payment method and enter the amount you would like to withdraw. It's important to note that withdrawals cannot be processed until your account has been verified.
If you encounter any issues or experience longer than expected withdrawal times, it is recommended to contact the customer service team of your broker. They will be able to assist you and provide guidance in resolving the problem.
How Do I Verify My IQCent Account?
In order to verify your IQCent account, you will be required to submit identification documents such as a passport or utility bill. This is in accordance with the KYC (Know Your Customer) protocols set by the binary options broker and is necessary for all withdrawal transactions.
How to trade binary option on IQCent?
To begin speculating on an asset, you need to make a few selections. First, choose the asset you would like to focus on. Next, determine the type of option you prefer along with its expiry time and stake. Finally, confirm your price projection by selecting either "up" or "down".
Traders have some useful tools at their disposal when using a broker's platform. One option is the double-up feature, which can help increase potential winnings. Another tool is the rollover feature, which allows traders to extend their position if needed. Additionally, there is an early sell-out function that enables traders to secure profits before a trade expires. These features offer flexibility and control for traders in managing their trades effectively.
Is IQCent Regulated?
No, IQCent is not regulated, which may raise concerns about potential scams. It is worth noting that this lack of regulation is not uncommon among binary options brokers. Additionally, it is owned by Wave Makers Ltd., the same company that operates another well-established brand known as BinaryCent.
Who Owns IQCent?
Wave Makers Ltd. is the proud owner of IQCent, an online platform offering various financial services. While Wave Makers Ltd. is headquartered in the Marshall Islands, its customer base extends across numerous countries and continents, making it a truly global company.