The online trading industry is known for its lucrative potential and the vast opportunities it presents for financial gains. For beginners in the trading world, it can be overwhelming to navigate through the complexities of the market. There are various factors to consider and decisions to make, which can feel daunting at times. Platforms such as RaceOption have emerged to make online trading convenient and potentially lucrative for individuals. These platforms provide users with the necessary tools and resources to engage in trading activities from the comfort of their own homes or offices. With features designed to simplify the trading process like Copy Trading, Raceoption enables users to access financial markets easily and tap into potential profits.
RaceOption is an innovative trading platform that offers a wide range of advanced tools designed to cater to both new and experienced traders. With its cutting-edge features, users can access the necessary resources to enhance their trading strategies and make informed decisions in the market. This offer presents itself as a way to empower users to take advantage of digital options, regardless of their level of experience. They claim that users can earn high return-per-trade in just 5 seconds with digital option trading and can copy the most successful users.
Many people are curious to know if RaceOption lives up to its promises. They claim to deliver a high return-per-trade and can provide a competitive edge with copy trading. But does the platform actually fulfill these claims? Let's delve into the details to find out. In this comprehensive review, we will objectively evaluate RaceOption by analyzing its features, utility, legitimacy, and ease of use. Our goal is to provide you with an informative assessment of the platform.
RaceOption Quick Overview
| | |
| --- | --- |
| Broker | RaceOption |
| 📅 Founded | 2017 |
| ⚖️ Regulation | IFMRRC |
| 💻 Demo | Yes |
| 💳 Minimum Deposit | $50 |
| 📈 Minimum trade | $0.01 |
| 📊 Assets | +100 Forex, Stocks, Commodities, Indices |
| 💰 Return on investment | Up to 98% |
| 🎁 Bonus | Up to 100% |
| 💵 Deposit Methods | Visa, Mastercard, and Cryptocurrencies |
| 🏧 Withdrawal methods | Visa, Mastercard, and Cryptocurrencies |
| 📍Headquarters | Trust Company Complex, Ajeltake Road, Ajeltake Island, Majuro, Marshall Islands MH96960 |
| 💹 Trade Types | Turbo, Binary Options, CFD Trading |
| 💻 Trading Platform | Web, iOS, Android |
| 🌎 Language | English, Spanish |
| 👨‍💻 Social Trading | Yes |
| 🕌 Islamic account | No |
| ⭐ Rating | 3/5 |
(General risk warning: Your capital can be at risk)
What is RaceOption?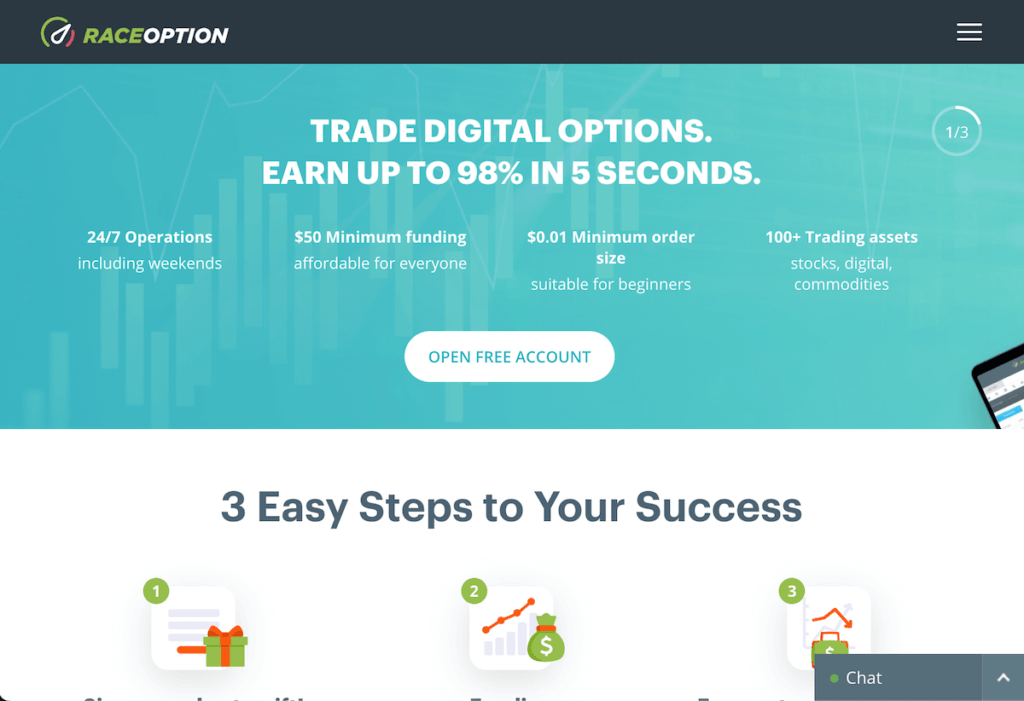 Raceoption is a trading platform specializing in binary options. With Raceoption, you gain access to over 100 different stocks, commodities, currencies, and index funds. This wide range of options allows you to diversify your investment portfolio and explore various trading opportunities. Although the platform is not accessible for U.S. residents due to regulatory restrictions on trading contracts for difference (CFDs), it can still be an attractive choice for casual investors seeking a comprehensive platform for executing short-term trading strategies.
Raceoption offers a quick and easy account opening process. In just a few minutes, you can have your account up and running. Once your funding is confirmed, you can start trading right away. If you're looking for a trading platform but don't have a large amount of money to start with, Raceoption might be a good choice. With a minimum deposit requirement of $50 and the ability to trade with as little as $0.01, their platform is accessible to those who may not have thousands of dollars available for funding their account. Before opening an account with Raceoption or any other investment platform, it's crucial to understand the nature of the assets you might be investing in. Be aware that these assets can be exceptionally volatile, meaning their values can fluctuate rapidly. It is highly recommended to conduct thorough research and gain a deep understanding of the risks involved before committing any funds. Remember to never invest more money than you are willing or able to lose, as it's important to prioritize your financial well-being and risk tolerance.
Pros and Cons of RaceOption
PROS
Copy trading feature
Withdrawal processing within 60 minutes
Stock, currency, and digital assets with binary options and CFDs
CONS
Not currently available to U.S. residents
(General risk warning: Your capital can be at risk)
RaceOption regulation
RaceOption is a binary option broker and CFD provider that operates under the company name of Makerun Corp. Makerun Corp., with the registration number 104038, is regulated by IFMRRC (International Financial Market Relations Regulation Center). The license number for their operation is TSRF RU 0395 AA V0217. This regulation ensures that RaceOption adheres to certain standards and guidelines, providing a level of trust and security for their clients.
Assets and Markets
Raceoption is an online investment platform that offers a wide range of options for traders based outside of the United States. It provides a convenient and accessible way to invest in various financial instruments. The broker provides a unique platform that they have developed in-house. This platform can be accessed on both desktop and mobile devices, making it convenient for users to trade from anywhere at any time. Raceoption's trading platform offers a seamless experience when it comes to trading various assets. You can enjoy hassle-free trading without having to worry about compatibility issues with specific apps or devices.
Raceoption is a platform that caters to frequent investors who are seeking a comprehensive solution for buying and selling common assets. With Raceoption, investors can conveniently access various types of assets all in one place. This includes (but is not limited to) stocks, bonds, cryptocurrencies, commodities, and more.
Currencies: With Raceoption, you have the opportunity to engage in trading activities involving over 25 different currency pairs. This includes popular options such as USD, EUR, GBP, and JPY. In addition to other features, the platform also allows users to engage in currency futures trading. This means that they can trade futures contracts for some of the most commonly traded currencies.
Digital assets: Raceoption is a trading platform that offers the opportunity to engage in cryptocurrency trading. However, it is important to note that their range of options for crypto investing is currently limited to the Bitcoin/USD and Bitcoin/CNY pairs. If you are seeking a diverse range of digital currencies to enhance your investment portfolio, Raceoption may not be the most attractive option.
Stocks: Raceoption's platform currency enables users to trade on a wide range of stocks, with over 50 options available. This diverse selection provides traders with ample opportunities to engage in various markets and potentially maximize their investment potential. The stocks available for trading encompass a combination of prominent companies listed on the New York Stock Exchange and Nasdaq, such as eBay, Tesla, and Johnson and Johnson. In addition, there is a selection of international stocks traded on notable exchanges like the London Stock Exchange and the Moscow Exchange. This diverse range of options allows investors to access both domestic and international markets. Raceoption, as a trading platform, offers various international stocks for buying and selling. Some examples of these stocks are Sberbank Rossii and Gazprom.
Indexes: A stock market index is a type of tradable asset that serves as a representation of the broader market it tracks. It provides investors with an indication of the overall movement and performance of the underlying securities included in that index. With Raceoption, you have access to a wide range of trading options. They offer over 30 unique indexes for you to trade, including popular ones like the Dow Jones, S&P 500, Russell 2000, and Shanghai Composite.
Precious metals: Raceoption offers a range of precious metals commodity trading options, such as silver, platinum, and gold. You also have the opportunity to trade gold futures and the gold/EUR pair on their platform.
Additional commodities: At Raceoption, you have the opportunity to engage in trading various product commodities such as coffee, sugar, and sweet crude oil. In addition to that, you can also trade precious metals.
Trade Features And Payouts
When it comes to trading with Raceoption, the maximum payout for successful trades is 98%. Here are the available options for trading.
High/Low Trades
The High/Low option, also referred to as the Call/Put option, is widely favored by traders for its simplicity and ease of execution. When it comes to High/Low Binary option trades, the process is relatively simple. You only need to make a prediction on whether the asset will rise or fall within a specific timeframe.
60 Second Trades
To successfully engage in 60-second trades, it's crucial to approach them with a steady mindset and maintain a high level of concentration. These trades require quick reactions to seize trading opportunities within the short timeframe they offer. As the name suggests, these trades have one-minute expiry times, leaving you with very little time to identify and take advantage of favorable moments.
Ladder/Pair Trades
In Ladder Option trades, the price points are evenly spaced, creating multiple opportunities for potential profits. If you can reach any of these price points before the expiration time, you will see returns. However, the highest price point offers the greatest potential return compared to the others.
One-Touch Trades
The One Touch option is a straightforward trading method that revolves around whether you believe your selected options will touch a specific target price before the expiration time. It offers traders a relatively simple approach to speculate on price movement within a defined timeframe.
Long Term Trades
Long-term trades are distinct from shorter-duration trades, as they involve predicting the price movement of an asset over a longer period, typically a week or more. Unlike trades with expiry times of 60 seconds to an hour, long-term trades require traders to forecast price fluctuations over an extended timeframe. When it comes to long-term options, patience is key. It's important to understand that the results may not be immediate and can take some time to materialize. However, with perseverance and a clear strategy of swing trading, Long-term trades can be easier to forecast.
(General risk warning: Your capital can be at risk)
RaceOption trading platform
Unlike certain CFD brokers that mandate downloading a third-party trading platform, Raceoption offers a convenient alternative. With Raceoption, you can access their user-friendly trading center directly in your web browser without any additional downloads or installations. This simplifies the process and allows for more flexibility and convenience while trading. To add funds to your account, there are several convenient methods available. You can opt for a direct bank transfer, use popular cryptocurrencies like Ethereum and Bitcoin, or simply use major credit cards. This flexibility allows you to choose the method that suits you best and makes managing your account seamless.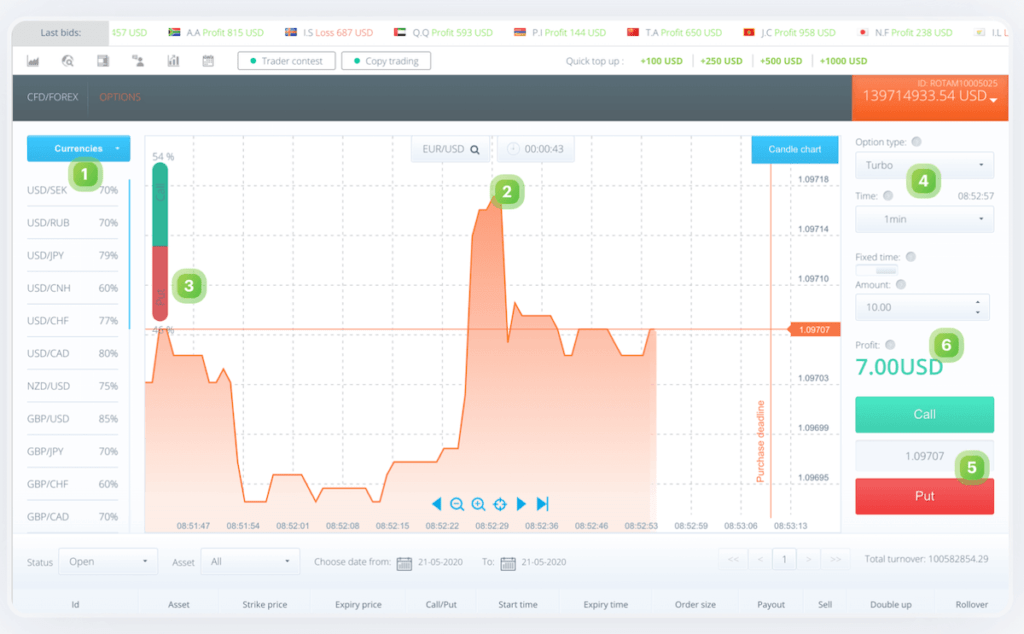 Raceoption's trading platform is designed to be user-friendly and accessible. It is compatible with a variety of devices, ensuring that you can trade seamlessly whether you're using a desktop computer, laptop, tablet, or smartphone. The best part is that there's no need to download any additional apps – simply log in through your preferred web browser and start trading immediately.
Copy Trading
New traders can benefit from Raceoption's copy trading feature. This useful tool allows you to replicate the trades of experienced traders, giving you a chance to learn from their strategies and potentially increase your chances of success in the trading market. Copy trading is a popular investment strategy that enables you to emulate the trades of experienced investors. By following and copying the orders placed by these seasoned traders, you can potentially benefit from their expertise and make more informed investment decisions. Before choosing an investor to work with, it is advisable to review a list of prominent investors and examine their recent profit records. This will enable you to find a user whose investment strategy aligns well with the one you aspire to build. Conducting this assessment can help ensure that you select an individual who has a successful track record in achieving desired financial outcomes.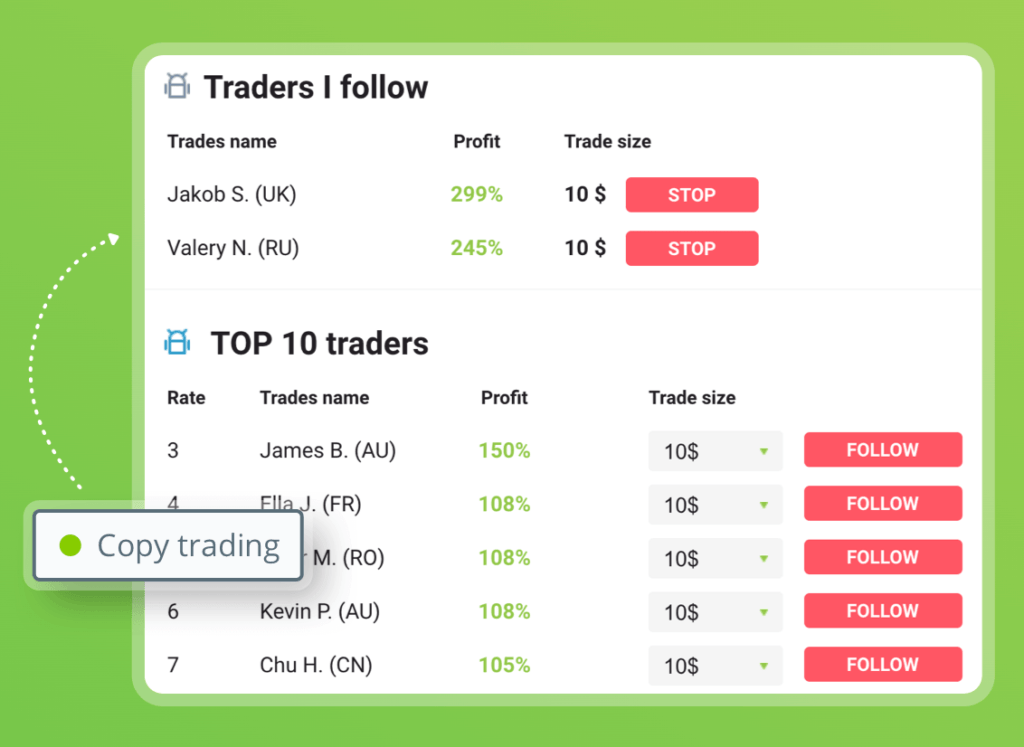 Once you have activated copy trading and established a budget, your Raceoption account will take care of the trading process for you. It will automatically execute trades based on the movements made by the user whose strategies you are copying. This particular feature is designed to assist investors who are still in the process of developing a trading strategy. It offers guided assistance, allowing them to learn more about the market and make informed decisions. This can be extremely helpful for those who are new to investing or may not have a lot of experience in the field. Raceoption offers the convenience of 24/7 trading, allowing users to trade at any time that suits their schedule. Additionally, they provide customer service support around the clock, making it a desirable choice for frequent travelers who may require assistance at different time zones.
It is crucial to note that Raceoption does not cater to customers in the United States. Furthermore, it is important to understand that they are not regulated by any financial oversight board recognized in the U.S. When considering opening a brokerage account, it's important to note that Raceoption, being based in the Marshall Islands, may not be subject to local finance laws and restrictions. This means that there may be different considerations and implications compared to accounts based in other jurisdictions. Take this into account when making your decision on where to open your first brokerage account.
(General risk warning: Your capital can be at risk)
Bonuses And Promotions
The bonuses offered by Raceoption are based on the type of account you open and may vary. By opening a bronze account, you can receive a deposit match bonus of 20% or more. However, if you choose to open a gold account, the deposit match bonus increases significantly to 100% or more.
In addition to bonuses, Raceoption offers various promotions for their customers. One of these promotions includes receiving a gift when you open an account with them. Additionally, the broker organizes a weekly free contest with an impressive prize fund of $20,000. These promotional activities provide added value and incentives for users to engage with Raceoption's services.
RaceOption App
Raceoption, being a relatively new player in the binary options trading industry, was well aware of the expectations and desires of traders. This understanding allowed them to enter the market with a clear vision and cater to the needs of traders effectively. Their online trading platform stands out in terms of versatility. It not only caters to desktop users but also offers a user-friendly and intuitive mobile trading option. This allows traders to access the platform conveniently regardless of the device they are using.
In addition to having a mobile site that is fully responsive, you also have the option of downloading our app from either the Apple App Store or Google Play. This allows for a seamless user experience across different devices and platforms. The mobile app has been meticulously designed to offer traders an exceptional trading experience. It is optimized for both Android and iOS devices, including iPhones and iPads. The app works seamlessly across all these platforms, ensuring a flawless user experience regardless of the device used.
Deposits And Withdrawals
Raceoption has positioned themselves as a leading broker by offering a speedy withdrawal service that takes just one hour. This is a significant advantage for traders who value quick access to their funds. Unlike many other trading platforms, Raceoption offers a unique advantage when it comes to withdrawals. While most traders typically have to wait anywhere from 24 to 72 hours for their funds to become available, with Raceoption, the money is returned within just one hour. This speedy withdrawal process applies regardless of the type of trading account the trader is using. We recently put this 1-hour service to the test, and we are pleased to share that we encountered no issues when withdrawing from it.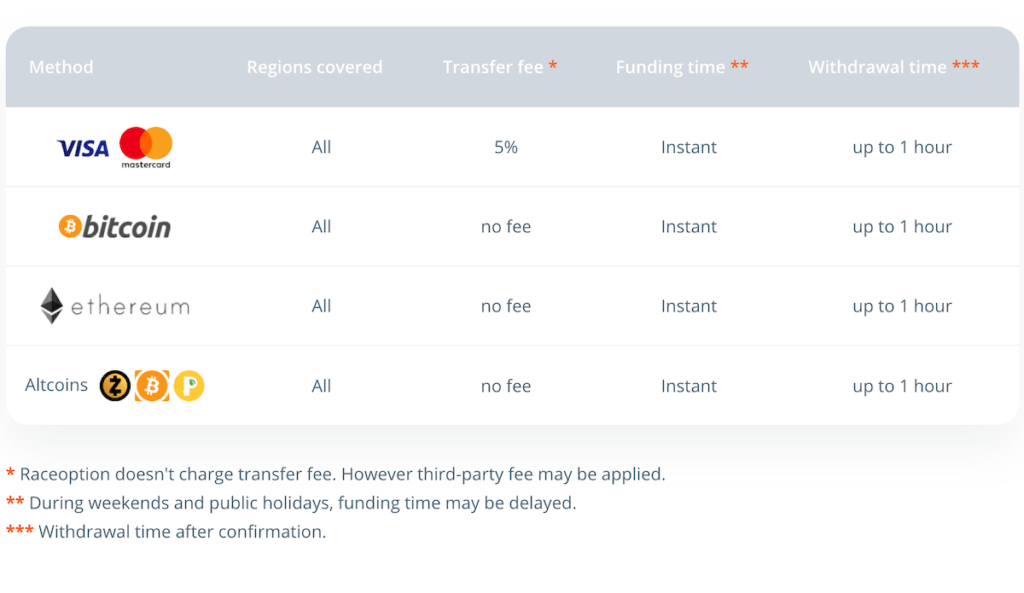 You have multiple options to make deposits, including credit or debit cards and popular e-wallets. As of now, the minimum deposit amount allowed is $50 for traders. Charges for debit/credit card deposits need to be considered.
Raceoption Customer Service
Raceoption offers a range of customer service options that are available 24/7. Regardless of your location in the world, you can easily contact their team for assistance. If you need to get in touch with Raceoption, there are multiple contact options available. You can choose from the following methods:
Phone: Raceoption understands the importance of customer service and offers a variety of phone lines to cater to different locations. They provide five options for you to choose from, ensuring that you can easily reach your nearest branch for any assistance you may need. Please browse through their available options and dial the number that corresponds to your location for efficient support.
Message: If you need to get in touch with Raceoption via email, simply fill out a contact request form with your inquiry. You can find the form on their website. Once you've submitted the form, a representative from Raceoption will promptly respond to your inquiry via email.
Live chat: If you need assistance at any time, Raceoption offers a convenient live chat service that is accessible 24/7. To access it, simply visit their website and click on the chat icon. You will be prompted to sign in to your account in order to access the private customer service chat functions.
The customer service team is equipped to handle inquiries in various languages, such as English, Spanish, Thai, and more. This language diversity can be advantageous for international travelers and investors who may not have English as their first language. They can receive support and assistance in their preferred language, making communication easier and more efficient.
Raceoption Security
At Raceoption, your account is safeguarded with multiple features and security measures to ensure the protection of your information. These include the implementation of SSL (Secure Socket Layer) technology, which establishes a secure connection between your device and their platform. Additionally, they utilize 256-bit secure processing to further enhance the security of your account. The encryption level being discussed here is considered to be among the most advanced and practical options available. It is worth noting that this level of security is also utilized by major banks, highlighting its effectiveness and reliability in safeguarding sensitive information.
Raceoption has incorporated various security measures to safeguard your account against potential hacking threats. However, it is important to note that Raceoption is not registered with any financial oversight board based in the United States. As a result, Raceoption is unable to offer its services to customers residing in the United States.
Raceoption Pricing
Currently, Raceoption has set a minimum account balance of $50 for users. It is worth noting that the company does not impose any trading commission fees on trades executed through their platform. This can be advantageous for traders as it allows them to engage in trading activities without incurring additional costs. Raceoption offers a low minimum initial deposit requirement and an affordable trading schedule, making it an attractive option for new investors who are looking to trade casually. This feature provides accessibility and convenience, allowing individuals with limited funds or those who prefer less frequent trading to participate in the market.
The minimum trade size offered by Raceoption is remarkably affordable, requiring just $0.01. This low entry barrier allows traders with limited capital to participate in the platform and engage in trading activities without significant financial constraints. For casual investors who don't have a lot to deposit, being able to place orders with values as low as a single dollar can be particularly advantageous. This allows them to participate in financial markets without needing significant investment capital.
Raceoption User Experience
Raceoption offers a user-friendly and efficient trading experience. Their proprietary platform allows you to conveniently trade binary options and other short-term assets without the need for an app download. Raceoption's platform offers a range of unique benefits that set it apart from others in the market. Some notable advantages include:
Variety of tradable assets: Raceoption offers a platform where you can engage in trading of binary options and CFDs. The range of financial instruments available is quite extensive, covering everything from cryptocurrencies to commodities. This allows you to have a diverse portfolio and the opportunity to explore various investment options. Investors who prefer short-term trading strategies and value having a centralized trading platform will find this feature particularly beneficial. It allows them to conveniently access all their trades in one place, streamlining their trading process and enhancing efficiency.
Quick signups and access: At Raceoption, signing up is a breeze. The process is designed to be quick and efficient, so you can get started in no time. Simply provide some personal information, link your funding source, and voila! You're ready to explore the platform and make your first trades. If you require immediate assistance in opening an account, a customer service representative is available to help you in real-time.
Raceoption offers more than just quick sign-ups. One of their key advantages is their ability to provide rapid access to your funds when you need to make a withdrawal. This ensures that you can conveniently and efficiently manage your finances with Raceoption's platform. According to the information on the company's website, they assure customers that withdrawals will be processed within one hour from the time of the initial request.
No maintenance fees: Raceoption is a brokerage platform that stands out for its customer-friendly approach. One of the notable features is that they do not impose any monthly or annual account maintenance fees on their users. This means that you can enjoy the benefits of using their platform without worrying about additional charges eating into your profits.
Please be aware that Raceoption does not deduct taxes from the profits you make on your account. It is important for you as a customer to keep track of your financial information and fulfill your obligation to pay any applicable local taxes based on where you reside. Looking ahead, Raceoption may consider offering personalized accounts that cater to specific regions in order to accommodate local tax documentation requirements. This would ensure a more seamless experience for users and help them comply with their respective taxation regulations.
Raceoption vs. Competitors
Raceoption offers a distinctive approach to exploring options and CFD trading, which can be appealing to some individuals. However, it's important to note that this platform might not be the ideal choice for everyone. It's advisable to consider your specific needs and preferences before deciding if Raceoption is the right fit for you. If you reside in the United States, it is worth noting that you cannot open an account with Raceoption. The company does not have authorization to offer international accounts to residents of the United States. If you are in the US and looking for alternatives to trade binary options, one option to consider is Nadex.
Conclusion
Raceoption offers a user-friendly platform that caters to international customers, allowing them to trade CFDs efficiently and with minimal withdrawal delays. This makes it convenient for traders to navigate the platform and execute their trades smoothly, enhancing their overall trading experience. Although Raceoption accounts are primarily designed for casual investing, they offer a range of features that can be attractive to international investors. With their 24/7 customer service and round-the-clock trading capabilities, users can access support and make trades at any time, regardless of their location. Traders who prefer short-term price movements will benefit greatly from the variety of financial instruments available to them, such as Forex, cryptocurrencies, commodities, and Indices.
At Raceoption, new signups are rewarded with bonuses that are based on the amount of money they deposit upon opening their account. The bonuses offered may vary depending on the deposit amount chosen by the user. Raceoption provides more than just a trading platform. It also offers demo trading capabilities, which allow beginners to practice trading without risking real money. Additionally, their copy trading functionalities enable users to mimic successful traders, making it an attractive choice for those who are new to trading and want to learn from experienced individuals. Although Raceoption might not be a fit for every investor, it could be worth considering if you are interested in venturing into the world of options trading.
(General risk warning: Your capital can be at risk)
Frequently Asked Questions
Is Raceoption legit?
Raceoption is a trustworthy binary trading platform that handles a significant volume of orders each day, with more than 150,000 orders processed daily. RaceOption is a legit and regulated broker, but it doesn't offer services to US traders. Only invest an amount that you can afford to lose. This approach helps mitigate the risks associated with trading and ensures responsible financial management.
Who regulates RaceOption?
RaceOption operates under the regulation of IFMRRC, which stands for International Financial Market Relations Regulation Center. They are licensed with the number TSRF RU 0395 AA V0217. This ensures that they meet the necessary standards and adhere to regulations in the financial market. By implementing this regulation, RaceOption demonstrates its commitment to maintaining specific standards and following guidelines. This creates a sense of trust and security for their clients, ensuring that they are in reliable hands.