Rating: 4.5 out of 5.0 stars4.5
Free demo account: Yes
Payout: Up to 95%
Bonus: Up to 300%
Assets: 100+ Forex, Commodities, Stocks, Cryptos
If you're curious about Binomo, this review will provide you with all the necessary information about what it is and how it functions. If you already have experience in trading, you'll find Binomo to be a straightforward platform to use. In this comprehensive review, you will discover what Binomo is, how to trade on this platform, and most importantly, whether it is a legitimate and safe option or a potential scam. This article aims to provide you with all the necessary information about the trading features offered by Binomo.
Binomo quick overview
| | |
| --- | --- |
| Broker | Binomo |
| 📅 Founded | 2014 |
| ⚖️ Regulation | International Financial Commission |
| 💻 Demo | Yes |
| 💳 Minimum Deposit | $10 |
| 📈 Minimum trade | $1 |
| 📊 Assets | 100+ Forex, Commodities, Stocks, Cryptos |
| 💰 Return on investment | Up to 95% |
| 🎁 Bonus | Up to 300% |
| 💵 Deposit Methods | Credit Cards (Visa cards, Mastercard, Maestro), Wire Transfer, AstroPay, Cryptocurrencies, and many more… |
| 🏧 Withdrawal methods | Credit Cards (Visa cards, Mastercard, Maestro), Wire Transfer, AstroPay, Cryptocurrencies, and many more… |
| 📍Headquarters | Euro House, Richmond Hill Road, Kingstown, St. Vincent and Grenadines |
| 💹 Trade Types | High/low, CFD |
| 💻 Trading Platform | Web, Windows, iOS, Android, MT5 |
| 🌎 Language | English, Indonesian, Spanish, Thai, Vietnamese, Chinese, Turkish, Hindi, Ukrainian, Kazakh, Portuguese, Bengali, Arabic |
| 👨‍💻 Social Trading | Yes |
| 🕌 Islamic account | No |
| ⭐ Rating | 4.5/5 |
(General risk warning: Your capital can be at risk)
What is Binomo?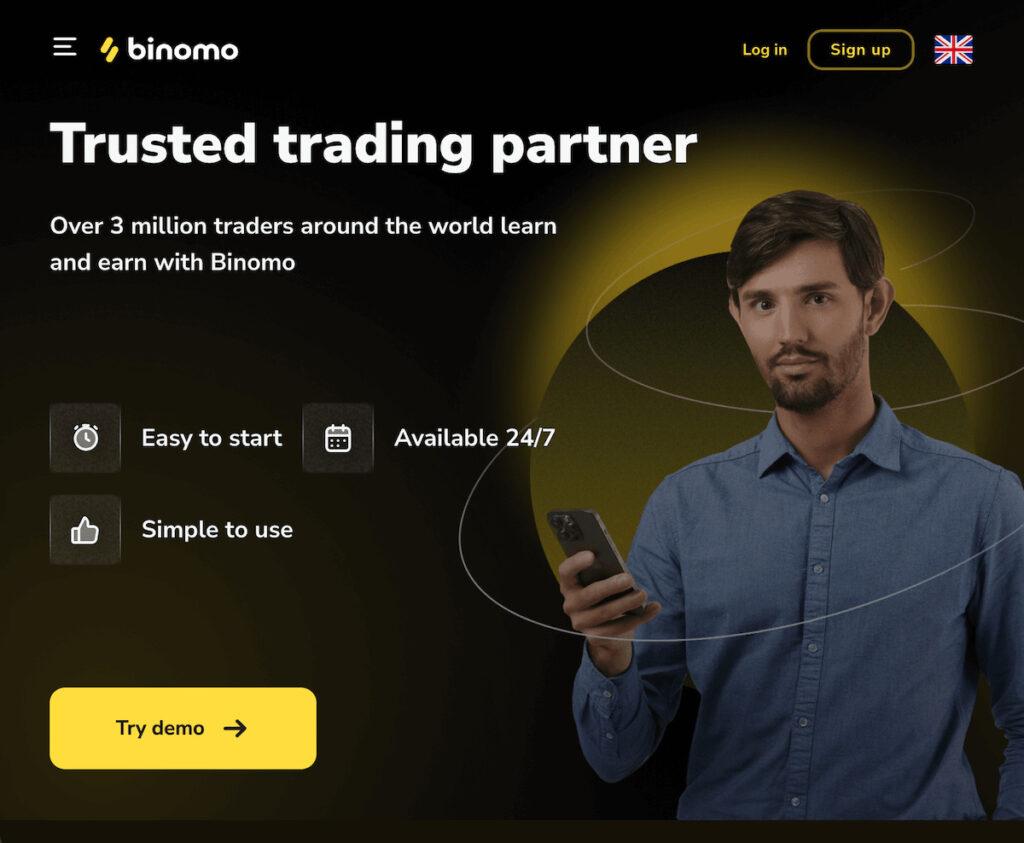 Binomo is a binary options broker that was established in 2014. This trading platform offers traders the chance to generate profits by providing them with a convenient and accessible way to engage in trading activities. These platforms also prioritize the provision of high-level services and a wide range of offerings to enhance the trading experience for users. Binomo places significant importance on providing comprehensive training for beginners traders. The platform offers a range of options and analytical tools that can greatly assist traders in making informed decisions.
Binomo is an online trading platform. Binomo provides a platform for individuals to trade various financial instruments online. At the moment, the broker boasts an impressive number of over 3,000,000 daily active traders. Additionally, they facilitate over 29,682,945 profitable exchanges every week. The numbers pertaining to Binomo broker's client base continue to grow steadily. This trading company operates on a global scale and is committed to providing clients with the best possible trading conditions. Furthermore, they offer excellent access to diverse financial markets.
The appealing offers provided to users establish a high level of trust and create a user-friendly environment for conducting business exchanges in a lucrative manner. Clients can rely on their transparent connection with traders. With the help of advanced technology, traders can gain a clear understanding of the current demands in the world's financial industry. The trading platform has received accreditation from the International Financial Commission (IFC), a recognized authority in the industry. This means that it meets certain standards and regulations set forth by the IFC. Additionally, all client risks are insured in accordance with the prevailing regulations, providing an added layer of protection for traders using the platform. Binomo takes security seriously and has implemented numerous measures to ensure its protection in the trading world. These security measures are in place to safeguard against any potential threats or unauthorized access, providing a safe and secure trading environment for its users.
Is Binomo a scam?
No, binomo is not a scam. There are misconceptions surrounding the authenticity and trustworthiness of certain companies, but it's important to clarify that Binomo is a legitimate trading platform. The International Financial Commission properly regulates it, ensuring safety and adherence to legal requirements. Verify My Trade has been granted the Certificate of Quality of Trades to give recognition to its excellence. To further verify this, traders can refer to online platforms like Quora, where they can find reviews and testimonials about the broker's performance.
Binomo is a trustworthy and legitimate online trading platform, so there's no need to worry about it being a scam. It provides a safe environment for users to engage in trading activities without any fraudulent or deceptive practices. When asking how to make money in a particular context, it's important to clarify that you can't necessarily generate income from it. However, there may be opportunities to earn extra income instead.
Regulation
Binomo is proud to hold the esteemed Category A membership status within the International Financial Commission. This recognition serves as a testament to binomo commitment to maintaining the highest standards of financial integrity and ensuring that clients can trust Binomo with their investments. Trust and transparency are at the core of everything they do, and being a Category A member further solidifies their position as a reliable and trustworthy platform in the financial industry.

Binomo is a well-known brand that is owned by Dolphin Corp LLC, a company registered under the laws of Saint Vincent and the Grenadines, a beautiful Caribbean nation. It's noteworthy that many international brokers prefer this country for their registration due to its favorable conditions.
Binomo also provides CFD (Contract for Difference) trading services through Titawin Limited, a company that Binomo refers to as its "affiliated company." This partnership allows users to access and trade CFDs on the Binomo platform. According to Binomo's website, Titawin Limited has a license from the Vanuatu Financial Services Commission (VFSC). This regulatory approval establishes the legitimacy and compliance of Titawin Limited in its financial services operations.
Binomo takes pride in being a member of "The Financial Commission," an esteemed independent self-regulatory organization and external dispute resolution body located in Hong Kong. This affiliation demonstrates Binomo's commitment to maintaining transparency and ensuring fair trading practices for its users. Rest assured, Binomo has your best interests in mind as they prioritize the resolution of any potential disputes that may arise. By becoming a member, you can rest assured knowing that you have up to €20,000 of protection from the Financial Commission compensation fund. This added benefit offers peace of mind and ensures that your investment is safeguarded.
The company's client agreement states that they do not offer services in EU countries and other specified countries. It's important to be aware of this restriction when considering their services. Registration is not available for individuals from certain countries, including North Korea, Canada, USA, Australia, Malaysia, Norway, Iceland, Liechtenstein, the United Kingdom (UK), Andorra, Vatican City State (Holy See), Monaco, San Marino Switzerland, Israel ,Syria, Singapore ,Hong Kong, New Zealand, Iran, Saint Vincent and the Grenadines, Moldova, Japan and the Russian Federation.
When it comes to regulation and investor protection, Binomo maintains a clean record with no sanctions or warnings. However, if you're seeking additional peace of mind, there are numerous regulated online brokers available as alternative options. These established brokers like binomo offer a high level of reliability and can be a trustworthy choice for your investment needs.
(General risk warning: Your capital can be at risk)
Recognition and awards
Trusted by trading experts, Binomo is widely recognized as a highly effective platform for both learning and investing. Its intuitive interface and comprehensive tools make it an ideal choice for traders of all levels of expertise. Discover the potential of Binomo and take your trading skills to new heights.

Binomo has an impressive track record of winning prestigious awards, further establishing itself as a leading platform in the trading industry. In 2015, it was recognized as the Best platform for beginners at the esteemed FE Awards. The following year, Binomo earned the title of Platform of the year at the IAIR Awards, solidifying its reputation for excellence. Looking ahead to 2023, Binomo has already been acknowledged by the World Business Outlook as the Most Trusted Trading Platform in LATAM, which speaks volumes about its commitment to providing reliable and trustworthy services to its users.
Trading Platform
Binomo is a service that specializes in short term trades. They have developed a trading platform that is highly efficient and practical, catering to the specific needs of traders in this timeframe.
Initially, the company relied on a well-known third-party trading platform. However, they have now transitioned away from pre-packaged solutions and developed their own proprietary design that is specifically tailored for online trading on a global scale. This custom solution ensures an ideal fit for their unique needs.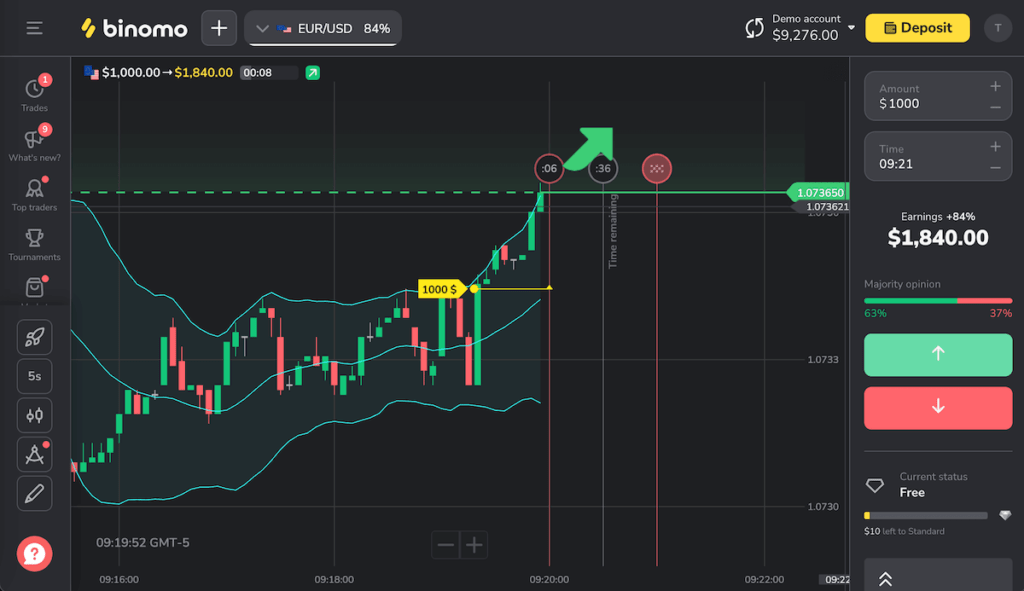 Binomo's trading platform is meticulously crafted to be both contemporary and practical. With regular updates, it ensures that traders have access to cutting-edge features and improvements that enhance their trading experience. These high-quality enhancements are a testament to Binomo's commitment to providing a top-notch platform for its users.
Experience the genius of the Binomo platform, equipped with an array of 20 advanced graphical tools specifically designed to enhance your chart analysis. These intelligent features will empower you to make informed trading decisions and stay ahead in the market.
Binomo stands out among its competitors with its array of useful features. Not only does it offer an Economic Calendar integration, which helps traders stay informed about important market events, but it also boasts fast refresh rates that ensure real-time data accuracy. These features make Binomo a highly usable platform that surpasses other alternatives on the market. The brand places great emphasis on efficiency, evident through its scalable capabilities and the swift and high-quality trade execution it offers. This not only ensures smooth operations but also reflects positively on the overall brand experience.
Furthermore, Binomo's design not only exhibits exceptional quality but also ensures consistency. This enables the platform to incorporate a wide range of advanced tools and technologies, making it feature-rich for its users. For individuals who appreciate smooth and mobile-responsive platforms, Binomo proves to be an excellent choice.
Assets and Markets
Binomo is proud to offer over 75+ assets to trade, giving them a plethora of options to choose from. This trading platform covers various markets, allowing traders to enjoy a flexible and versatile trading experience.
Compared to specialized trading platforms, having a wider range of options can be highly beneficial for traders who want to explore different markets or experiment with various assets. It provides you with the flexibility to diversify your portfolio and seize opportunities in multiple areas.
With Binomo, you'll have access to a diverse range of assets for High/Low trading contracts and CFDs. This vast selection more than compensates for any limitations, ensuring that you have plenty of options to choose from in your trading journey.
Binomo offers a diverse range of markets for trading, giving traders plenty of options to explore. Whether you're interested in stocks, commodities, indices, or currency pairs, Binomo has got you covered. With such a wide selection of markets available at your fingertips, you can confidently navigate the trading world and find opportunities that align with your investment goals.
Binomo understands the diverse needs of traders and goes above and beyond to cater to a wide range of preferences. Unlike many other binary option trading platforms, Binomo stands out by offering an extensive selection of assets, including highly-valued stocks and currency pairs. This ensures that traders have access to the most sought-after options, making Binomo a top choice for those seeking variety and flexibility in their trading endeavors.
Binomo App
Experience the unbeatable convenience of Binomo's top-notch mobile app. Seamlessly transitioning from desktop to mobile, their platform is designed to cater to your trading needs wherever you are. The Binomo App is available for both iOS and Android devices, Binomo ensures that you have access to their services at your fingertips. Trade with ease and confidence on the go with Binomo's versatile mobile app.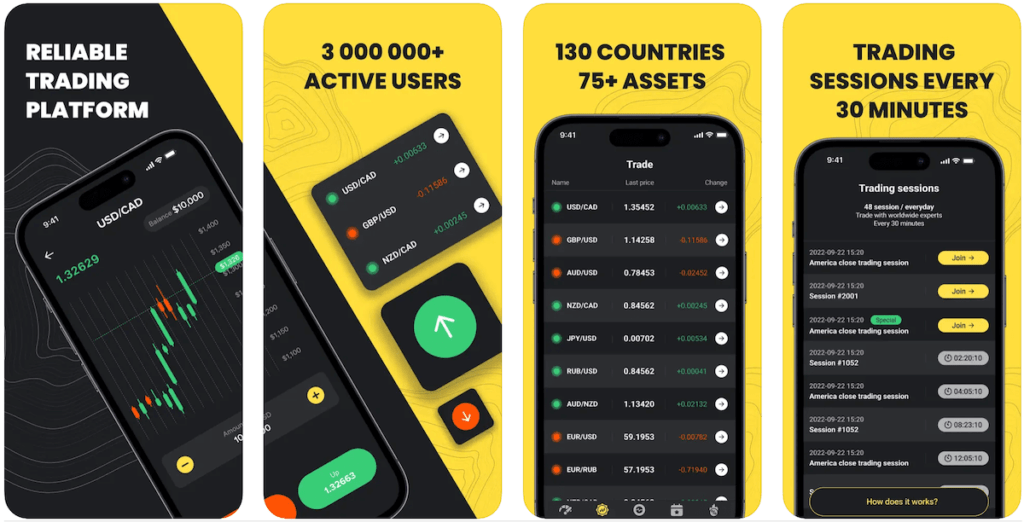 Binomo takes advantage of push notifications to ensure traders stay in the loop about the latest transactions and promotions, immediately after they are launched. With these real-time notifications and the overall exceptional quality of the app, Binomo is an excellent choice for individuals who prefer seamless trading experiences on their mobile devices.
The Binomo app has all the necessary features you need. Although the desktop platform may be required for deeper analysis and specific details, there's undeniable value in being able to conveniently carry out your trades wherever you are with just a few taps on your mobile device. So whether you're on the go or in the comfort of your own office, the binomo trading app got you covered.
The Binomo app is meticulously designed to seamlessly align with its desktop counterpart, ensuring a harmonious user experience. This thoughtful approach caters to individuals who enjoy the flexibility of effortlessly switching between the app and desktop interface at their convenience.
(General risk warning: Your capital can be at risk)
log in and Sign-up
To sign up on Binomo, simply follow the steps outlined below. The Binomo website is designed to be user-friendly and is available in multiple languages including English, Spanish, Portuguese, Hindi, and more for your convenience. This ensures that users from various backgrounds can easily navigate through the registration process.
1. To access your Binomo account, simply navigate to the Binomo login page.
2. To create an account, please enter your email and password into the designated fields on the registration form.
3. During the registration process, it is crucial to carefully select the currency associated with your account. It is important to note that once you have completed the registration, changing the account currency is not possible. Therefore, please ensure that you choose the correct currency from the available options before proceeding further.
4. Before proceeding, you are invited to read and agree to the terms of the Client Agreement. This agreement outlines the terms and conditions of binomo. By accepting these terms, you are ensuring a clear understanding of your rights and responsibilities as a client.
5. Click on "Create account" an you can now sign in an start trading. To access your Binomo account at a later time, simply use the email and password that you have previously created.
How to trade on Binomo?
To start trading on Binomo, the process is quite simple. First, you need to select an asset that you would like to trade with. Once you have chosen your desired asset, you will then need to set a specific time frame for when the trade will be completed. Finally, it's time to make your forecast by predicting whether the chart will move in an upward (UP) or downward (DOWN) direction. If the forecast turns out to be accurate, you will receive additional profit. However, if the forecast is incorrect, you will not get your money back.
Types of Binomo Accounts
This platform offers a range of account options, giving you the flexibility to choose from four different types. Each account type is designed to cater to specific needs and preferences.
| | | | | | |
| --- | --- | --- | --- | --- | --- |
| Binomo Account types: | Free | Standard | Gold | VIP | Prestige |
| Assets | 32 | 48 | 61 | 75 | 75 |
| Tournaments | Yes | Yes | Yes | Yes | Yes |
| Withdrawals | _ | 3 Days | 24 Hours | 4 Hours | 4 Hours |
| Deposit bonuses | _ | 100% | 150% | 200% | 300% |
| Profitability up to | _ | 85% | 90% | 90% | 90% |
| Happy hour | _ | Yes | Yes | Yes | Yes |
| Cashback | _ | _ | 5% | 10% | 10% |
| Insurance | _ | _ | _ | Yes | Yes |
| Personal manager | _ | _ | _ | Yes | High priority |
| Prizes | _ | _ | _ | Yes | Yes |
| Risk-free Trades | _ | _ | _ | Yes | Yes |
| Cashback plus | _ | _ | _ | _ | 5% |
Demo account
A free demo account on Binomo is a valuable resource for those who want to learn how to use the platform and gain trading skills. It provides users with virtual funds of $1000, allowing them to practice without any financial risks. This hands-on experience can be immensely helpful in gaining confidence and proficiency in using Binomo for trading activities.
The demo account offered by Binomo is completely free of charge and provides users with a virtual fund of $1,000. We strongly advise individuals to take advantage of this opportunity and try out the demo account before deciding whether or not Binomo is suitable for them.
Standard Account
With a standard account on our trading site, you can enjoy full access to all its functionalities. This includes the ability to trade in the most prestigious business exchange stocks. What's more, you have the opportunity to earn a fixed income of up to 85%. The Standard Account offers a convenient option of financing transactions with a minimum value as low as $1 for real trading. This flexibility allows users to get started with smaller investments and engage in actual trading activities.
Customers who use Binomo have the opportunity to take part in tournaments organized by the platform. Additionally, they have the flexibility to top up their account without any limitations and can withdraw their assets within a timeframe of 3 business days, depending on the chosen withdrawal method.
Gold Account
In addition to the regular benefits and assistance, purchasing the Gold Account offers numerous attractive perks. One of these perks is the ability to efficiently manage and grow your assets by scaling your returns. With Binomo, customers can enjoy a quick and efficient fund withdrawal process that takes as little as 24 hours. The withdrawal time may vary depending on the chosen method. Additionally, investors have the opportunity to earn up to a 90% return on their investments with Binomo. When customers renew their accounts, they also gain access to increased bonus accruals, giving them even more benefits and opportunities for growth. When withdrawing funds from your account, please note that it may take up to three days for the process to be completed. However, you will be able to access the withdrawn funds within 24 hours after initiating the withdrawal.
Binomo offers investment insurance to its clients along with bonus funds. This insurance helps to protect their investments. Additionally, clients have the option to consult with a personal manager who can provide guidance and support for any trading-related issues that may arise. Binomo also provides analytical assistance by offering several trading approaches that have been verified by experienced traders. This ensures that clients have access to reliable strategies for their trading activities. Customers with Gold Accounts are eligible for weekly compensations in the form of a 5% cash back offer.
VIP Account
The VIP Account is specifically designed for clients who make large deposits. This account offers exclusive benefits such as customized account maintenance programs and unique business exchange opportunities, which are not available to regular investors. VIP account holders can enjoy attractive bonuses of up to 200% and benefit from fixed stocks at a remarkable rate of 90%. Additionally, withdrawals in VIP accounts are processed swiftly within just 4 hours.
Customers are eligible for a weekly financial compensation that includes a cashback of 10%. This is made possible through authentic capitals.
Prestige
If you're someone who aims to unlock the full potential of a Binomo trading experience and maximize your opportunities, look no further than applying for a Binomo Prestige account. By upgrading to this esteemed status, you can gain access to an enhanced level of privileges that will help you achieve your goals faster and more efficiently. Don't miss out on this exclusive opportunity to take your trading journey to new heights with a Binomo prestige account.
Experience the ultimate VIP treatment with Binomo Prestige account benefits. Enjoy incredible bonuses of up to 300% on your deposits, ensuring you get the most out of your gaming experience. Take advantage of the Privilege Hour where you'll receive special perks tailored just for you. But that's not all – the Cashback Plus program offers a generous 10% weekly cashback along with an additional 5% monthly bonus. With Insurance Plus, rest assured knowing you're covered with a remarkable 60% or more protection plus an extra 5% Return-to-Player (RTP) bonus. As a VIP member, you unlock access to premium tournaments and receive a free pass to compete against other elite traders. Benefit from high-priority assistance from your own personal manager, who will cater to your every need.
(General risk warning: Your capital can be at risk)
Deposit
There are several popular methods available for making deposits. These options include Bank Transfer, Visa and Mastercard Bank cards, Maestro cards, AstroPay, NetBanking, UPI (Unified Payments Interface), PayTm, Indian Exchanger/Indian Cash, and Globepay. At times, companies may require traders to provide an ID for account verification purposes. In the past, this process could be time-consuming. Thankfully, Binomo now offers an automatic service that streamlines the verification process and saves valuable time for its users. Please be aware that in order to invest in Binomo, the minimum deposit required is $10.
Withdrawals
On Binomo, you will find certain withdrawal limits in place. These limits are as follows:- Up to $3,000 per day- Up to $40,000 per month- Up to $10,000 per week. These limits ensure that the withdrawal process is efficient and manageable for users. Please be aware that there is a minimum withdrawal amount of $10 on Binomo. This is in accordance with their security policy. It is important to note that withdrawals can only be made using the same payment methods that were used for deposits. The time it takes to process withdrawals can vary depending on the account type, ranging from a few minutes to up to three days. One advantage of this platform is that there are no withdrawal fees, unlike at IQ Option, where traders are charged $31 for each bank transfer.
Education
For beginners who are curious about how to trade on Binomo. It's recommended for beginners to educate themselves through resources like tutorials, courses, or working with experienced traders before considering trading on Binomo or any other platform. If you're interested in learning how to use Binomo effectively, you can find valuable educational resources on the platform. These resources aim to provide users with helpful tips and guidance on optimizing their experience with Binomo. You can greatly improve your trading knowledge and skills on the platform by utilizing the educational resources that are readily available. These materials provide valuable information and insights to help you enhance your understanding of trading strategies, market analysis, and risk management. By investing time in learning from these resources, you can become a more confident and successful trader.
Binomo Help center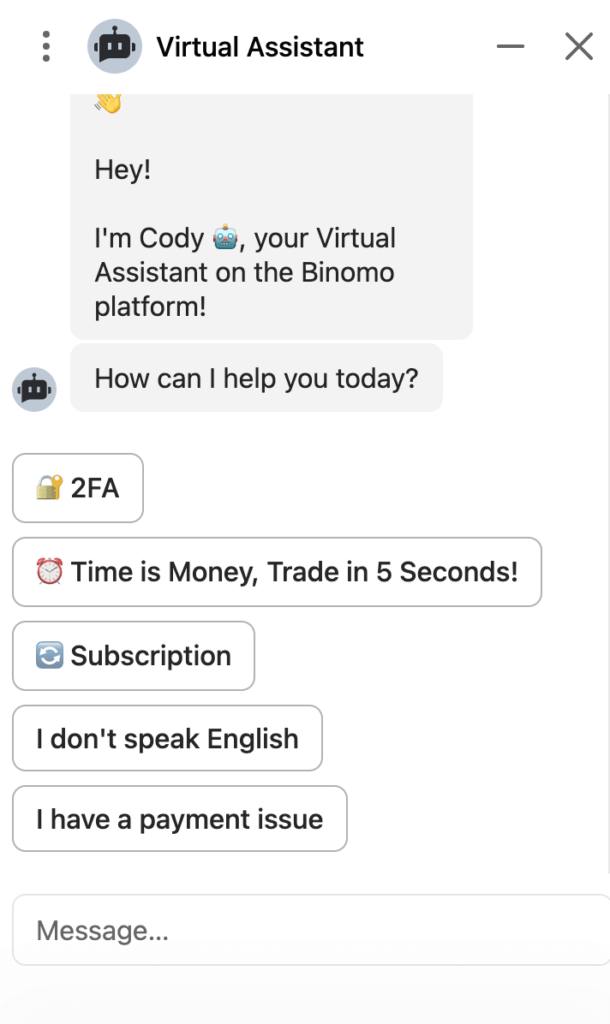 The Help Center on Binomo functions similarly to Wikipedia, providing a convenient platform for traders to find answers to frequently asked questions. For instance, if traders are looking for guidance on withdrawing funds from Binomo, To obtain the necessary information, you can conveniently access the Binomo Help Center. If you require further assistance, you may reach out to the support service by emailing: support@bimono.com.
While Binomo offers a range of trading strategies, it's important to note that no strategy can guarantee a 100% success rate in trading. Trading entails inherent risks, and various factors outside the control of any platform or strategy can affect outcomes. It is crucial for traders to exercise caution, use proper risk management techniques, and make informed decisions based on market analysis and their own research. When it comes to trading, there is no one-size-fits-all winning strategy, as it is not a game. Successful trading requires a thorough analysis of the market to make accurate forecasts and potentially generate additional funds. It's important to approach trading with a methodical and informed mindset.
Trading Tournaments
Traders have the opportunity to participate in contests available on www.binomo.com. By joining these contests, traders can gain valuable experience and knowledge that can empower their future trades.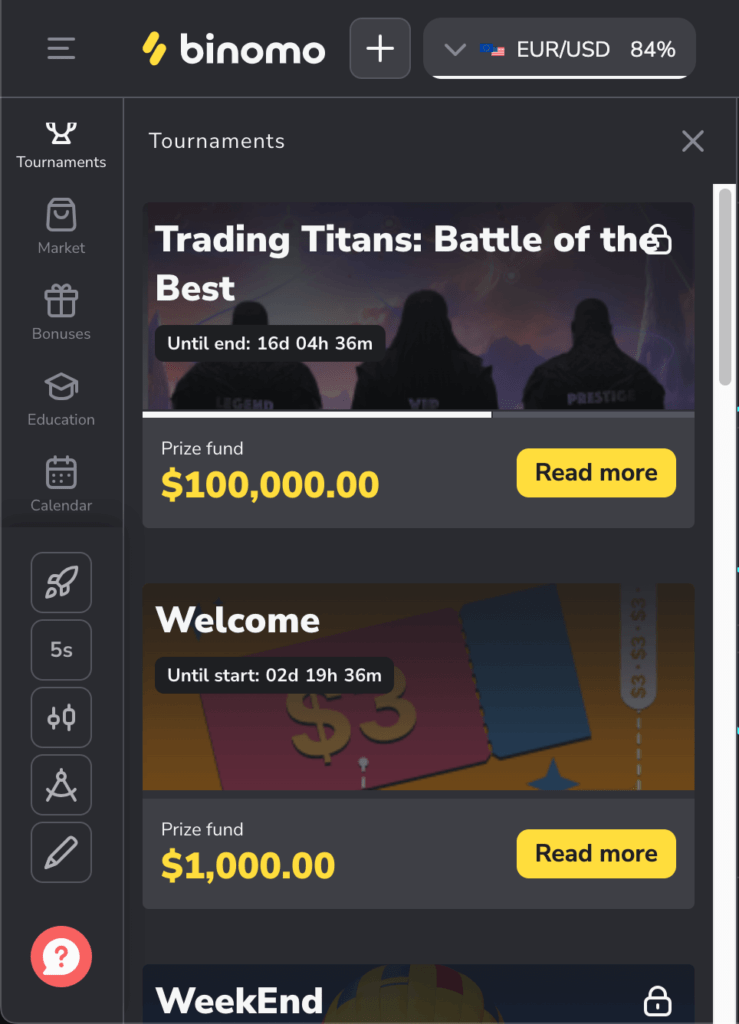 Binomo Bonuses
Bonuses come in various forms, but let's focus on three types. Firstly, there is a 25% welcome bonus offered for free accounts. Secondly, non-deposit bonuses are given during promotions or by personal managers for VIP accounts. Deposit bonuses apply when depositing (depending on the account status).
To find instructions on how to use a bonus code or coupon, such as a 100% deposit bonus, refer to the terms and conditions section of Binomo. It is important to review these guidelines carefully in order to understand the specific steps and requirements for redeeming your promo code or coupon successfully.
Conclusion
Binomo is a platform that offers a range of features, including tournaments, demo accounts, and tutorials. These features make it a worthwhile platform to consider for those looking to engage in trading activities. With the option to participate in tournaments and access demo accounts, users can gain valuable experience and improve their skills. Additionally, the available tutorials provide helpful guidance for beginners or those seeking to enhance their trading knowledge. The platform offers responsive customer service and a user-friendly interface, ensuring a smooth and hassle-free trading experience for beginners in the world of online trading.
(General risk warning: Your capital can be at risk)