Rating: 5.0 out of 5.0 stars5.0
Free demo account: Yes
Payout: Up to 98%
Bonus: Up to 50%
Assets: 300+ Forex, Stocks, Commodities, Cryptos
Quotex is a binary options broker that has been in operation since 2019. It specializes in offering binary options through its unique web platform. In our 2023 review, we provide comprehensive instructions on getting started with trading on Quotex. This includes detailed information about deposit and withdrawal fees, the level of customer support available, and any welcome bonuses that may be offered. Discover whether it's worthwhile for you to sign up and begin investing right away.
Quotex Quick Overview
| | |
| --- | --- |
| Broker | Quotex |
| 📅 Founded | 2017 |
| ⚖️ Regulation | No regulated |
| 💻 Demo | Yes |
| 💳 Minimum Deposit | $10 |
| 📈 Minimum trade | $1 |
| 📊 Assets | 300+ Forex, Commodities, Stocks, Cryptos |
| 💰 Return on investment | Up to 98% |
| 🎁 Bonus | 30% (50% bonus with our exclusive promo code: MONEYFAIR ) |
| 💵 Deposit Methods | Credit Cards (Visa cards, Mastercard), Webmoney, China UnionPay, Wire Transfer, Cryptocurrencies, Neteller, Qiwi, Yandex-money, and many more |
| 🏧 Withdrawal methods | Credit Cards (Visa cards, Mastercard), Webmoney, China UnionPay, Wire Transfer, Cryptocurrencies, Neteller, Qiwi, Yandex-money, and many more |
| 📍Headquarters | First Floor, First St Vincent Bank LTD Building, James Street, Kingstown, St. Vincent and the Grenadines |
| 💹 Trade Types | High/low, Turbo |
| 💻 Trading Platform | Web, Windows, iOS, Android |
| 🌎 Language | English, Spanish, French, Russian, Ukrainian, Portuguese, Turkish, Thai, Vietnamese, Indonesian, Persian, Japanese, Arabic, Hindi, Tagalog, Polish, Italiano |
| 👨‍💻 Social Trading | No |
| 🕌 Islamic account | No |
| ⭐ Rating | 4.5/5 |
(General risk warning: Your capital can be at risk)
Pros
Own brand online platform with easy-to-use interface
$10 minimum deposit and no withdrawal fees
Global access in different languages
Unlimited trading signals
30% deposit bonus
Beginner-friendly
Crypto payments
98% payouts
Cons
No copy trading
No CFDs or leveraged trading
Unregulated broker
What is Quotex?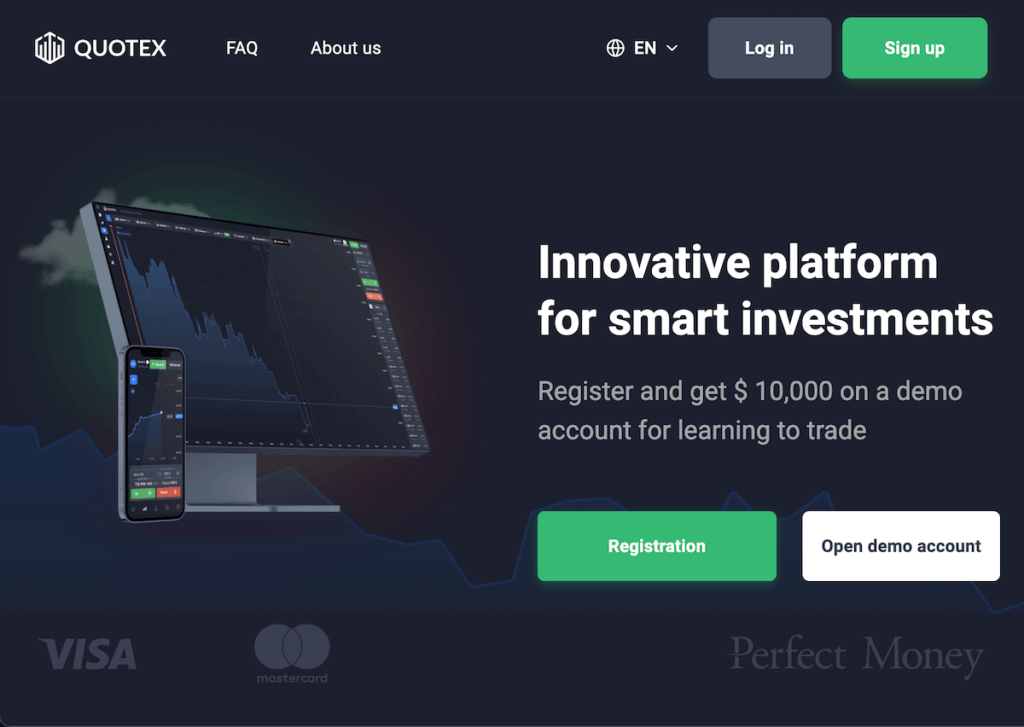 Quotex is a binary option broker. This company aims to integrate robust tools in a user-friendly trading platform. With its convenient user interface, trading signals, indicators, and fast processing speeds, it provides a seamless experience for users. By incorporating these features, online trading becomes simpler and more efficient.
Beginners in trading have the opportunity to start with a minimal deposit of just $10. Additionally, there is a joining bonus available to them. This allows new traders to enter the market and get acquainted with trading without having to invest a large sum of money upfront. On the other hand, you have the option to sign up for a free demo account that comes with $10,000 in virtual funds. This allows you to test out the platform and practice trading without any financial risk.
Clients have the option to engage in straightforward up/down binary options, which enable them to speculate on various assets such as stocks, currencies, commodities, and cryptocurrencies. This allows for a flexible and accessible approach to trading within these markets.
Binary Options Trading Details
| | |
| --- | --- |
| Payout Percent | Up to 98% |
| Expiry Times | 5 seconds up to 4 hours |
| UP / Down Options | Available |
| Ladder Options | No available |
| Boundary Options | No available |
Trading Platform
Once clients have completed the account registration process, they can easily access the Quotex platform through a web-based interface. This allows them to begin trading without any hassle or delays.
When you choose an asset, you can see its real-time price chart. Traders have the option to view this data in various graphs, spanning timeframes from as short as five seconds to as long as a day. This allows for detailed analysis and informed decision-making in trading activities. The web platform offers nine indicators that can be customized based on personal preferences. This allows users to refine the platform to better suit their needs and optimize their browsing experience. To enhance projections, users have access to a range of 15 drawing tools. Additionally, they can conveniently hide indicator names or extra details on charts while still preserving their markups, ensuring a clean display.
In addition to its platform interface, the system also features a leaderboard that showcases the top 20 traders for the day. This allows users to easily see who is performing well and serves as an incentive for others to strive for higher earnings. Furthermore, the terminal offers unlimited trading signals that provide users with analysts' recommendations on asset selection, price direction, and duration. Users can choose to act on these signals, making it a more hands-on approach to binary options copy trading.
Web Platform
Clients tend to prefer the extensive customization options available to them. This allows them to tailor their experience according to their specific needs and preferences, resulting in a more satisfying outcome. On the trading platform, traders have the ability to personalize their profile by setting a unique username, uploading a profile photo, and customizing the background image of their charts. This feature allows traders to create a more personalized and visually appealing trading environment that reflects their individual style and preferences. With just a few clicks, you can easily adjust the switch time and investment type to suit your specific needs. This flexibility allows you to make changes quickly and effortlessly, ensuring that your investments are aligned with your objectives.
The broker has recently introduced a new feature that provides users with a convenient and comprehensive overview of their trades. This detailed view includes essential information such as market opening and closing prices, as well as entry and exit prices for positions. With this feature, traders can easily access key trade information without the need for extensive searching or analysis.
Please be aware that the broker does not provide the popular MT4 or MT5 platforms for trading.
(General risk warning: Your capital can be at risk)
How To Trade on Quotex
After successfully signing up and accessing the login portal, users can easily complete a few simple steps to proceed.
Choose an asset – Each instrument in trading has the potential to offer a high percentage return on investment, reaching up to 98% if your trade is successful. This enticing prospect can be a motivating factor for traders looking to maximize their profits.
Select an expiration time – You have the flexibility to choose time intervals ranging from as short as five seconds to as long as four hours. Additionally, you can fine-tune these intervals down to the exact second for precise timing.
Input investment amount – When it comes to trading binary options, you have the flexibility to choose the amount of capital you want to invest in order to establish your market position. This means that you can decide how much money you are willing to risk in pursuit of potential profits. It is important, however, to consider your personal financial situation and risk tolerance before making any investment decisions.
Pick 'Up' or 'Down' – The decision on whether to choose a UP or Down direction for the asset price depends on your belief of how it will move before the option expires.
Markets and Assets
Quotex is a trading platform that provides traders with a wide range of options for digital options trading. They offer an impressive selection of over 410 assets to choose from, giving traders ample opportunities to diversify their portfolios and explore different trading strategies. Whether you're interested in stocks, commodities, currencies, or indices, Quotex has you covered with their extensive asset library.
Stocks – There is a wide range of over-the-counter (OTC) equities available, including well-known companies such as Facebook and Microsoft.
Currencies – The trading platform offers a diverse range of forex pairs, including both major and exotic currencies. With over 20 options to choose from, you'll have ample opportunities to explore various currency combinations. One of the popular pairs available is EUR/USD, which allows you to trade the euro against the US dollar.
Cryptos – the platform offer also cryptocurrencies to trade like Bitcoin, Ethereum digital currency tokens, Litecoin, Ripple for naming a few of them.
Indices – There are numerous reputable exchanges worldwide that play a significant role in the global financial markets. Some of these leading exchanges include well-known indices like the FTSE 100 and Dow Jones 30. These indices represent a diverse range of companies from various sectors, providing investors with an opportunity to trade and invest in globally recognized businesses.
Commodities – Some of the popular commodities that people often invest in Quotex include gold, silver, and oil. These are considered valuable assets due to their various uses and demand in different industries. Additionally, there are other popular energies and metals that attract investors as well.
When I used Quotex, I was pleased to discover that they offer also cryptocurrency trading. However, it's worth noting that their range of markets is still somewhat limited in comparison to more traditional online brokers.
Binary Option Trading
Quotex offer short-term binary options on a limited selection of financial markets. They also offer market signals that traders can use to help them to take informed decisions. Users have the thrilling opportunity to engage in short-term trading by placing bets on fluctuating prices. Users are given the opportunity to test their luck in predicting market conditions with binary options that have incredibly short timeframes, ranging from as little as 5 seconds to a maximum of 4 hours.
Forex Trading
Digital options provide access to a wide range of forex pairs, boasting over 20 options. I like the payouts provided by this platform because they are quite attractive, with potential earnings going as high as 82% on popular currency pair EUR/USD. Digital options offer a convenient platform for individuals interested in speculating on the fluctuations of major currencies. Whether you're predicting a rise or fall in value, digital options provide a comprehensive solution to accommodate your needs.
Stocks Trading
With Quotex, you'll have access to a diverse selection of over-the-counter (OTC) equities. What's even better is that you can start trading with as little as $1, thanks to their accommodating minimum trade sizes. In addition to other trading options, you have the opportunity to trade digital options on over 10 major indices, including the well-known FSTE 100. This gives you a wide variety of choices and allows for greater flexibility in your investment strategy.
CFD Trading
Quotex does not offer CFDs on its platform, only binary and digital options are available
Crypto Trading
You can conveniently trade a selection of the leading cryptocurrencies on Quotex using up/down binary options. This feature allows you to speculate on the price movements of these digital assets, providing you with various trading opportunities in the crypto market. With Quotex, You can easily access and trade popular cryptocurrencies like Bitcoin, Litecoin, and Ethereum on our user-friendly platform or mobile app. For traders interested in cryptocurrencies, using this platform can offer a convenient and user-friendly method to enter the market. It not only allows them to easily manage their investments but also provides access to real-time data and analysis that can assist in making informed trading decisions.
(General risk warning: Your capital can be at risk)
Payouts and Fees
Quotex, the platform we use, determines the profit percentage for each instrument. This percentage can vary based on different factors such as the liquidity of the asset, time of trade execution, and any ongoing economic events. When trading binary options, it's good to know that the maximum payout per trade can reach as high as 98% on this platform. This means that if your trade is successful, you have the potential to earn a significant return on your investment.
To illustrate, let's take a look at the EUR/USD currency pair. At the time of writing, the exchange rate was offered at 93%. This means that if a client invested $1,000 and successfully predicted the price movement within the selected time frame, they would receive $1,930 in return for that trade. Had their prediction been incorrect, they would have faced of losing their initial investment of $1,000.
From my experience with Quotex, you can expect typical payouts of 88% on binary options related to gold and silver. For stocks like Pfizer and Intel, the payoffs are generally around 90%.
I can see that Quotex does not impose any commissions on trading operations. This means that users can enjoy the benefit of executing trades without incurring any additional fees. The minimum trade size on Quotex is $1, so is like most of the other brokers that I have tested.
Leverage Trading
At present, Quotex does not provide leveraged trading options. While this restriction may limit market access for beginner traders, it can also be seen as a way to minimize potential losses.
Quotex App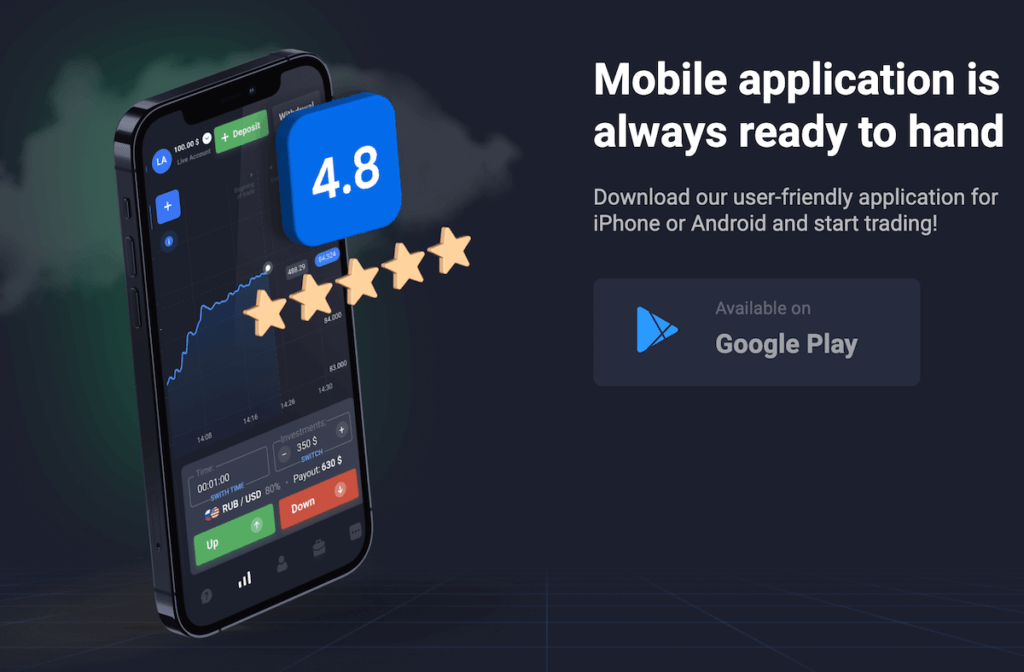 The broker provides a convenient solution by offering a single app that can be downloaded from both Google Play and the Apple App Store. This allows users with different types of devices to access their services effortlessly. You can access their web-based platform using any browser. This means you can easily use it on your mobile phone as well, making it convenient and accessible no matter where you are.
Clients have the convenience and control to monitor market conditions and easily carry out trades with just a few taps. This allows them to stay informed about market movements in real-time and take prompt action when opportunities arise. Quotex offers a wide range of features including interactive charts, indicators, and drawing tools. These tools allow users to analyze data and make informed decisions about their investments. Additionally, Quotex provides access to over 400 underlying assets, giving users a diverse selection to choose from when trading.
Additionally, I discovered that the broker's live trading signals were conveniently accessible on mobile devices. This means that users can receive real-time trading updates and recommendations directly on their smartphones or tablets, providing a seamless and portable trading experience.
Deposits and Withdrawals on Quotex
Beginners in the trading world can start with a minimum deposit of only $10. This low entry requirement makes it accessible for individuals who want to dip their toes into the world of trading without breaking the bank.
Quotex's clients have a range of convenient options for depositing funds. They can choose from bank cards like Visa and Mastercard, use cryptocurrencies, opt for internet banking, or utilize e-wallets. According to my experience, the firm doesn't charge any fees for deposits or withdrawals, making it even more customer-friendly and cost-effective.
It's important to keep in mind that payment options differ from country to country. In the United Kingdom, clients have the option to deposit funds using cryptocurrencies such as Bitcoin, Litecoin, and Ethereum. On the other hand, Indian traders have a variety of choices including local banks and popular e-wallets like Perfect Money, in addition to cryptocurrencies. To get a comprehensive understanding of the various payment options available in your jurisdiction, it is recommended to visit the broker's official website. There, you will find a detailed breakdown of each individual payment method that can be used.
For most withdrawal methods, the minimum amount you can withdraw is $10. However, if you're using Bitcoin, the minimum withdrawal amount is $50. Generally, there is no need for additional verification when making a withdrawal. However, for transactions involving large amounts of money, the company may request additional verification measures to ensure security and compliance.
When it comes to withdrawals, the firm typically takes up to three days to process them. However, they make an effort to expedite the payment and aim to process it on the same day that the withdrawal application is submitted.
Payment Methods
Credit Card
Visa
Mastercard
Maestro
Perfect Money
ADVcash
Bitcoin
Wire Transfer
Ethereum
Doku Wallet
Cryptocurrencies
Quotex Demo Account
The broker provides a demo account with generous funding of $10,000 for users to practice and get familiar with the web platform and digital options trading. With a demo account, you'll have access to various assets, trading tools, signals, and indicators to enhance your learning experience.
For clients who are new to digital options, I think it is important to open a free demo account on Quotex to get familiar with the functionality of this simple and user-friendly trading platform. It allows you to experience firsthand how everything works before making any financial commitments.
To begin using the Quotex demo trading account, all you need to do is click on the "open demo account" option found on the broker's homepage. This will direct you to the platform for demo trading purposes. with the demo account, you can trade on the same conditions as the real money account, but you can't withdraw any money from the demo account.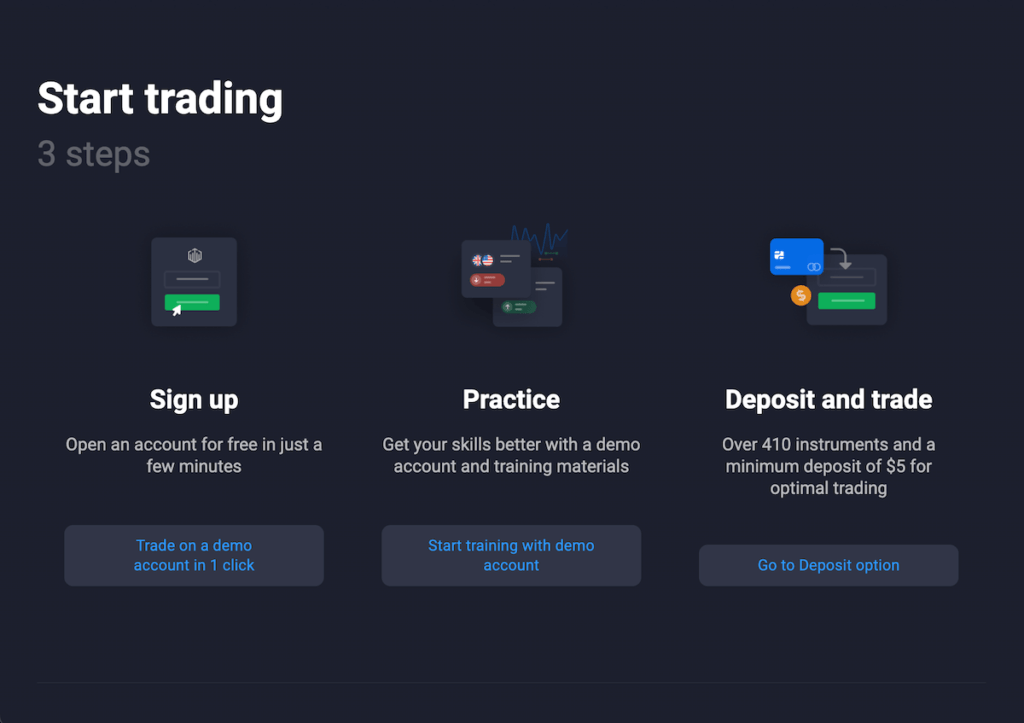 (General risk warning: Your capital can be at risk)
Bonuses and Promotions
During my experience with Quotex, I discovered an attractive offer of a 30% deposit bonus for deposits of $100 or more. I like this offer, and I personally think that is a beneficial incentive that can significantly increase your trading capital and provide you with more opportunities in the financial markets.
Alongside the regular promotions, there are also periodic offers available. These include various incentives aimed at minimizing risk, cashback rewards, Cancel X points, and balance bonuses. Keep an eye out for these additional promotions to enhance your overall experience.
Active traders are often rewarded with promo codes, that are in line with the deals offered by the firm. These promo codes act as incentives for traders and provide them with special benefits or discounts. For the most up-to-date information, be sure to visit the Quotex website. It is always important to review and understand the terms and conditions related to bonuses before making any investments. This will ensure that you are well-informed and can make smart decisions.
Regulation and Licensing
In November 2020, the firm achieved certification as a licensed broker by the International Financial Market Relations Regulation Center (IFMRRC). However, unfortunately, it allowed its registration to expire in 2021. The lack of regulations means that the company is currently operating without any specific guidelines or restrictions imposed by the government or industry authorities.
It is important to exercise caution when engaging in trades with unregulated brokers. This is because clients may have limited options for recourse in case any disputes arise. To ensure your financial security, it is advisable to trade with regulated brokers who offer more protection and oversight.
Quotex Accounts
Quotex has a simple and convenient live account option that only requires a minimum deposit of $10. However, it is worth mentioning that accounts can be opened in various currencies to accommodate different preferences. You can use several base currencies for your transactions, including US Dollars, Euros, Russian Rubles, Ukrainian Hryvnias, and Brazilian Reals.
As an investor, you will have complete access to a wide range of digital options. This gives you the opportunity to diversify your investment portfolio and explore various financial instruments. In addition, you will receive dedicated customer support to address any inquiries or concerns that may arise during your investment journey. Rest assured, help is just a call or message away!
How To Open A Quotex Live Account
I tested the registration process and found it to be an incredibly user-friendly experience. New members can quickly and easily navigate through the steps, allowing them to be up and running within just a few minutes.
To access the Quotex, simply click on the 'Visit' link located at the top of the page. This will direct you to the review, where you can find detailed information about Quotex.
Select 'Sign Up'
When filling out forms or creating accounts, individuals are typically required to provide personal information such as their name, email address, and date of birth. These details help identify and verify the individual's identity, as well as enable communication and tailor services to their specific needs. It is important to ensure that any personal information provided is kept secure and used in accordance with applicable privacy laws and regulations.
To ensure the security and legitimacy of your profile, kindly follow the verification process by clicking on the email link that has been sent to your account. This is a standard procedure in order to validate your identity and protect your information.
Account Analytics
Quotex provides its account holders with a valuable analytics dashboard. This feature allows users to gain insights and track important data related to their accounts. It can be a helpful tool for monitoring performance, making informed decisions, and optimizing strategies on the platform.
Users have the ability to access a comprehensive overview of their trading activity, including important metrics such as the number of trades conducted, total profit earned, profit percentage, net turnover, and more. This information provides users with valuable insights into their trading performance and helps them make informed decisions for future investment strategies. For beginners in trading, this tool is highly beneficial. It enables traders to track their progress and pinpoint areas where they can enhance their strategy or setup. By utilizing this tool, traders can continuously improve their skills and achieve better results in their trading endeavors. In addition to its brokerage services, the broker also provides valuable insights on the speculations and results of other traders. This information can be beneficial for clients who want a better understanding of market trends and sentiments.
Opening Hours
Investors have the convenience of accessing the broker's website and platform anytime they want. However, it's important to note that trading of assets can only occur during market opening hours. Forex, short for foreign exchange, operates from Monday to Friday. Cryptocurrencies offer the advantage of being available for trading and transactions around the clock, 24 hours a day, 7 days a week. This means that users can engage in cryptocurrency activities at any time, providing flexibility and convenience compared to traditional banking systems with limited operating hours.
Open the broker's trading terminal for details on each asset.
Customer Support
Traders have the convenience of contacting support directly through the platform interface. They can choose to submit a ticket or utilize the live chat option, making it easy and efficient to receive assistance whenever needed. Clients have the option to conveniently fill out an online form available on the company's website or reach out for support by emailing support@quotex.io .
Please be aware that the registered address of the broker is Maxbit LLC, located at First Floor, First St Vincent Bank LTD Building, James Street, Kingstown, St. Vincent and the Grenadines.
Security and Safety
The company prioritizes security and employs specialized technologies to ensure the protection of client information. They adhere to high-security standards, providing clients with peace of mind regarding the safety and confidentiality of their sensitive data. The broker ensures the privacy and security of personal data by not selling or sharing it with any third parties. This commitment to protecting customer information is a priority for the broker.
The payment system ensures the security of your transactions through multiple layers of protection. This includes SSL encryption, which safeguards your data from unauthorized access. Additionally, our platform utilizes 3D secure technology to add an extra layer of authentication during the payment process. When transferring funds using Mastercard, a unique code is also utilized to ensure the safety and integrity of your transaction.
Accepted Countries
Quotex is an inclusive trading platform that welcomes traders from various countries, including Australia, Thailand, South Africa, Singapore, India, Norway, Denmark, the United Arab Emirates, Saudi Arabia, Kuwait, Luxembourg, Qatar, and many others. They strive to provide global access to their services for individuals worldwide.
Unfortunately, individuals residing in the United States of America, Canada, Hong Kong, the Russian Federation, United Kingdom, Germany, France, Portugal, Spain, Italy, Cyprus, and Sweden are currently unable to access the Quotex trading platform for their trading activities.
Compare Quotex with other brokers
When considering brokers similar to Quotex that accept traders from your location, there are a few options worth comparing. These brokers closely resemble Quotex in terms of their features and services. It's important to note that the list may vary depending on your specific location and the available brokers in that region. Conducting thorough research and comparison will help you find the best match for your trading needs.
Pocket Option: Pocket Option is a binary options broker that was established in 2017. They specialize in offering up/down contracts for trading forex, stocks, and cryptocurrencies. Pocket Option has gained popularity among aspiring traders, boasting a significant user base of over 100,000 active members worldwide. It offers convenience by supporting numerous payment methods and stands out with its low minimum trade requirement of just $1.
Binomo: Binomo is a well-known broker with more than 100 assets available to trade, an intuitive mobile application. Binomo offers these users the possibility of trading on a trading platform with both CFDs and Binary Options.
Videforex: Videforex offers access to stock, index, crypto, forex, and commodities markets via binary options and CFDs. The proprietary platform, mobile app, and integrated copy trading are user-friendly and will suit new and casual traders, and the market analysis tools and trading contests provide good ways to improve your trading skills.
Conclusion
Quotex is a unique digital options broker that stands out from the competition. It provides a user-friendly web-based platform, making it convenient for traders of all levels. One standout feature is the availability of live signals, which can provide valuable insights for successful trading. In addition to its user-friendly interface, Quotex offers a low minimum deposit requirement and does not charge any withdrawal fees, making it an attractive option for traders who want to start with smaller investments. Furthermore, the broker offers a 30% sign-up bonus, adding further value for new customers. The range of assets and user-friendly interface offered by digital options platforms can be quite satisfying for beginners who are just starting out in this field.
(General risk warning: Your capital can be at risk)
FAQ
Is Quotex Regulated?
As of now, Quotex does not operate under any specific regulations. Their registration with the IFMRRC (International Financial Market Relations Regulation Center) expired in 2021.
What Trading Platform can use with Quotex?
This broker has developed its own brand platform, which is designed to provide users with a seamless and user-friendly execution experience. The features of this service extend beyond just a signal service and technical indicators; it also offers other valuable tools. Additionally, there is a free mobile app available for users to conveniently access these resources on the go.
Does Quotex Offer A Demo Account?
Yes, Quotex offers a demo account. Clients have the convenience of accessing a demo account that comes pre-funded with $10,000. This allows them to explore and familiarize themselves with the platform without any financial risk or investment commitment. This platform provides users with a simulated trading environment for binary options. It allows them to practice and get acquainted with the interface before actually investing real money. This way, users can gain confidence and familiarity with the trading process without any financial risk.
What Is The Minimum Deposit At Quotex?
The minimum deposit at Quotex is $10. Quotex offers clients the opportunity to begin trading with a low minimum investment of just $10. Traders also have the flexibility to deposit funds in multiple currencies, depending on the base currency associated with their account.
How to withdraw money from my Quotex Account?
To withdraw money from Quotex, you can do it by sending a withdrawal request on the platform. Investors have the convenience of withdrawing funds from their online accounts by making a request. There is a minimum withdrawal amount set at either $10 or $50 specifically for Bitcoin transactions. When it comes to withdrawals, please keep in mind that they usually take about three business days to process. Once the withdrawal request has been approved, your funds will be returned using the same method you initially used for depositing.