Rating: 4.5 out of 5.0 stars4.5
Free demo account: Yes
Payout: Up to 92%
Bonus: No bonus
Assets: 180+ Forex, Commodities, Stocks, Cryptos
Welcome to this updated review in 2023! Here, you'll discover a comprehensive overview of the broker Olymp Trade. We will delve into all the essential details and provide you with up-to-date information on its features, benefits, and any recent updates or changes. By the end of this review, you'll have a clear understanding of what this trading platform has to offer.
Olymp Trade quick overview
| | |
| --- | --- |
| Broker | Olymp Trade |
| 📅 Founded | 2014 |
| ⚖️ Regulation | VFSC, International Financial Commission |
| 💻 Demo | Yes |
| 💳 Minimum Deposit | $5 |
| 📈 Minimum trade | $1 |
| 📊 Assets | 180+ Forex, Stocks, Metals, Indices, Commodities, Cryptos, ETF, OTC, Composites |
| 💰 Return on investment | Up to 92% |
| 🎁 Bonus | No bonus |
| 💵 Deposit Methods | Bank Cards (Visa cards, Mastercard), Webmoney, China UnionPay, Skrill, Neteller, Perfect Money, BinancePay, Bitcoin, Ethereum, USDT |
| 🏧 Withdrawal methods | Bank Cards (Visa cards, Mastercard), Webmoney, China UnionPay, Skrill, Neteller, Perfect Money, BinancePay, Bitcoin, Ethereum, USDT |
| 📍Headquarters | 1276, Govant Building, Kumul Highway, Port Vila, Republic of Vanuatu. |
| 💹 Trade Types | CFDs and Fixed Time Trade (Binary options) |
| 💻 Trading Platform | Web, Windows, iOS, Android, Xiaomi, Huawei |
| 🌎 Language | English, Spanish, Russian, Portuguese, Turkish, Thai, Vietnamese, Indonesian, Arabic, Hindi, Vietnamese, French, Malaysian, Korean |
| 👨‍💻 Social Trading | No |
| 🕌 Islamic account | Yes |
| ⭐ Rating | 4.5/5 |
(General risk warning: Your capital can be at risk)
What is Olymp Trade?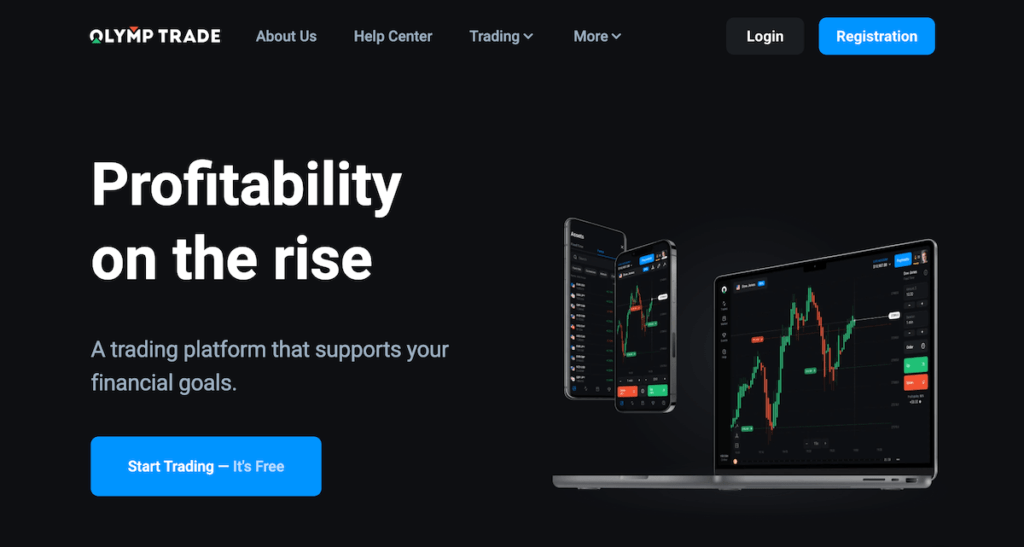 Olymp Trade is an online trading platform that provides users with a wide range of assets and trading options. These options include Fixed-Time Trade (Binary options), FX, and Stocks, Indices, metals, cryptocurrencies, commodities, ETF, composites, and OTC allowing traders to choose the mode that aligns best with their investment goals and preferences. Since its establishment in 2014, this company has grown to become a prominent player in the industry. With more than 88 million trader accounts, they have amassed a significant user base. On average, they facilitate around 30 million transactions per month and make approximately 16 million monthly payouts to their users.
Olymp Trade is a reputable trading platform that operates under the regulation of the International Financial Commission. It has been recognized and awarded for its outstanding performance, exceptional customer support, innovative features, and user-friendly mobile trading app.
Their primary goal is to offer a trading experience that is dependable, transparent, and accessible to individuals of all expertise levels. Whether you are a novice or an experienced trader, they strive to cater to your specific needs.
Olymp Trade provides users with a wide range of useful resources. They offer educational tools to enhance your trading knowledge, demo accounts to practice your skills, personal managers to guide you through the process, and a blog filled with market insights and helpful trading tips. These features are designed to assist traders in making informed decisions and improving their overall trading experience.
As an official online trading partner, they have also formed a partnership with Ronaldinho, the legendary football player. This collaboration enhances their brand image and brings added value to their customers. This tool is quite versatile, as it is accessible in 13 different languages. It caters to traders from more than 130 countries, making it a global solution for trading needs.
Advantages
This platform offers a low minimum deposit of just $5, making it easily accessible to beginners and small investors who may have limited funds to invest.
The platform boasts a user-friendly and intuitive interface that can be easily accessed from both mobile and desktop devices. Additionally, it offers support for MetaTrader 4, catering to the needs of more experienced traders who require advanced trading features.
There are various comprehensive training resources available, including webinars, analyst support, economic calendars, blog posts, and trading strategies. These resources can greatly assist individuals in enhancing their knowledge and skills in trading.
The platform provides an extensive variety of assets for trading, including popular currency pairs, indices, commodities, cryptocurrencies, and stocks of well-known companies.
The website has a feature that supports multiple languages, specifically 13 different languages. This is particularly beneficial for users from around the world who want to engage in trading activities. It enhances convenience and accessibility for a global user base.
For individuals who are new to forex trading, starting with a free demo account can be highly beneficial. This allows you to practice using virtual funds and familiarize yourself with the platform before investing real money. It's a great way to gain experience and confidence in your trading skills without any financial risk.
Disadvantages
This tool might not be the best choice for Forex traders seeking extremely high leverage and tight spreads.
This trading platform is open to traders from 130 countries worldwide. However, it does not accept clients from North America and European Union countries. For a comprehensive list of the countries they do not accept, you can visit their website.
(General risk warning: Your capital can be at risk)
Olymp Trade is a trading platform that offers a wide range of assets and trade modes to suit different preferences. You can choose from options like fixed-time trades, FX, or Stocks to diversify your investment portfolio. Here are some helpful topics that you might be interested in exploring further:
Assets and Markets
Olymp Trade offers a wide variety of trading options with over 180 assets available for traders. This extensive selection gives you the opportunity to diversify your investment portfolio and explore different markets.
Currency Pairs
Stocks
Indices
Metals
Crypto
Commodities
ETF
Composites
OTC
When managing your investments, it's important to consider your individual preferences and goals. By choosing assets that align with these factors, you can tailor your portfolio to meet your specific needs.
Olymp Trade offers a wide range of popular assets for trading. Some of these include major currency pairs like EUR/USD, GBP/USD, and USD/JPY. In addition, they also provide options to trade commodities such as gold, silver, and oil. For those interested in cryptocurrency trading, Olymp Trade supports popular digital currencies like Bitcoin and Ethereum. Lastly, they also offer the option to trade stock issued by large, well-established companies like Apple, McDonald's, and Tesla, providing a diverse selection for traders to choose from.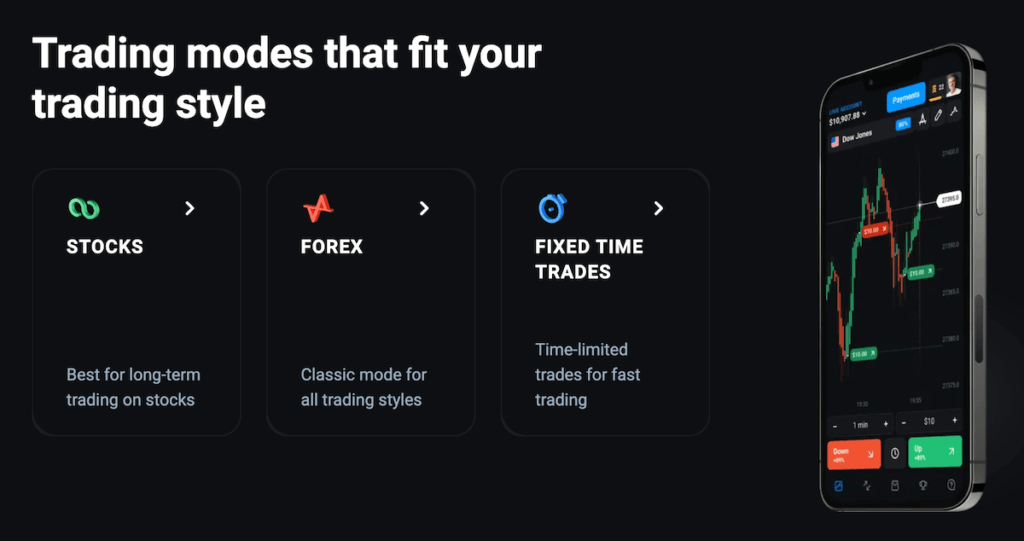 Olymp Trade Regulation
Olymp Trade is a reputable broker that has obtained the necessary license and regulation from the Vanuatu Financial Services Commission. This ensures that they operate in compliance with financial regulations and provide a secure trading environment for their clients.
Olymp Trade takes great pride in ensuring top-notch service to its clients. They prioritize the well-being of their customers by offering deposit insurance and a robust support system. Any concerns related to financial interactions with Olymp Trade are promptly addressed, providing clients with peace of mind and efficient resolutions.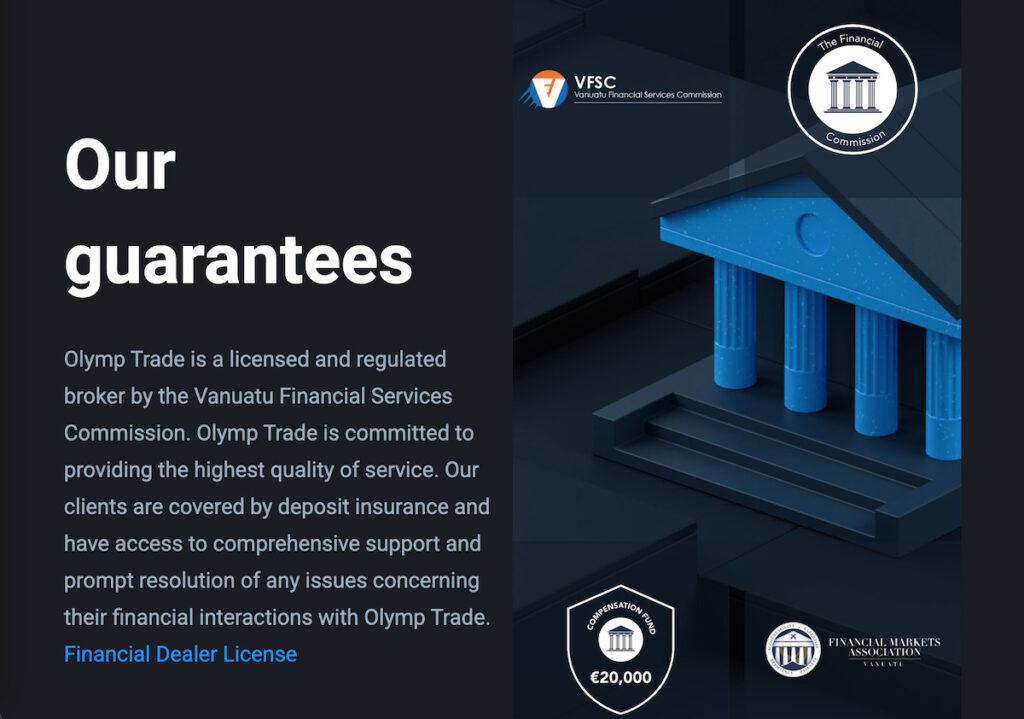 The International Financial Commission serves as an alternative dispute resolution center in the financial sector, specifically to safeguard the interests of individual traders. With a focus on transparency, integrity, and client education, it provides a platform that promotes fairness and helps maintain trust within the industry.
Olymp Trade's membership with FinaCom is a prestigious achievement that demonstrates their unwavering commitment to upholding the principles set forth by the Commission. They became a part of FinaCom on February 22, 2016, solidifying their dedication to maintaining high standards in their operations.
Olymp Trade is also a member of The Financial Markets Association which serves as a self-regulatory organization for holders of the Vanuatu Financial Dealer License. Its main purpose is to enforce regulations and ensure compliance within the financial industry in Vanuatu. By setting standards and overseeing the conduct of licensed financial dealers, the association plays a crucial role in maintaining integrity and trust within the local financial markets.
Olymp Trade takes its regulatory responsibilities seriously and ensures compliance with anti-money laundering (AML) and know-your-customer (KYC) policies. These policies are crucial requirements enforced by regulators worldwide to prevent money laundering and protect customers' interests. AML (Anti-Money Laundering) and KYC (Know Your Customer) policies serve as important safeguards against illegal activities, including money laundering, fraud, and the financing of terrorism.
These policies are specifically designed to protect businesses and financial institutions by ensuring that they thoroughly verify the identities of their customers and monitor their transactions for any suspicious or illicit behavior. By implementing these policies, organizations can help maintain the integrity of the financial system and contribute to a safer business environment.
To summarize, Olymp Trade is a trusted and regulated online trading platform that provides traders with a sense of security and assurance while conducting their trades. Olymp Trade stands out as a trading platform due to its impressive membership in the International Financial Commission (IFC). This reflects their commitment to providing a secure and reliable environment for traders. They offers data protection by utilizing advanced encryption and security protocols. Additionally, Olymp Trade strictly adheres to Anti-Money Laundering (AML) and Know Your Customer (KYC) policies, ensuring compliance with regulatory standards for financial transparency. Olymp Trade is recognized as a highly reputable and dependable online trading platform in 2023. Its various features contribute to its reputation for trustworthiness.
Trading Platform
The interface of the platform enables users to seamlessly interact with the market. Through it, you can place orders, keep track of your positions, and efficiently manage your account. It serves as a bridge between you and the functionalities offered by the platform. The interface of Olymp Trade trading platform is designed to be straightforward and easy to use, catering to traders of all levels, including beginners and experienced ones. It ensures that anyone can navigate the platform with ease and take advantage of its features effectively.
The interface of this online trading platform is designed with four key components: the chart, the order panel, the trade history, and the menu bar. These elements work together to provide users with a comprehensive trading experience. The chart allows you to visualize market data and trends, while the order panel enables you to place trades and manage your positions. The trade history feature provides a record of your previous transactions for reference. Lastly, the menu bar offers easy access to additional functionalities and settings.
Chart
The chart plays a central role in the interface, allowing users to track the real-time price movements of different assets. When it comes to visualizing data, there are various types of charts available to choose from. Some popular options include line charts, candlestick charts, bar charts, and area charts. Each type has its own unique characteristics and can be used to effectively represent different types of data patterns or trends. In addition to its standard features, you have the flexibility to personalize the chart according to your preferences. This can be done by adjusting the time frame, incorporating indicators, utilizing drawing tools, and even incorporating trading signals for a more tailored experience.
Order Panel
You can easily place trades on the right side of the chart using the order panel. It provides a convenient location for executing your trading activities. When it comes to trading, you have the option to choose between two main types: fixed-time trades and forex trades. Fixed-Time Trades reffer to binary options, this type of option involves predicting the outcome of an asset within a specific timeframe, while forex trading focuses on buying and selling currencies in the global market. Fixed time trades are financial contracts that have a set expiry time, meaning they automatically end after a specific duration. Forex trades differ from other types of investments as they remain open until you decide to manually close them or when they reach a predetermined stop loss or take profit level. Additionally, you have the flexibility to adjust the amount, leverage, and direction of your trade according to your preferences and market conditions.
Trade History
You can find the trade history section at the bottom of the interface. This is where you can view both your past and current trades, providing valuable information about your trading activity. In order to efficiently organize and analyze your trade history, you have the option to filter it based on various criteria such as date, asset, type, and outcome. This allows you to easily track and review specific trades. Additionally, you can also access information about your account balance as well as monitor your profit and loss. Having this comprehensive view of your trading activity enables you to make informed decisions moving forward.
Menu Bar
You'll find the menu bar conveniently positioned at the top of the interface. It serves as a hub for accessing a wide range of features and settings within the platform. In the platform, you have the flexibility to switch between various modes and sections. This includes options like demo and real accounts, education and analytics sections, tournaments and promotions, as well as managing your personal profile and settings.
Olymp Trade boasts a sleek and user-friendly interface, ensuring trading is both effortless and enjoyable. The interface is thoughtfully designed to offer all the essential tools and information required for making well-informed trading decisions.
Trading Time
You have the flexibility to trade on Olymp Trade at any time, be it during the day or night. However, it's important to note that your ability to trade depends on whether the market is open and available for trading activities. Certain markets, including cryptocurrencies and specific currency pairs, operate 24/7. This means that you can engage in trading activities at any time of the day or night, allowing for increased flexibility and accessibility. Different markets, like stocks and commodities, have their own designated opening and closing hours. To find out the specific trading hours for each asset, you can refer to the platform or website where you are trading. They typically provide this information to ensure traders are aware of when they can actively trade each asset. When it comes to trading, it is generally recommended to engage in activities during times when the market is active and experiencing volatility. This is because such conditions present more opportunities for movement and potential gains.
(General risk warning: Your capital can be at risk)
Leverage Trading
Trading leverage is a widely used financial tool that grants traders the ability to access a greater amount of capital than what is currently available in their trading account. It allows traders to amplify their potential profits, but also comes with increased risk. The process functions by multiplying your initial investment by a specific factor, which varies based on the particular asset and prevailing market conditions.
To illustrate, let's say you have $100 in your trading account and are using a leverage ratio of 1:500. With this leverage, you can open a trade worth $50,000 by multiplying your initial investment of $100 by the leverage ratio ($100 x 500 = $50,000).
Olymp Trade, a popular trading platform, provides varying levels of leverage for different assets and markets. For forex trading, the maximum leverage offered is 1:500, while for stocks it is limited to 1:200. This flexibility allows traders to effectively manage their investments based on their preferred risk tolerance and market conditions. When trading on the platform, you have the flexibility to select your desired leverage level for each trade. Additionally, if you need to make any adjustments, you can easily do so by utilizing the multiplier tool at a later time.
The multiplier tool is a powerful feature that enables you to adjust the leverage level of your open trades. It can be found conveniently on the right side of the trading interface, alongside other essential tools such as stop loss and take profit. This tool gives you greater control over your trading positions, allowing you to increase or decrease leverage as needed.
The stop loss tool is a useful feature that helps traders manage their trades effectively. It allows you to set a specific price level at which your trade will automatically close if the market moves against you. This feature provides peace of mind and helps minimize potential losses in volatile markets.
The take-profit tool is a useful feature that allows you to set a specific price level for your trade. If the market moves in your favor and reaches this price level, your trade will automatically close, ensuring you lock in profits. This can be convenient as it saves you the hassle of constantly monitoring the market and manually closing trades when they reach desired levels.
Olymp Trade App
With the app, traders have the convenience of accessing the platform from anywhere and at any time. As long as they have an internet connection, they can stay connected and make trades without being tied to a specific location. This application is designed to work smoothly on both Android and iOS devices. It offers a user-friendly interface that is intuitive and easy to navigate, ensuring a seamless experience for all users.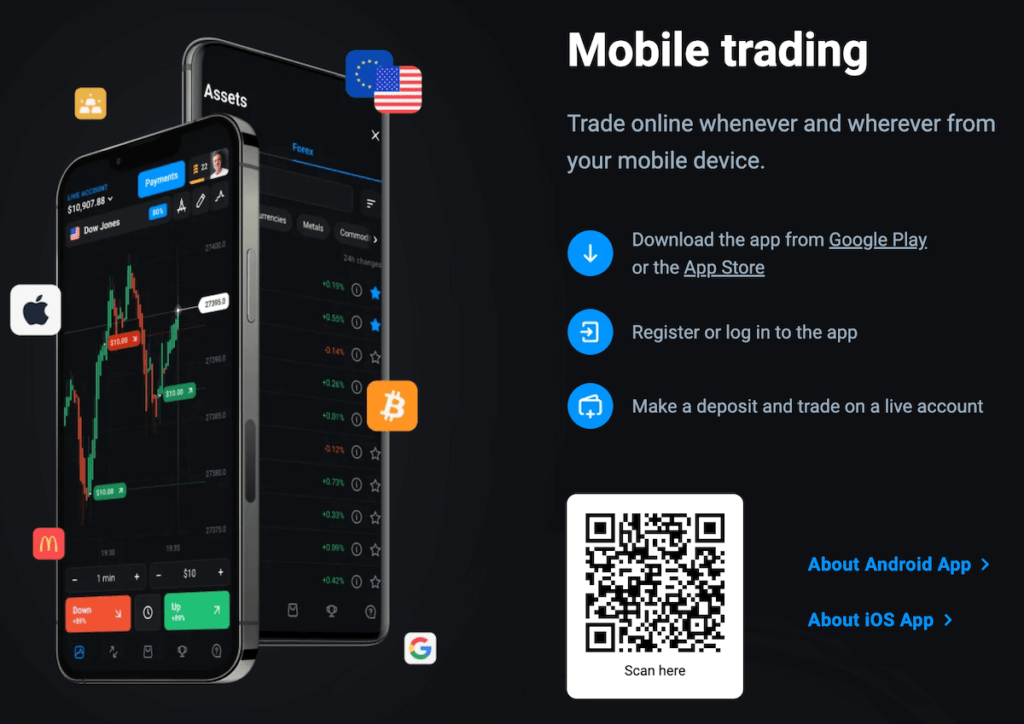 The mobile app offers a comprehensive range of features and tools that are also found on the web version of the platform. These include indicators, charts, trading history, and additional functionalities to enhance your trading experience. In addition to its web version, the app offers a range of exclusive features that are not available on the web platform. These include handy push notifications, which keep you updated in real-time, and biometric authentication for enhanced security.
Push Notifications: With this feature, traders can stay updated on their trades right from their mobile phones. They will receive alerts for various events like price fluctuations, news updates, and even trade results. This real-time information ensures that traders are always in the know and can make informed decisions on the go. By staying informed and being able to react quickly to market fluctuations, traders can improve their chances of making profitable trades. Being up-to-date with the latest market trends and news is crucial for successful trading. With access to real-time information and data analysis tools, traders can make more informed decisions and take advantage of opportunities as they arise. This allows them to stay ahead of the market and increase their potential for financial success in the fast-paced world of trading.
Biometric Authentication: By implementing biometric authentication, the app enhances its security measures. Traders are required to use either their fingerprint or facial recognition to gain access to their accounts. This adds an additional layer of protection and helps safeguard sensitive information from unauthorized access. By implementing this security measure, unauthorized access is effectively prevented and the personal and financial details of traders are safeguarded.
(General risk warning: Your capital can be at risk)
Special features of Olymp Trade
Now the minimum deposit in Olymp Trade is only $5 for usdt accounts. Is the lowest minimum deposit among all the platforms and brokers we tested
2) When each person deposits for the first time Olymp Trade gives a guaranteed loot box, that is, a surprise, that contains one of the paid products of the Olymp Trade market. For example trader can earn strategy, indicators, signals, advisors (signals based on indicators that help to identify entry points), etc.
3) Olymp Trade has another unique feature among binary options brokers called Trader Way: A trader earns experience points (XP) for trading on a real account and completing different tasks. Investor Path is a system that rewards investors for the experience they accumulate. Within this system, you can not only improve your status or extend the current one but also get different bonuses and gifts. An investor can achieve Starter, Advanced or Expert status and use a certain set of benefits. The higher the status, the more trading privileges the investor will receive.
4) Another unique feature of this broker is the risk-free trades: Risk-free trades allow to recover the trade amount to the trading account in case of a wrong forecast in FTT mode. If an investor activates a risk-free trade and makes a losing trade, the funds are returned to the trading account. Let's say an investor places a $100 risk-free trade. And open a trade for $100. If the forecast is incorrect, the trade amount ($100) will be returned to the investor's account.
Investors can win risk-free trades in Olymp Trade contests. Also, they can receive such operations by participating in some promotions or by earning experience points (XP) in their Investor Path. Risk-free trades are also available for purchase on the Olymp Trade Market.
Accounts types
Olymp Trade takes a unique approach to trading accounts by offering traders different account statuses, each with its own set of specifications and benefits. Instead of traditional trading accounts, these statuses provide traders with enhanced features and advantages tailored to their specific needs. There are three different types of account statuses available: Starter Account, Advanced Account, and Expert Account. Each status offers varying levels of access and benefits to cater to different users' needs.
Starter Account
When traders sign up on Olymp Trade, they are automatically assigned the default account type. This account grants access to essential platform features, including strategies, indicators, educational materials, and a free demo account with 10,000 units of virtual currency. With a Starter Account, traders can conveniently deposit and withdraw funds without any commission charges. This account type offers trusted payment methods, ensuring a secure and hassle-free experience for users. To get started with a Starter Account, you will need to make a minimum deposit of $10 or the equivalent amount in other currencies. This ensures that you can open an account and begin using our services without any financial barriers.
Advanced Account
For traders looking to enhance their trading skills and achieve better results, an upgraded account type known as the Advanced Account is available. By making a single deposit of $500 or more, traders can unlock a range of additional benefits and privileges offered by this account. With an Advanced Account, traders can enjoy a range of exclusive features that can enhance their trading experience. These include risk-free trades, which allow you to make trades without worrying about potential losses. Additionally, the increased profitability rates provide an opportunity for higher returns on your investments. You will also have the advantage of having a personal manager who can provide guidance and support tailored to your trading needs. The inclusion of webinars and trading signals further empowers you with valuable insights and market analysis to make informed trading decisions.
Expert Account
Olymp Trade offers a high-level account type known as the VIP account. This exclusive membership provides traders with numerous advantages and opportunities to enhance their trading experience. To access an Expert Account, traders are required to make a single deposit of $2,000 or greater. By upgrading to an Expert Account, you gain access to all Advanced Account feature ans more exclusive premium features. This includes the opportunity to have private consultations with analysts who can provide valuable insights and strategies. Additionally, you'll have priority withdrawal processing, allowing for smoother and faster transactions. As an Expert Account holder, you'll also be eligible to participate in exciting tournaments and unlock special bonuses tailored specifically for you.
OlympTrade vs Binomo vs IQ Option
To make it easier for you to compare brokers, we have created a detailed table that highlights the key features of each one. Simply refer to the table below to get a clear and comprehensive overview of your options:
| | | | |
| --- | --- | --- | --- |
| Brokers | Olymp Trade | Binomo | IQ Option |
| Regulation | FinaCom | FinaCom, FMRRC | CySEC |
| Trading Instruments | Stocks, Metals, Indices, Commodities, Crypto, ETF, OTC, Composites | Stocks, Crypto, Commodities, Metals | CFDs, digital and binary options*, forex, crypto, stocks, ETFs, commodities, metals |
| Minimum Deposit | $5 | $10 | $10 |
| Minimum Trade | $1 | $1 | $1 |
| Payout % | Up to 92% | Up to 90% | Up to 95%* |
| Demo Account | Yes | Yes | Yes |
| Customer Support | 24/7 Live Chat, Phone, Email, Ticket System, Contact Form | Live Chat, Email, Phone, Contact Form | Live Chat, Email, Phone, Contact Form |
* Binary options are prohibited in EEA
Olymp Trade Around the World
As stated on the official website of Olymp Trade, their platform boasts an impressive user base of over 88 million registered users hailing from more than 130 countries. This global reach showcases the widespread popularity and trust in the platform within the international trading community. Asia, Africa, Latin America, and the Commonwealth of Independent States (CIS) are considered as the most popular regions in terms of popularity. Olymp Trade, a popular trading platform, is widely used in several countries. Some of the most notable ones include India, Brazil, Vietnam, Indonesia, and Nigeria. These countries have seen significant user engagement and activity on the platform.
(General risk warning: Your capital can be at risk)
Olymp Trade Review for India, Pakistan and Nigeria
Olymp Trade has gained significant popularity, particularly in India, Pakistan, and Nigeria. These countries have a substantial and devoted customer base that gravitates towards the platform. Based on data from SimilarWeb, this website ranks among the top 10 most visited finance websites in these specific countries. Olymp Trade is a preferred choice for users in various countries due to its reputation for reliability and convenience in online trading.
Users from India, Pakistan, and Nigeria often express concerns about the safety of using Olymp Trade. It is natural to wonder about the reliability and security of online trading platforms. Olymp Trade is a secure and trustworthy trading platform that adheres to international standards and regulations. You can be confident that your investments are protected and your personal information is kept confidential. Olymp Trade holds regulation from the International Financial Commission (IFC), an independent organization dedicated to safeguarding traders' rights and interests. This regulation ensures that Olymp Trade operates transparently and adheres to industry standards.
Olymp Trade has implemented a verification system that ensures the security of its users' funds. To withdraw funds, users are required to provide proof of their identity and address. This extra step helps prevent fraudulent activities and ensures that withdrawals are processed securely. By implementing measures to prevent fraud and money laundering, businesses can safeguard themselves and their customers.
Olymp Trade is a well-known online trading platform that has gained popularity and trust among users in India, Pakistan, and Nigeria. It offers a safe and reliable trading experience while catering to the specific needs and preferences of traders from these countries. Olymp Trade is a versatile trading platform that offers a diverse selection of financial instruments. They provide users with an easily accessible and user-friendly interface, making it simple for beginners to navigate. Additionally, Olymp Trade prioritizes customer security and adheres to regulatory standards to ensure a high level of safety. They also offer educational materials and support resources to assist traders in developing their skills and knowledge in the financial markets.
If you're interested in trading forex or cryptocurrencies from these countries, consider giving Olymp Trade a try. It's a platform that provides options for trading in these markets and might be worth exploring.
Awards and Prizes
Olymp Trade as a leading online trading platform, has been recognized with a remarkable 16 awards. Here are some of the notable accolades they have received:
Olymp Trade, a earned its first accolade in 2016. Le Fonti recognized it as the "Best Trading Platform," which was a significant accomplishment for the company.
In the following year, they were honored with two additional prestigious awards: the "Innovative Broker" by IAFT and the "Best Broker" by ForexExpo.
These accolades further recognize their outstanding achievements and contributions in the financial industry. In addition, they have joined the International Financial Commission (FinaCom), an organization that offers traders independent dispute resolution and protection. This membership ensures that their clients can trust in a fair and secure trading environment.
In 2018, Olymp Trade received recognition and awards from the industry. It was honored with the prestigious "Best Trading Platform" award by TheForex Awards, highlighting the platform's outstanding performance and quality.
Olymp Trade was recognized with the prestigious "Best Mobile Trading Platform" award by World Finance in 2021. This accolade highlights the company's commitment to providing traders with a seamless and user-friendly mobile trading experience. Olymp Trade's dedication to delivering a smooth and user-friendly trading experience across various devices has been recognized with this prestigious award. The company's efforts have been applauded for ensuring convenience and seamless accessibility for its users. Olymp Trade's mobile app is designed to provide users with the same functionality as the web platform, but with added convenience of accessibility on-the-go. In addition to this, it offers exclusive features like push notifications that keep users updated and informed in real-time. This helps traders stay connected to the market and make timely decisions without being tied to their desktops.
Olymp Trade Security
Olymp Trade is a reputable trading platform that holds membership with the International Financial Commission (IFC). This organization serves as an independent body, offering dispute resolution and compensation services to traders in the event of any platform-related issues. This affiliation further enhances the trust and safety of using Olymp Trade for trading activities. Olymp Trade has been honored by the IFC with the highest category of membership, A. This recognition means that traders who have a valid claim against the platform can receive up to $20,000 in compensation. It provides an added level of security and peace of mind for users. To maintain compliance with its standards and regulations, the International Finance Corporation (IFC) conducts regular audits of Olymp Trade. This helps to ensure that the platform adheres to the required guidelines and rules set by the IFC.
To ensure the safety and security of its users, Olymp Trade implements top-notch encryption and robust security protocols. These measures are in place to safeguard their website and mobile app, preventing any potential breaches or unauthorized access by hackers. To safeguard the privacy and security of traders, Olymp Trade utilizes SSL (Secure Socket Layer) technology. This widely recognized security protocol encrypts all data transfers between traders and our servers. By doing so, it ensures that only authorized recipients can access and modify the information exchanged on the platform. To ensure a high level of security, Olymp Trade incorporates two-factor authentication (2FA) as an additional layer of verification for user identity. This means that users must go through an extra step to confirm their identity before gaining access to their accounts. By implementing this measure, Olymp Trade takes proactive actions to protect user accounts and prevent unauthorized access. Two-factor authentication (2FA) is a highly effective security measure that adds an extra layer of protection to user accounts. It involves requiring users to enter a code sent to their phone or email in addition to the standard password. This additional step significantly reduces the risk of unauthorized access, making it much harder for potential hackers to breach an account.
Deposit and Withdrawal
The ease and convenience of depositing and withdrawing funds is a crucial factor to consider when choosing an online trading platform. It directly affects your overall trading experience and the efficiency of managing your finances. Olymp Trade provides its users with a wide range of payment methods to choose from.

These include traditional options like bank cards and online banking, as well as modern alternatives such as e-wallets and cryptocurrencies. This gives users the flexibility to select the payment method that suits their preferences and needs. Let me provide you with some information about each option:
Bank cards: At Olymp Trade, you have the convenience of using either Visa or Mastercard for depositing and withdrawing funds. The minimum amount required for both transactions is $10 or its equivalent value in your chosen currency. This allows for flexibility and accessibility when managing your finances on the platform. When it comes to processing transactions, deposits are typically handled instantly, while withdrawals may take up to 5 days. It's worth noting that using bank cards for these transactions usually does not incur any commissions or fees.
E-wallets: In addition to traditional payment methods, there is an option to use popular e-wallets such as Skrill, Neteller, Perfect Money, UnionPay, and more. These e-wallets can be used to conveniently fund your account and easily cash out your profits when needed. When it comes to transactions, e-wallets offer similar minimum amounts and processing times as traditional bank cards. However, e-wallets are often recommended due to their faster and more secure nature compared to other payment methods.
Online banking: For convenient banking transactions with Olymp Trade, you have the option to directly use your bank account. Online banking services such as Help2Pay, DragonPay, NganLuong, and others are available for depositing and withdrawing funds. With online banking, you can enjoy seamless transactions without any difficulties. The minimum amount required for both deposits and withdrawals is $10. Deposits are typically processed instantly, while withdrawals may take up to 24 hours. The best part is that there are no commissions or fees associated with using online banking services..
Cryptocurrencies: In addition to traditional currency options, you have the opportunity to utilize cryptocurrencies like Bitcoin, Ethereum, Tether, and more when trading on Olymp Trade. To process any deposits or withdrawals, it is required to meet a minimum amount of $10 or its equivalent value in your cryptocurrency wallet. This threshold ensures smooth transactions and efficient management of funds. The processing time for cryptocurrency transactions varies, depending on the network speed of the specific cryptocurrency you choose to use. It is important to consider this factor when engaging in crypto transactions. Additionally, one of the advantages of using cryptocurrencies is that there are generally no commissions or fees associated with their usage, making them a cost-effective option for conducting financial transactions.
You can choose the method that suits your preferences and needs best. However, you should also be aware of some rules and conditions that apply to all transactions:
To ensure smooth transactions, it is important to note that your chosen payment method for deposits should match the one you use for withdrawals. This means that if you decide to deposit funds using Skrill, it is recommended to also use Skrill when making withdrawals. –
In order to make a withdrawal request, it is necessary to go through an identity verification process and verify your payment method. This step is taken to safeguard the security of your funds and prevent any fraudulent activities.
In order to adhere to the anti-money laundering policy, it is important to comply with any requests for proof of funds. This helps establish the legitimacy and source of your financial resources.
To ensure security and protect your financial transactions, it is important to refrain from using payment methods or accounts that are not in your name. Using third-party payment methods can expose you to potential risks and unauthorized access to your funds. It is always recommended to use official and authorized channels when conducting any financial transactions.
By following these rules and conditions, you can enjoy a smooth and hassle-free experience of depositing and withdrawing funds from Olymp Trade.
Promo codes, coupons and bonus
Olymp trade, like other brokers, also offers discount coupons and promo codes. These offers allow you to obtain advantages such as bonuses on deposits, allowing you to obtain additional funds to trade on the platform.
To redeem a Olymp Trade promo code or coupon, you can follow these steps:
1. Visit the official Olymp Trade website or open the mobile app.
2. Sign in to your account or create a new one if you haven't already.
3. Look for any ongoing promotions or offers on the homepage or "Promotions" section of the website/app.
4. If you get a promo code or coupon, copy the code.
5. Proceed to make a deposit into your Olymp Trade account.
6. During the deposit process, you will usually find a field where you can enter the promo code.
7. Paste the copied promo code into this field and continue with your deposit.
Remember that promotional codes may have specific terms and conditions associated with them, so make sure to read and understand them before using them for trading on Olymp Trade platform.
(General risk warning: Your capital can be at risk)
Customer Support
Customer support plays a critical role in any trading platform. It serves as a vital aspect that ensures users have access to prompt assistance, guidance, and resolution of issues they may encounter while using the platform. A reliable customer support team can enhance the overall user experience and instill confidence in traders, helping them navigate through challenges or concerns effectively.
How easy is it to contact the support team, and how helpful are they in resolving issues?
Olymp Trade provides multiple options for contacting their customer support team.
The company offers a convenient live chat feature that can be accessed through their website or app. This feature is available round the clock and supports multiple languages, ensuring seamless communication with customers at any time.
If you need further assistance, you can also reach out to the support team at support-en@olymptrade.com via email. They will be able to help you with any inquiries or concerns you may have.
If you prefer to use the phone to contact Olymp Trade, The Olymp Trade customer care number is +35620341634.
If you prefer not to directly contact them, there is an option to fill out a contact form on their website. Additionally, you can also visit their help center, where you can find frequently asked questions (FAQs) and tutorials for further assistance.
I personally had a positive experience with the customer support team at Olymp Trade. The team is responsive and professional, providing quick and efficient solutions to questions and problems.
Trading Education
Olymp Trade is a trading platform that caters to traders of all skill levels, providing an array of resources for both beginners and advanced traders. These resources are designed to assist users in learning and honing their skills in the trading arena. Whether you're just starting out or have extensive experience, Olymp Trade offers valuable tools and educational materials to support your growth as a trader. Olymp Trade offers a variety of educational content to its users. Some examples include:
Video lessons: The official YouTube channel hosts a vast collection of approximately 1,000 videos from expert traders and analysts. These videos offer a wealth of valuable information on various topics related to trading and analysis. Expand your knowledge on trading by accessing a variety of informative videos. These videos cover a wide range of topics, including trading strategies, technical and fundamental analysis, money management techniques, trading psychology insights, and much more. Watching these videos can help you gain valuable insights and enhance your understanding of the trading world. If you're interested in learning more about specific instruments like forex, stocks, and crypto, there are video courses available that can help you expand your knowledge. These courses offer a convenient way to dive into the complexities of these markets and understand their intricacies. By watching these videos, you can gain valuable insights and improve your understanding of how these instruments work.
Blog articles: The official blog serves as a valuable resource for traders of all levels, from beginners to experts. It provides a wide range of useful and informative content that can aid in their trading journey. Whether you are just starting out or have years of experience, the official blog is a go-to source for gaining insights and staying updated on the latest trends and strategies in the trading industry. The blog offers a range of valuable information for readers interested in the market. It covers recent market news, provides helpful trading tips and lifehacks, features articles on various trading strategies and instruments, includes user-generated content, and even offers interviews with traders. With such diverse content, readers can expect to find a wealth of relevant and useful information on the blog.
Interactive articles: Olymp Trade not only provides a high-quality trading platform, but they also offer interactive articles to enhance your learning experience. These articles allow you to learn through hands-on activities, such as quizzes and simulated trading. Additionally, you can explore various aspects of trading using interactive charts and graphs. It's a comprehensive approach that empowers traders to acquire knowledge and skills in an engaging way. These articles are carefully crafted to enhance your learning experience by making it enjoyable and captivating. They are designed to keep you engaged and excited throughout the process.
Demo account: Traders can benefit from a free and replenishable demo account, which offers the opportunity to practice trading strategies. This allows them to experiment with various trading tools and money management techniques without putting their real money at risk. You can practice online trading in a secure environment while ensuring that your actual money remains protected.
Trading Strategies and Tips
Successful trading involves a combination of skills, knowledge, and discipline. To excel in trading, it is essential to have a well-defined trading plan and stick to it diligently. By staying consistent with your plan, you can increase your chances of making profitable trades in the market. To effectively navigate the market, it's crucial to acquire skills in analyzing it using various tools. This includes both technical and fundamental approaches, such as utilizing indicators, charts, news updates, and keeping track of relevant events. These tools will assist you in making informed decisions based on market trends and developments.
Olymp Trade's official blog offers a wealth of information and examples on various trading strategies, including trend following, breakout trading, support and resistance trading, and scalping. These are among the most commonly used strategies by traders. By exploring the blog, you can gain a deeper understanding of how these strategies work and how to implement them effectively in your own trading activities.
My personal tips to start trading on Olymp Trade
1. To gain experience and knowledge without any financial risks, it is advisable to begin with a demo account. This allows you to practice and learn the ropes of a particular activity or market before committing real money. It's a valuable tool for developing your skills and understanding the dynamics involved.
2. When you begin trading with actual funds, it is crucial to avoid using money that you cannot afford to lose. This advice emphasizes the importance of being financially responsible and only investing funds that you can comfortably weather potential losses with.
3. To ensure a successful trading experience, it is crucial to establish realistic goals and set limits for your trading sessions. By setting achievable objectives, you can measure your progress and stay motivated. Additionally, setting limits helps prevent excessive risk-taking or emotional decision-making that could negatively impact your trading outcomes.
4. To effectively manage risks in your trading activities, it is recommended to utilize risk management tools like stop loss and take profit orders. These tools allow you to set predetermined price levels at which your trades will be automatically executed, helping you limit potential losses and secure profits. By incorporating these risk management strategies into your trading approach, you can better safeguard your investments and improve overall financial outcomes.
5. Maintaining a trading journal is an effective tool for monitoring your performance and enhancing your trading abilities. By documenting your trades, you can analyze patterns, identify areas of improvement, and make informed decisions based on past experiences. It serves as a valuable resource for self-reflection and continuous growth in the world of trading.
6. Control your emotions.
7. It is important to reflect on both your mistakes and successes in order to learn and grow. By analyzing what went wrong as well as what went right, you can gain valuable insights that will help you make better decisions in the future.
8. Continuously expanding and honing your trading knowledge is essential for growth and success. By consistently learning and improving, you can stay up-to-date with market trends, strategies, and techniques. This ongoing education will empower you to make informed decisions and enhance your trading skills.
Conclusion
In this Review, we will provide an in-depth review of Olymp Trade, a renowned online trading platform that has gained significant popularity worldwide. In our analysis, we have thoroughly examined the features, benefits, drawbacks, and comparative advantages of this particular broker. Additionally, we have provided valuable insights on effective trading techniques and strategies to help you achieve success in your endeavors.
Olymp Trade is an online trading platform that has gained a reputation for being reliable and trustworthy. It offers a wide range of features and tools that are designed to assist traders in achieving their financial goals. Whether you are a beginner or an experienced trader, Olymp Trade provides the resources necessary to make informed investment decisions. Olymp Trade is a versatile platform that caters to various trading preferences. Whether you're interested in forex, stocks, or fixed-time trades like binary options, you can find suitable options on their platform.
Rest assured, Olymp Trade is a legitimate and trustworthy broker that has been in operation since 2014. It has built a solid reputation over the years, making it highly reliable for traders. With a user base that spans over 30 countries, this platform boasts millions of satisfied customers who actively engage in trading on a daily basis. Its exceptional performance is demonstrated by its impressive rating of 4.48 stars out of 163 reviews on Sitejabber. Additionally, positive feedback can be found on other reputable platforms such as Trustpilot and FPA, further highlighting the platform's reliability and customer satisfaction.
(General risk warning: Your capital can be at risk)
FAQ about Olymp Trade
Is Olymp Trade safe?
Yes, Olymp Trade is safe. One of the key features that sets Olymp Trade apart as a trading platform is its notable membership in the International Financial Commission (IFC). Being a part of this prestigious organization speaks to the company's commitment to transparency, integrity, and ensuring the safety and satisfaction of its users.
is Olymp Trade legal in India?
Yes, Olymp Trade is legal in India. As of my knowledge, it would be best to consult with local regulatory authorities or seek professional legal advice to ensure accurate and up-to-date information on the matter.
Who owns Olymp Trade?
The ownership of Olymp Trade lies with Saledo Global LLC, a registered company in St. Vincent and the Grenadines.
Does Olymp Trade require ID verification?
To ensure security and comply with anti-money laundering regulations, Olymp Trade requires ID verification from its users. This process helps to protect your account and personal information, as well as prevent any illicit activities on the platform. In order to verify their accounts and withdraw funds, users are required to provide proof of identity, such as a passport or national ID card, as well as proof of address, such as a utility bill or bank statement. These documents serve to confirm the user's identity and ensure the security and integrity of the account verification process. Typically, the verification process is straightforward and efficient, ensuring a smooth and speedy experience for users.
For the demo account, the verification is not necessary as is does not include any financial transactions.