Rating: 4.5 out of 5.0 stars4.5
Free demo account: Yes
Payout: Up to 91%
Bonus: No bonus
Assets: 294+ Forex, Commodities, Stocks, Cryptos
Welcome to our comprehensive review of IQ Option, a promising platform for options trading, forex trading, and CFD trading. If you're new to online trading and need assistance navigating the complexities of this field, this online trading platform is specifically designed for you. It offers tools and features that can help simplify the process, potentially allowing you to maximize your profits.
In this comprehensive review, we will explore the various features, benefits, and potential drawbacks of IQ Option. By considering all aspects, we aim to provide you with a well-rounded perspective that will assist you in making an informed decision regarding your investment strategy.
One notable feature of IQ Option is its sophisticated trading platform. This platform not only allows you to analyze market trends effectively but also enables you to execute trades efficiently. With these advanced tools, traders can make informed decisions and navigate the complexities of the financial market with ease. With its innovative platform and easy-to-use interface, this trading option is suitable for traders of all levels, whether you're just starting out or have years of experience in the field.
IQ Option quick overview
| | |
| --- | --- |
| Broker | IQ Option |
| 📅 Founded | 2013 |
| ⚖️ Regulation | No |
| 💻 Demo | Yes |
| 💳 Minimum Deposit | $10 |
| 📈 Minimum trade | $1 |
| 📊 Assets | 294+ CFD on stocks, crypto, commodities, binary options, digital options, and ETFs |
| 💰 Return on investment | Up to 91% |
| 🎁 Bonus | No bonus |
| 💵 Deposit Methods | Wire Transfer, Bank Cards (Visa cards, Mastercard), Webmoney, Skrill, Neteller, Advcash, Perfect Money, Western Union, Bitcoin, and more… |
| 🏧 Withdrawal methods | Wire Transfer, Bank Cards (Visa cards, Mastercard), Webmoney, Skrill, Neteller, Advcash, Perfect Money, Western Union, Bitcoin and more… |
| 📍Headquarters | Hinds Building, Kingstown, St. Vincent and the Grenadines |
| 💹 Trade Types | Binary Option*, Digital Option, CFDs |
| 💻 Trading Platform | Web, Windows, iOS, Android |
| 🌎 Language | English, Spanish, Russian, Portuguese, Turkish, Thai, Indonesian, Arabic, Bengali, French, German, Swedish |
| 👨‍💻 Social Trading | No |
| 🕌 Islamic account | Yes |
| ⭐ Rating | 4.5/5 |
*Binary options are prohibited in the EEA
(General risk warning: Your capital can be at risk)
What is IQ Option?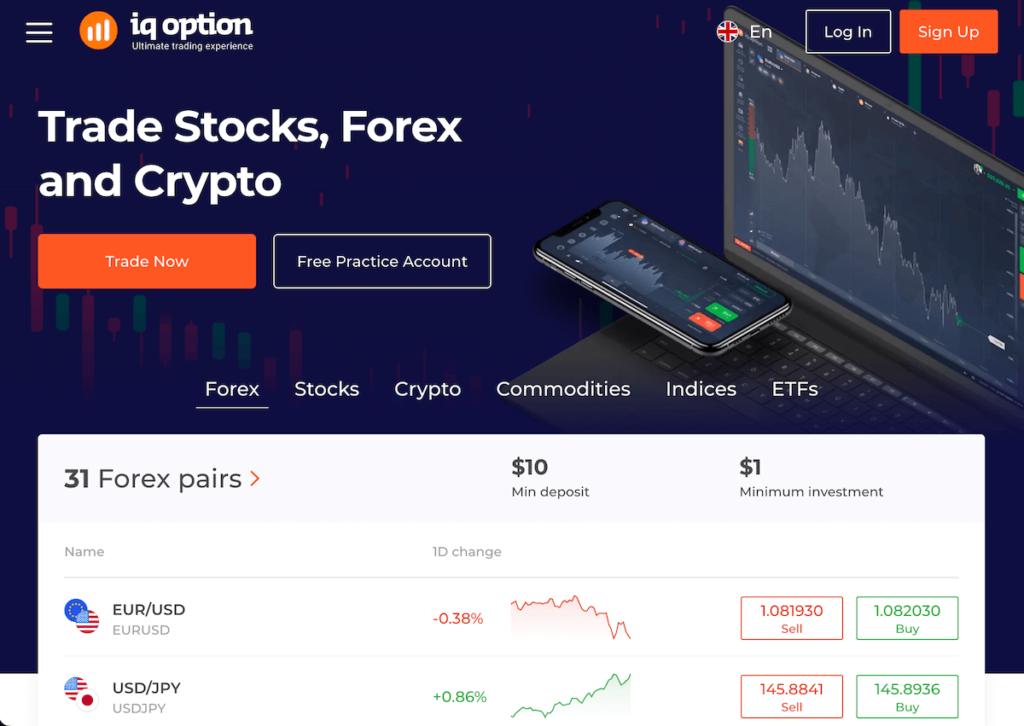 IQ Option is an online trading platform that provides a range of advanced trading features. With IQ Option, you can execute trades on various assets available in the market, giving you access to a wide range of trading opportunities. This platform is specifically tailored to meet the needs of both new and experienced traders who are interested in exploring forex, CFDs, and Digital Options trading. Whether you are just starting out or have some experience in the field, this platform provides the necessary tools and resources to help you navigate these markets effectively.
The platform offers a diverse selection of charting tools and trading indicators. These tools aid traders in monitoring the market and executing trades based on their unique trading strategies.
To help users fully experience and understand their trading platform, IQ Option provides a free demo account. This allows individuals to explore all the features and functionalities of the platform at no cost. Additionally, it can assist in developing effective trading strategies by providing a risk-free environment for experimentation and learning. This platform has a wide range of assets available for trading purposes, which includes 294 options. These assets cover a variety of categories such as Forex currencies, stocks, ETFs, commodities, cryptocurrencies, and Indices. This diverse selection allows users to explore different markets and investment opportunities.
On this platform, you have the option to utilize leverage of up to 1:1000, which can greatly amplify your trading capabilities. In addition to their services, this broker also provides a native mobile app that allows users to conveniently access their platform from their smartphones or tablets.
When it comes to online trading, IQ Option stands out as a trusted broker. Their proprietary platform is not only user-friendly but also offers multi-asset trading options. With IQ Option, you can easily navigate through the markets and execute trades with confidence. IQ Option offers a wide range of trading options, including forex, stocks, cryptocurrencies, indices, commodities, and ETFs. The best part? They have competitive fees and an impressive selection of extra features to enhance your trading experience. Additionally, they provide valuable educational content to help you stay informed and make informed investment decisions. You can also open an account with just $10.
As a financial services provider managed and owned by IQOption LLC, based in Saint Vincent and the Grenadines, they have a wealth of experience in offering top-notch online trading services. Rest assured that they are continuously growing their offerings to meet the evolving needs of their valued clients.
IQ Option has recently stepped up its offer by introducing margin trading. This strategic move places them shoulder to shoulder with the more established brokers and CFD providers in the industry. It's a clear indication of their commitment to providing a comprehensive and competitive trading platform for their users.
Pros
User-friendly platform for beginners
High payouts on binary options trading
Wide range of payment methods
24/7 multilingual support
iOS and Android trading apps
Margin Trading feature on forex
Cons
No MetaTrader 4 integration
A fee of €10 is charged after 90 days of inactivity
(General risk warning: Your capital can be at risk)
Prizes and awards
IQ Option has consistently been recognized with various prestigious awards, further validating its excellence in the industry. Some of the recent accolades achieved by IQ Option include:
"Excellence In Forex Trading Platform Global" –Global Business Review (2022)
"Best Trading Platform" –FX Daily Info (2022)
"Fastest-Growing Online Broker in Asia" –International Business Magazine (2022)
"Best Trading Experience" –WorldForexAward (2022)
Most Innovative Trading Platform Globe 2023
The IQ Option trading platform has received recognition for its innovation by globally respected media platforms that closely monitor the business industry. This acknowledgment highlights the dedication to pushing boundaries and staying at the forefront of technological advancements.
The worldwide landscape recognizes and celebrates companies that demonstrate exceptional customer service, innovation, leadership, and sustainability. IQ Option go above and beyond in these areas, setting the bar high for industry standards.
IQ Option Features
Fast-Growing Brand. IQ Option is a rapidly expanding online trading company that boasts an impressive global presence. If traders are looking for a broker with a solid track record, they will find this company appealing. It has successfully operated in the industry for almost ten years, indicating its stability and longevity. According to the IQ Option website, they currently boast approximately forty million members. This broker has certainly made a significant impact in the industry.
Video Tutorials. It is always a positive experience to come across a broker that provides educational tools, even if they may be limited in nature. While IQ Option may not offer as extensive resources as some other brokers, they do provide their traders with valuable video tutorials. These tutorials cover a range of topics including basic information, margin trading, fundamental analysis, CFD trading, and technical analysis. This can be particularly helpful for traders who are looking to enhance their knowledge and skills in these areas. In addition to that, you can also find videos that provide insights into the company's background and its rich history.
Stock Collections. Trading stocks can be a potentially lucrative endeavor, and IQ Option offers a convenient platform that combines various collections of stocks in one place. This allows traders to easily access and manage their investments without the need for multiple accounts or platforms. These collections consist of a variety of investment options, including IT & Internet Blue Chips, Big Game of Money, 10 Dividend Kings, 10 Largest U.S. Companies, Warren Buffett's favorites, and many more. These selections offer diverse opportunities for investors looking to explore different sectors and strategies. In various industries like energy, materials, industrials, consumer discretionary, and more, there are collections that exist. These collections may encompass different types of resources or assets specific to each industry.
Cryptocurrency Trading. Throughout its years in operation, IQ Option has established itself as a reputable cryptocurrency broker. Renowned for its extensive selection of coins, this platform offers traders a diverse range of options to choose from. Traders have the option to select from a wide range of digital assets, which includes both major and minor cryptocurrencies. These assets offer an appealing choice for those seeking a decentralized form of currency, albeit with the understanding that they can be volatile in nature.
Access to Historical Quotes. With IQ Option, traders have the ability to access a valuable feature – historical quotes. This allows them to view past exchange rates of various financial instruments, such as currency pairs. By examining these historical quotes over time, traders can gain insights and make more informed decisions in their trading activities. Feel free to download this valuable information. It can be used for testing and implementing various analyses and strategies.
Tournaments. This broker's website mentions that they occasionally organize Online Tournaments for traders. Participating in these contests can be quite enjoyable as they offer an exciting opportunity for traders to showcase their skills and compete against other participants.
Customer Support. At IQ Option, you can benefit from their round-the-clock customer support available in more than a dozen languages. This level of service surpasses what is typically offered by other brokers in terms of both the extended hours of availability and the ability to assist customers in multiple languages.
IQ Option Trading Platforms
Why settle for a run-of-the-mill trading platform when you can experience the unparalleled benefits of IQ Option's unique proprietary platform? Designed with the sole purpose of meeting your individual trading requirements, this cutting-edge platform sets itself apart from the competition. It offers an exceptional level of customization and functionality, ensuring that every client can navigate the financial markets with ease and precision. With IQ Option's innovative approach, your trading experience is elevated to a whole new level.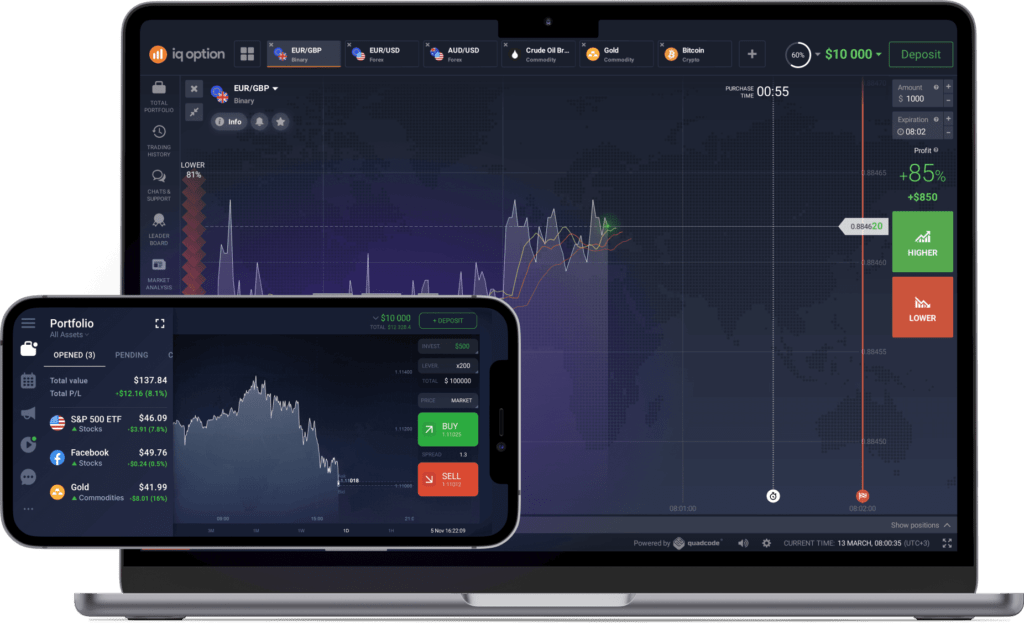 IQ Option trading platform: The IQ Option proprietary platform is a trading platform specifically developed and owned by IQ Option. It offers users a range of features and tools for trading various financial instruments, including stocks, cryptocurrencies, forex, and commodities. The platform is designed to be user-friendly, with intuitive navigation and customizable settings. Traders can access real-time market data, perform technical analysis, execute trades quickly and efficiently, and track their portfolio performance. With its proprietary platform, IQ Option aims to provide an accessible and efficient trading experience for both beginner and experienced traders alike.
IQ Option mobile app: The IQ Option app is available on both Google Play and the Apple App Store. This allows users of both Android and iOS devices to easily access and download the app. Whether you have a Google device or an Apple device, you can enjoy the benefits of using the IQ Option app for trading purposes.
The platform is built to cater to both CFDs and option trading. Its user-friendly design makes it easy for traders to navigate through. The inclusion of a large chart on the platform is particularly helpful for those who want to closely monitor market conditions. Unlock the power of margin trading with select instruments. Now, you have the opportunity to maximize your returns and explore new investment possibilities. Take advantage of this exciting feature and elevate your trading experience to new heights.
Moreover, this platform offers an extensive range of trading tools that are unparalleled in the market. These tools go beyond what you would typically find on other trading platforms, giving you a significant edge in making informed investment decisions. This trading platform offers a range of powerful tools to enhance your trading experience. These advanced tools include widely used technical indicators like Moving Averages, Bollinger Bands, MACD, and RSI. By incorporating these indicators into your analysis, you can make more informed trading decisions and increase your chances of success in the markets.
IQ Option has taken a step forward by introducing exciting new features to their platform, designed to enhance flexibility for traders. Among these features is the 'position top-up' option, which empowers traders to keep a trade open even if it's nearing a stop loss. This added capability provides traders with greater control over their investments. With IQ Option's commitment to empowering traders, they continue to demonstrate why they are one of the leading platforms in the industry.
By incorporating this tool, traders have greater flexibility to let their trades bounce back before deciding to close them. It does require a disciplined approach, but it opens up new possibilities for risk management and trading strategies.
IQ Option App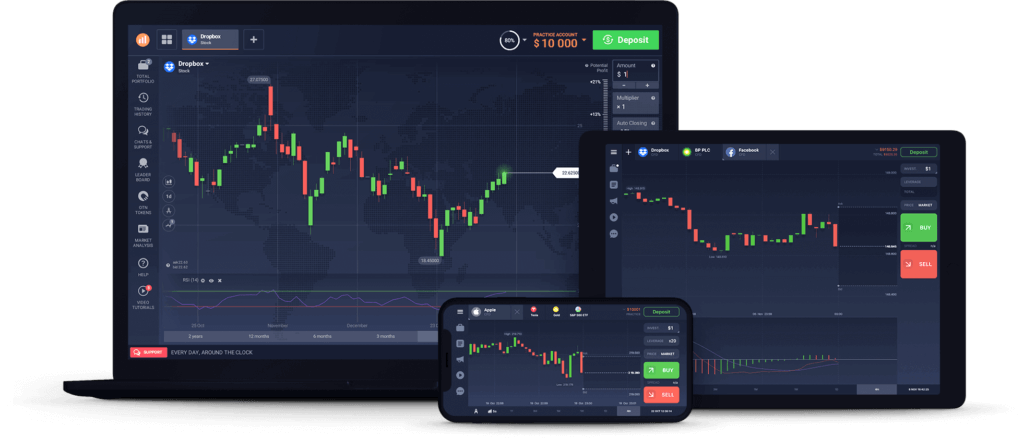 If you're a trader who can't stay glued to your trading terminal for long periods of time, IQ Option has got you covered. They offer a free mobile trading app that allows you to trade on the go, giving you the flexibility and convenience that fits perfectly with your busy lifestyle. No need to worry about missing out on important opportunities – simply install the app and start trading anytime, anywhere.
Experience the convenience of the IQ Option app, meticulously crafted for smartphones and other mobile devices. Stay connected to your trading activities on the go as it empowers you to effortlessly check your account status, stay updated with market developments, and execute trades seamlessly. It's a game-changer that puts control at your fingertips anytime, anywhere.
Trading and Investment Tools
| | |
| --- | --- |
| One Click Trading | Yes |
| Market Order | Yes |
| Stop Order | Yes |
| Limit Order | Yes |
| Trailing Stop Order | Yes |
| OCO Orders | Yes |
| Trade off Charts | Yes |
| Email Alerts | Yes |
| Mobile Alerts | Yes |
| 24hr Trading | Yes |
| Charting Package | Yes |
| Streaming News Feed | Yes |
Trading Accounts
IQ Option presents an array of trading account options to cater to different traders' needs. One of their popular choices is the standard account, which can be opened with a minimum deposit of just $10. This low entry requirement allows users to start their trading journey with ease and flexibility.
For aspiring traders looking to test the platform, IQ Option offers a hassle-free solution: the demo account. Unlike some brokers who require clients to make a pre-deposit, the demo account at IQ Option is completely free of charge. This allows you to explore and experience the trading platform without making any financial commitments upfront.
The demo account is the perfect tool for honing your trading skills. It comes with an impressive $10,000 worth of practice money, allowing you to execute trades and gain hands-on experience without any financial risk. You can take advantage of this opportunity to refine your strategies and become a confident trader in no time.
Account Types
Discover a plethora of account options available with IQ Option. Our comprehensive IQ Option review provides detailed information on each account type, ensuring you can choose the one that best fits your trading goals and preferences. Gain access to exciting trading competitions hosted on the IQ Option platform. By participating, you can take advantage of additional returns of up to 3%. Choose from three different types of accounts available: the Demo account for practicing and honing your skills, the Standard account for regular trading activities, and the VIP trading account for exclusive benefits and perks.
IQ Option Demo Account
IQ Option, like many other trading platforms, offers a valuable feature: a free demo account. The beauty of this feature is that you can utilize it for as long as you want. By accessing the demo trading platform, users are granted $10,000 virtual funds which they can replenish at any given time. This allows traders to practice and refine their skills without putting their own capital at risk.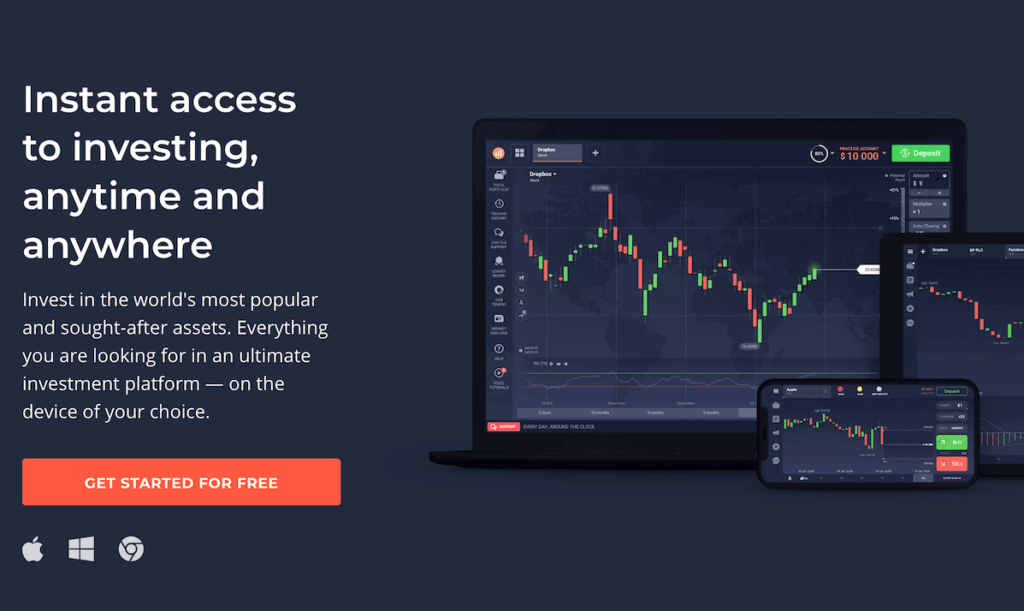 The primary objective of this feature is to provide users with valuable education about various trading strategies. By familiarizing them with different approaches, it empowers individuals to make informed decisions before investing their hard-earned money. Additionally, it allows users to experience the platform's features firsthand, enabling them to fully explore and understand its capabilities prior to committing any funds.
The demo version of IQ Option is the ideal starting point for new users. It allows you to become familiar with all the features and functionalities without any financial risk. In this account, traders can test out various trading strategies to gain confidence and refine their skills. Once you're ready to take it to the next level, opening a real account requires a minimum deposit of just $10, making it accessible to everyone.
Rest assured, when you decide to open a real account, your demo account will still remain active. You don't have to worry about losing access to it. The option of using both the real and demo accounts simultaneously gives you the flexibility and freedom to explore different strategies and test them out without any limitations. With this, you can make real investments and trade assets. You can gain access to the demo version by completing a quick and hassle-free sign-up process. Unlike other online trading platforms, IQ Option prioritizes simplicity and convenience for our users.
Standard Account
The standard accounts provide a seamless trading experience with real money and in real time. With over 300 underlying assets to choose from, including cryptocurrencies, CFDS, digital options, binary options, and currency pairs, you have a diverse range of options at your fingertips. Open a standard trading account with just a minimum deposit of $10! With this low entry requirement, you can start your trading journey without breaking the bank. Take advantage of this opportunity to explore the world of trading and potentially unlock new financial opportunities.
With IQ Option, beginners can rejoice as they offer a minimum trade size of just $1. This flexibility makes their platform extremely convenient for those who are new to trading and looking to dip their toes in the market.
VIP Account
IQ Option provides a VIP trading account exclusively designed for traders who make substantial deposits (the specific deposit amount may vary). As the name implies, this account offering is exceptional and tailored specifically to meet the needs of VIP account holders. Upgrade to a VIP account and unlock a world of exclusive benefits. Enjoy the dedicated support of a personal account manager who will guide you every step of the way. Plus, receive an additional 3% returns on your trades, monthly reports to keep track of your trading records, and complimentary entry into exciting trading tournaments hosted by IQ Option. Don't miss out on these incredible perks – take your trading experience to new heights with the VIP account!
In addition to all the benefits of being a VIP account holder, you also gain access to personal tutoring and extra educational materials specifically tailored to enhance your trading skills. This exclusive feature sets you apart from standard users, giving you an invaluable advantage in the world of trading.
(General risk warning: Your capital can be at risk)
Bonuses and Promotions
As a responsible financial company, IQ Option has made the decision to align with industry standards and discontinue the offering of deposit bonuses. IQ Option believes in promoting transparency and ensuring that clients receive the best possible trading experience without any additional incentives that may compromise their financial decisions. IQ Option's focus remains on providing a reliable platform and valuable services to help you achieve your investment goals.
At IQOption, traders have an exclusive opportunity to engage in exciting trading competition as their primary promotional offer. By paying an entrance fee, they can join this thrilling competition and compete for generous prizes ranging from $100 all the way up to approximately $100,000. It's a chance for traders to showcase their skills and potentially earn substantial rewards through friendly competition.
Assets and Markets
At IQ Option, traders are granted access to a diversified range of 300 underlying assets. This impressive selection consists of 31 currency pairs, 12 market indices, 194 stocks, 9 commodities including gold and Oil WTI and Brent, and 22 ETFs. With such a wide variety to choose from, traders have ample opportunities to explore and capitalize on different market dynamics.
IQ Option has recently expanded its offerings and now provides a vast selection of 26 cryptocurrencies for its clients to trade. This exciting addition not only diversifies trading opportunities but also caters to the growing demand for digital assets. With IQ Option, clients can explore and capitalize on the potential growth of various cryptocurrencies in today's dynamic market.
The trading market is always expanding, offering more opportunities for investors. Just recently, IQ Option broadened its range of forex pairs and company stocks and shares, surpassing an impressive total of 294 options. This expansion allows IQ Option clients to have even more diverse investment possibilities at their fingertips.
Prepare for the continued expansion of this firm in all sectors. Their reach extends to various markets, including commodities such as oil, gold, and silver which have been added to their digital trading asset lists. With such diverse offerings, there are endless opportunities for profitable investments.
You'll notice that minimum trade sizes can vary depending on the product. For instance, you can open binaries and digital options for as low as $1. However, when it comes to Forex CFDs, the minimum trade size is set at 0.001 lots.
Binary Option Trading
IQ Option is recognized as a highly regarded broker for binary options and digital trading. Their platform is designed to be user-friendly, allowing traders to easily navigate and execute trades. Additionally, they offer the advantage of a low initial deposit requirement, providing accessibility for individuals looking to start trading with a smaller investment. To potentially earn a predetermined payout of up to 95% or more, all you need to do is make a decision on whether the price of an asset will increase or decrease.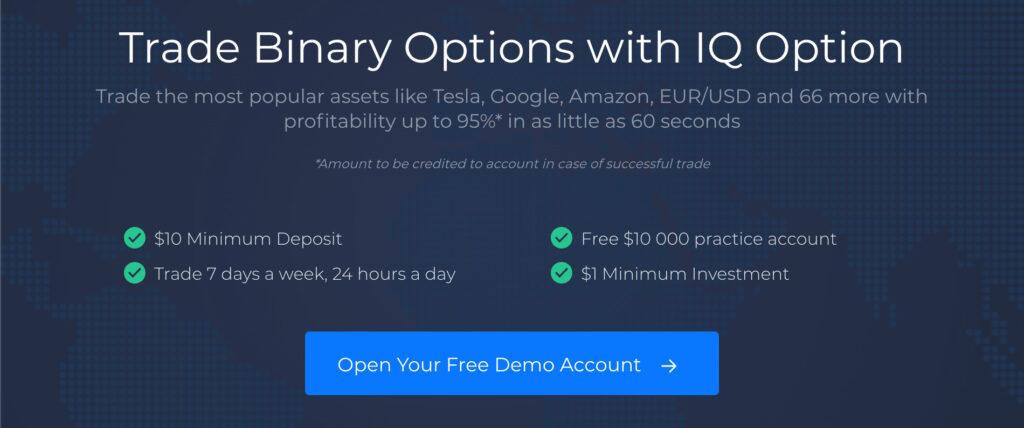 Digital Options and FX Options
IQ Options is a platform that enables you to engage in trading activities involving Binary and Digital options. One of the notable advantages of using IQ Options is the continuous expansion of their available markets, offering traders an increasing variety of options to choose from. This ensures that users have access to a wide range of trading opportunities, contributing to a dynamic and evolving trading environment. The profitability of trading depends on the specific asset being traded. The trading user interface is equipped with helpful search functions that assist users in finding their desired assets. This financial instrument enables users to make predictions on the price movements of these assets, thereby influencing potential profits.
IQ Option is a well-known platform that offers binary option trading. However, it's important to note that EU citizens don't have access to binary options. You can try out a free demo account, which is valid for testing purposes. To get started with real trading, a minimum deposit of $10 is required, along with a minimum investment of $1 per trade. If you make correct predictions, you have the potential to earn profits of up to 96%.
In addition to its other features, IQ Option also offers the ability to trade digital options. Traders have a wide range of choices, with over 20 assets available, including commodities and currencies. Traders are given the option to select from a variety of strike prices. This trading platform boasts attractive payouts, with potential returns up to 600%. If you enjoy trading on the weekends, IQ Option offers an Over-the-Counter (OTC) digital option on their trading platform. This allows you to engage in trading activities even when traditional markets are closed.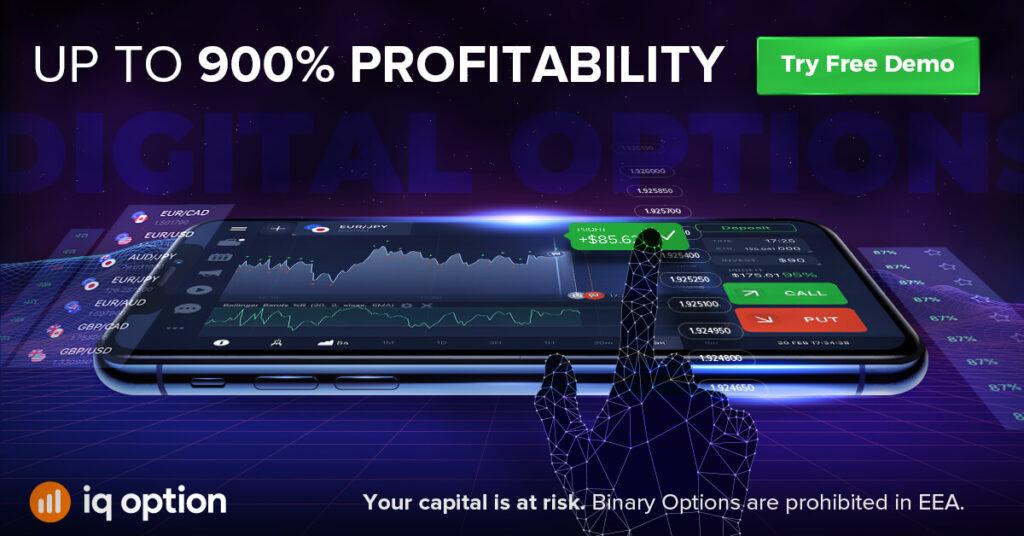 Forex Trading
IQ Option is a trading platform that offers CFD (Contract for Difference) trading on 31 forex currency pairs. These assets include major currency pairs, as well as some minor currency pairs. This gives traders a wide range of options to choose from when participating in the forex market. In accordance with local regulations, traders have access to a maximum leverage of 1:1000. While the broker does offer commission-free trades, it's important to note that their spreads tend to be on the higher end. As a result, this particular brand may not stand out in terms of competitive pricing when compared to others in the market.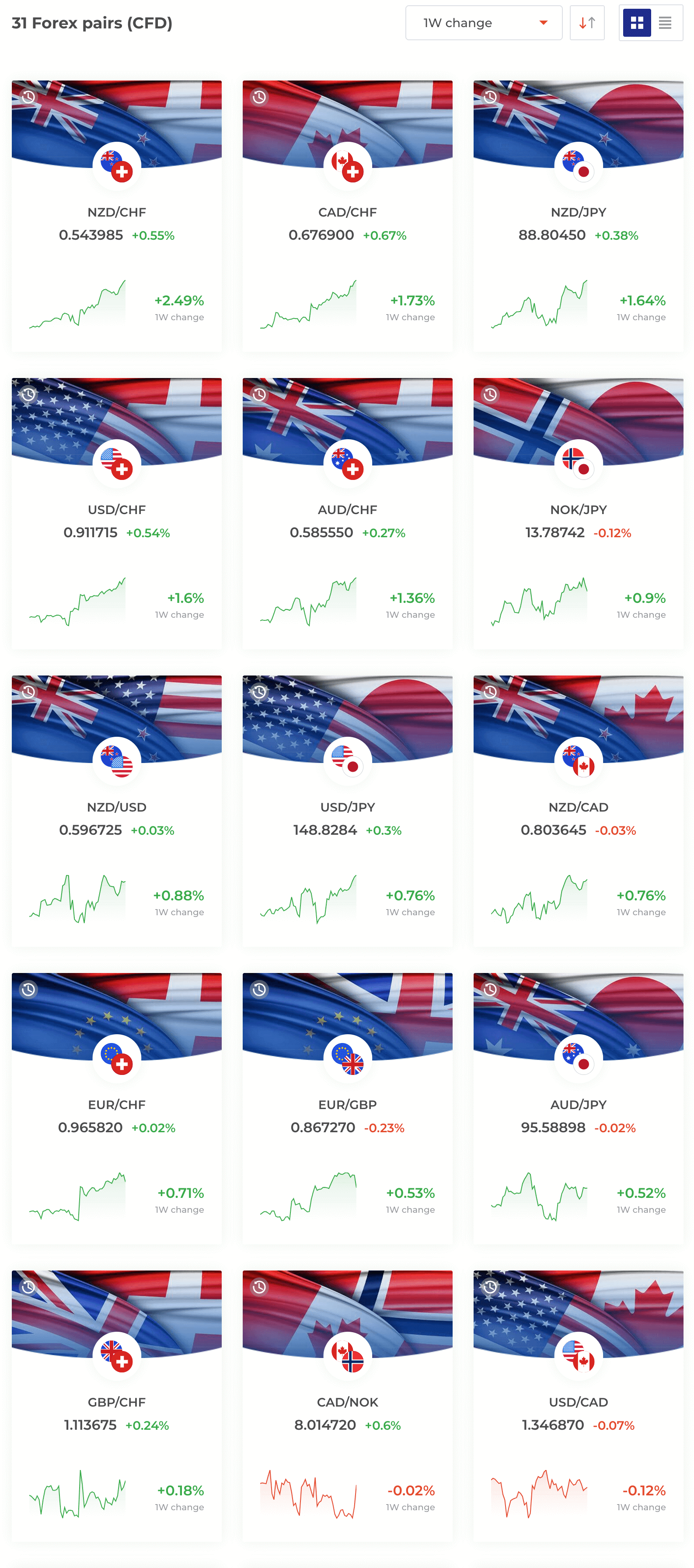 Stocks Trading
IQ Option traders have access to a wide range of stocks, with over 194 options available. These stocks are traded through Contracts for Difference (CFDs), which means that traders do not actually own the underlying equities physically. This allows for greater flexibility in trading and eliminates the need for physical ownership of the stocks. Traders using IQ Option have the opportunity to speculate on price movements of stocks with leverage of up to 1:20. This means they can potentially maximize their trading positions and potential profits. Additionally, IQ Option offers a range of stock collections that are quite useful. These collections include stocks from major US companies, as well as AI-related stocks and even Warren Buffet's favorite picks. This provides traders with a diverse set of options to choose from when building their investment portfolios.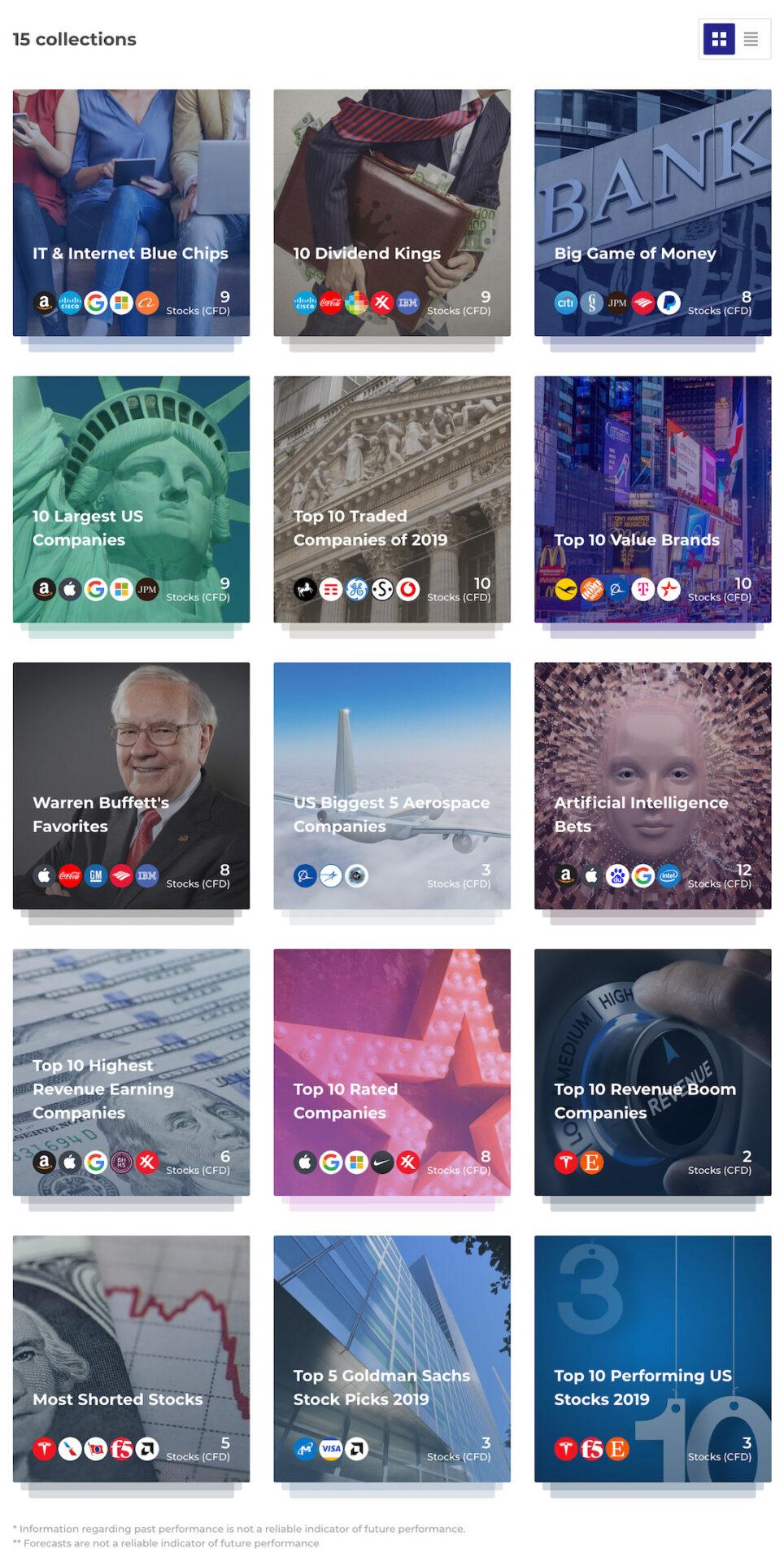 CFD Trading
IQ Option specializes in offering Contract for Difference (CFD) trading services. CFDs are available for various markets, including stocks, forex, cryptocurrencies, and more. This allows traders to speculate on the price movements of these assets without actually owning them. The maximum leverage is 1:1000 for major forex pairs. However, for assets that are considered more volatile, the available leverage is lower.
Crypto Trading
IQ Option is a well-regarded cryptocurrency broker known for its extensive offerings. They provide traders with the option to use multipliers and access a wide range of digital currency markets, such as Bitcoin, Ethereum, and Cardano. One of their standout features is the ability to leverage up to 1:10, allowing for potentially higher returns on investment. Additionally, IQ Option offers a variable spread and does not charge any commission fees. The intuitive trading software is highly rated by newer traders. It offers a user-friendly interface and features that make the trading experience more accessible and seamless for them.

Cryptocurrency Multiples
IQ Option has once again introduced an innovative product known as Cryptocurrency Multiples. These unique offerings function in a similar way to leveraged trades, amplifying the impact of price movements in the underlying assets.
IQ Option pioneered the concept of "Bitcoin x2," which involves amplifying the price movements of Bitcoin by a factor of two. This innovation has created greater opportunities for traders, allowing them to potentially earn higher returns. However, it's important to note that this approach also comes with increased risk due to the amplified volatility.
Due to the immense popularity of the product, The firm has decided to extend its concept to other cryptocurrencies such as Ethereum, IOTA, Ripple, and more. This expansion has resulted in a significant multiplier factor of x2 on all available cryptocurrencies.
(General risk warning: Your capital can be at risk)
Trading Costs And Fees
To determine the expenses involved with trading at IQ Option, you can rely on their commitment to transparency. They provide clear information about their fees and costs, ensuring that you have a comprehensive understanding of what to expect. It's essential to consider the following factors when assessing the costs associated with trading at IQ Option:
Spreads – Spreads refer to the variation between the buy and sell prices of a financial instrument. They are not fixed and can fluctuate based on factors such as market volatility, liquidity conditions, and even the specific time of day.
Swap Fees – Swap Fees are charges that are incurred for keeping positions open overnight. Depending on the broker or financial institution, these fees typically range from 0.1% to 0.5% of the position's value. It's important to note that swap fees tend to be higher when positions are held over the weekend due to extended market closures and increased risks associated with those days. Clients from around the world are now able to enjoy zero swap trading conditions. This allows them to participate in trading activities without having to pay any additional fees for holding positions overnight. It provides a more cost-effective and convenient option for international clients who are looking to maximize their trading opportunities.
Dormant Account Fees – After a period of 90 days of inactivity, IQ Option will begin to impose a monthly charge of €10 (or the equivalent in your currency) on accounts with a positive balance. This policy aims to encourage account usage and prevent dormant accounts from accumulating.
Withdrawal Fees – Customers are entitled to one free withdrawal per month. However, for any additional withdrawals after that, a fee is charged at a rate of 2% of the amount withdrawn. It's important to note that this fee will not be lower than $1 nor exceed $30. Additionally, bank transfers come with a charge of $31 or its equivalent in your preferred currency.
Commission – When engaging in specific cryptocurrency trades, a commission fee of 2.9% will be applied. However, it's important to note that this commission does not apply to any other type of asset or trade.
IQ Option Pricing
When using IQ Option, it's important to be aware of certain fees, one of which is a second withdrawal fee. This fee amounts to 2% of the withdrawn amount. This rule specifically pertains to the client's second withdrawal in a given month, not the first one. The fee for this service remains unchanged and is not subject to change. Additionally, IQ Option imposes a 10 euro dormant account fee after ninety days of inactivity.
IQ Option imposes an underage account fee of 20 euros in the event that they need to close an account due to verification that a user is not of legal age in their country of residence. The level of leverage a client can obtain is determined by factors such as the type of asset being traded and the geographical location of the trader. These factors play a significant role in determining the amount of leverage available to clients.
Non-EU Countries and Traders receive Leverage of up To:
Standard Crypto CFDs: 1:10
Forex: 1:1000
Stock CFDs: 1:20
ETFs: 1:100
Commodities: 1:150
Stock Indices: 1:150
Special Crypto CFDs: 1:100
How to Open an IQ Option Account?
IQ Option stands out as a top trading platform in the present day. If you're interested in setting up an account, simply visit the official IQ Option website. From there, you can proceed with the necessary steps to get started.

(General risk warning: Your capital can be at risk)
Sign-up
To join, simply enter your email address and create a password. After completing this step, the system will send you an email containing a link to verify your account. Just click on the link and confirm your credentials.
Try the demo account
Sign in to your account and start trading on the demo. When using IQ Option, traders have access to a wide range of tradable assets including CFDs, cryptocurrencies, commodities, and more. You can choose the asset that aligns with your preferences and deposit funds into your account to begin trading in real money. You can use the free demo account to trade and try the platform before depositing money
Start Trading
After you have finished selecting your assets, simply click on the "Trade now" button to initiate the trading process. Whether you prefer using a browser or a mobile app, you can enjoy trading on both platforms. You can choose according to your convenience.
(General risk warning: Your capital can be at risk)
Customer Support
IQOption is known for its excellent customer service, which is one of its biggest advantages. Their dedicated support team is always available to assist clients with any queries or concerns they may have.
In order to cater to the needs of traders at IQOption, the broker has made sure that their support services are accessible round-the-clock. This means that traders can seek assistance whenever they need it, regardless of the time or day.
Users have multiple options to reach out to the support team, including email, live chat, or telephone. These various channels ensure that users can choose the most convenient and preferred method of communication for their specific needs. In order to cater to traders who may not be fluent in English, IQOption has gone the extra mile by translating their website into multiple languages. This enables traders from various language backgrounds to comfortably navigate and use their platform.
Contact Info
Website: https://iqoption.com/
Email: support@iqoption.com
Telephone: +13468009001 (English)
Company Address: Hinds Building, Kingstown, St. Vincent and Grenadines
Service Details
| | |
| --- | --- |
| Customer Service Hours | 24/7 |
| Customer Service By | IQ Option |
| Personal Account Manager | For VIP Clients |
| Email Response Time | Within 24 Hours |
| Telephone Orders | No |
| Supported Languages | 17 Languages |
Deposit and Withdrawal
IQOption offers multiple options for funding trading accounts, providing convenient and flexible methods for traders to transfer funds. With their support, you can choose from various fund transfer options that suit your preferences and needs.
There are several methods available for transferring funds, such as credit cards, e-wallets, and bank wire transfers. These options provide convenient ways to securely move money from one account to another.
You can conveniently make payments using major credit cards like VISA and Mastercard. In addition to that, there are also e-wallet options available for you to choose from. These include well-known wallets like Neteller, Skrill, Perfect Money, and Webmoney.
In order to withdraw funds, traders are required to use the same methods they initially used for making a deposit. This ensures consistency in the transaction process and helps maintain security measures.
Withdrawal requests are usually processed within one business day, but if you choose to withdraw funds using eWallets, the processing time can be expedited to just a few hours.
When it comes to withdrawing funds through credit cards or bank wire transfer, it's important to note that the entire process can take up to 10 business days to be fully completed. This duration includes the time required for verification, processing, and transferring of funds. It's always a good idea to keep this timeline in mind when planning your financial transactions.
With the growth of Asian markets, IQ Option has recognized the opportunity to expand their presence in this region. As a result, they have introduced bank transfer options that are now available from a diverse range of banks in the area. This allows for more convenience and accessibility for users in these markets.
Thailand: Here are some notable banks in Thailand: Bangkok Bank, Kasikorn Bank, Krung Thai Bank, Siam Commercial Bank, Bank of Ayudhya, Government Savings Bank, TMB Bank (formerly known as Thai Military Bank)
Vietnam: These are some of the prominent banks in Vietnam: Vietcombank, Asia Commercial Bank, Bank for Investment and Development, Techcombank, Vietin Bank, Sacombank, Donga Bank, and Eximbank.
Malaysia: These are some of the major banks in Malaysia: Maybank, Hong Leong Bank, RHB Bank, Public Bank, CIMB Bank, and AmBank. They play a significant role in the country's financial industry and offer a wide range of services to meet the banking needs of individuals and businesses alike.
Philippines: Help2Pay is a versatile payment solution that caters to customers of both BDO (BDO Unibank) and MTB (Metrobank). This means that users can conveniently transact with either bank through the Help2Pay platform.
China Union Pay offers a convenient solution for traders in mainland China and Hong Kong by providing facilities for both deposits and withdrawals.
Traders from South America have also payment methods specific to their countries
Brazil: Jeton Wallet supports Boleto Bancario, while AstroPay supports a wide range of payment methods, including Boleto, Itau, Bradesco, Banco do Brasil, Caixa, and Santander.
Argentina: AstroPay supports various banks, including Pago Fácil, Santander, and Banco Galicia. These banks allow users to conveniently make payments using the AstroPay platform.
Perfect Money, a widely used online payment system, is not limited to any specific region and can be utilized across South America, including Colombia. Moreover, Perfect Money is also a viable option for individuals in Nigeria and Pakistan.
Jeton, a payment provider, will be extending its support to traders on the IQ Option platform from India. Additionally, there has been an inclusion of various banks that specifically cater to South African traders.
Payment Methods
Skrill
Yandex Money
QIWI
Wire Transfer
Alipay
Perfect Money
MoneyGram
Credit Card
Vietcombank Transfer
ADVcash
Maestro
Sofort
GlobePay
Boleto
Is IQOption suitable for day trading?
When selecting a broker for day trading, it is crucial to examine the range of instruments they offer. This factor can greatly impact your trading strategy and potential profitability.
IQ Option is a reputable broker that offers the advantage of trading Contracts for Difference (CFDs). This means that traders can easily open and close their market positions whenever they want. Due to this flexibility, IQ Option is considered a suitable broker for day trading.
Moreover, the broker has established a reputation for being trustworthy and reliable. With millions of registered users worldwide, you can be confident that your funds will be managed in a professional and ethical manner.
Accepted Countries
On the platform, there are certain restrictions on trading for traders from multiple countries. To get the most accurate and current information regarding this, it is recommended to refer to the official website where you can find an up-to-date list of countries affected by these restrictions.
(General risk warning: Your capital can be at risk)
Full list of restricted countries and regions: Afghanistan, Sovereign Base Areas of Akrotiri and Dhekelia, Åland, American Samoa, Anguilla, Australia, Austria, Azores, Bangladesh, Belarus, Belgium, Bhutan, Bulgaria, Cambodia, Canada, Canary Islands, Ceuta, Comoros, Cook Islands, Crimea (Ukraine), Donetsk & Luhansk People's Republics (Ukraine), Republic of Abkhazia & Republic of South Ossetia (Georgia), Transnistria (Pridnestrovian Moldavian Republic; Moldova), Croatia, Cuba, Cyprus, Czech Republic (Czechia), Democratic People's Republic of Korea (North Korea), Democratic Republic of the Congo, Denmark, Equatorial Guinea, Eritrea, Estonia, Ethiopia, Faroe Islands, Finland, France, French Guiana, Germany, Gibraltar, Greece, Guadeloupe, Guam, Guernsey, Guinea-Bissau, Haiti, Hungary, Iceland, Iran, Ireland, Israel, Italy, Japan, Jersey, Kiribati, Kosovo, Latvia, Libya, Liechtenstein, Lithuania, Luxembourg, Macau SAR, Madeira, Mali, Malta, Marshall Islands, Martinique, Mayotte, Melilla, Micronesia Federated States, Monaco, Montserrat, Myanmar (Burma), Nauru, Netherlands, Niue, Norfolk Island, Northern Mariana Islands, Norway, Palau, Palestine, State of, (Occupied Palestinian Territory), Pitcairn Islands, Poland, Portugal, Puerto Rico, Réunion, Romania, Russia, Saint Helena, Ascension, and Tristan da Cunha, Saint Martin, Saint Vincent and the Grenadines, Samoa, San Marino, Sao Tome & Principe, Slovakia, Slovenia, Solomon Islands, South Georgia and the South Sandwich Islands, South Sudan, Spain, Sudan, Svalbard, Sweden, Switzerland, Syria, Taiwan (Republic of China), Timor-Leste (East Timor), Tokelau, Tonga, Turkmenistan, Turks and Caicos Islands, Tuvalu, United Kingdom, United States, Vanuatu, Vatican (Holy See), Virgin Islands, U.S., Western Sahara (Sahrawi Arab Democratic Republic), Yemen.
Currently, it is not permitted for individuals from these regions to open accounts.
IQ Option Reliability and Security
The IQ Option blog emphasizes the importance of secure fund storage for this broker. They prioritize the safety of their clients' funds and take necessary measures to ensure their protection. In terms of reliability, IQ Option offers its own platform that is specifically designed to meet the needs of traders. This platform boasts various features such as analysis and alerts, a Trading Community for social interaction, and risk management add-ons to ensure a safe trading experience. If you're specifically interested in using the MetaTrader suite, it's important to note that IQ Option offers its own platform for traders. Therefore, those seeking the MetaTrader suite should explore other options available elsewhere.
IQ Option User Experiences
When examining feedback from various consumer platforms, IQ Option has garnered a blend of positive and negative reviews. IQ Option has received several ratings from different sources. These ratings provide valuable insights into the performance and reputation of IQ Option. Let's take a look at some of these ratings and their respective sources.
Google Play: 4.5/5 (App Rating)
Apple App store: 4.1/5 (App Rating)
Trustpilot: 4.3
Binary-option.co: 5/5
Investing: 4.5/5
Fortunly: 4/5
Trade Options With Me: 1.8/10
WikiFX: 1.9/10
UpSkillsWise: 4.2/5
FX Scouts: 3.4/5
Tech Radar: 4/5
Conclusion:
IQ Option is a reputable broker that offers a range of appealing features. One standout aspect is their inclusion of cryptocurrency trading, allowing users to explore this emerging market. Additionally, they have developed their own platform, providing a unique and user-friendly experience. Furthermore, IQ Option distinguishes itself by offering around-the-clock customer service in multiple languages, ensuring that clients receive prompt and efficient support at any time. IQ Option is a broker that has been successfully operating in the industry for over a decade. Their impressive track record and the fact that they have amassed over forty million registered users is a testament to their ability to deliver quality services. It's clear that IQ Option has found a winning formula in the industry.
(General risk warning: Your capital can be at risk)
FAQ
What is the minimum deposit requirement to open a trading account?
At IQOption, you only need to deposit a minimum of $10. This allows for easy access to their trading platform without requiring a large initial investment.
How fast can my withdrawal request be processed?
When you make a withdrawal request at IQOption, it usually takes one business day to process. However, in some cases, the processing time can be as short as just a few hours.
Which is the best indicator at IQ Option?
IQ Option provides a wide selection of technical indicators that can be utilized for developing trading strategies and identifying potential trades. These indicators serve as valuable tools in analyzing market trends, patterns, and price movements. By leveraging these resources, traders can enhance their decision-making process and increase the likelihood of making profitable trades.
When it comes to analyzing the market and making informed trading decisions, relying on a single indicator may not always be the most effective approach. It is often recommended to assess multiple indicators and consider different time frames in order to identify clear trends or market sentiment. This comprehensive analysis can provide valuable insights that can guide your trades over specific timeframes.
Is IQOption a reliable broker?
IQ Option is considered a trustworthy broker by many traders.
What kind of trading platform does IQOption have?
IQOption utilizes its own unique trading platform, distinguishing it from other brokers in the industry. This proprietary platform offers a range of features and tools tailored to enhance traders' experiences and provide them with reliable access to the financial markets. By leveraging their own technology, IQOption ensures a seamless and user-friendly trading environment for its users.
What is the maximum leverage available at IQOption?
Traders will now be subject to a maximum leverage limit of 1:1000. This means that the amount they can borrow or trade with will be capped at this ratio, some assets are subject to lower maximum leverage to prevent excessive risk-taking on highly volatile assets.